This 'Scream Queens' Twist Was Totally Unexpected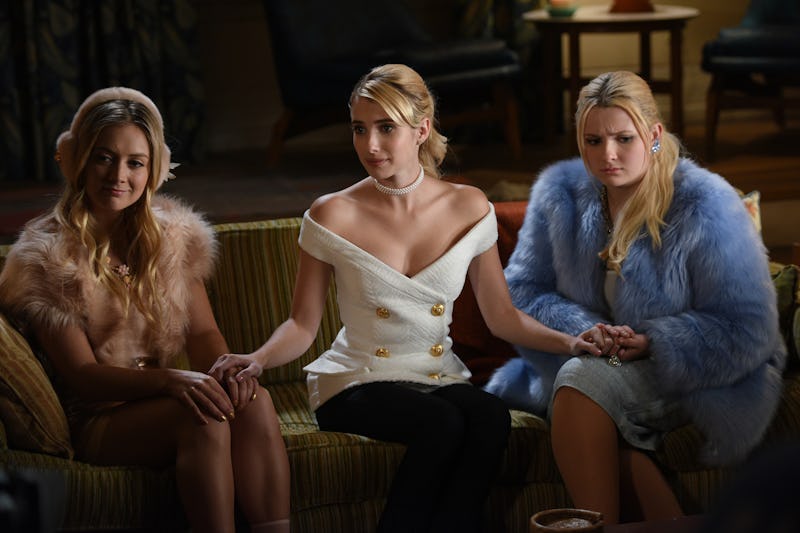 With all due respect to the show's many fallen characters, Chad Radwell's murder on Scream Queens has got to be the most tragic one yet. With Chad gone, I have so many questions. Who will explain the complex, intricate rules of Truth or Dare to the other characters? Who will provide us with the wise words of our great 60th president, John Kennedy Jr. during times of despair? We all know that the world will just not be the same without this wise, dapper character. But, oh yeah, I have another question — did Dr. Holt kill Chad on Scream Queens?
Ever since Chad's return to the show, he and Dr. Holt have been in fierce competition for the affections of Chanel. And, in the Oct. 11 episode "Handidates," it appeared that Chad had won the battle. He proposed to Chanel in the most romantic way possible — by getting down on one knee and asking her to read and sign a very detailed prenup. Love was in the air, an ecstatic Chanel turned into the ultimate bridezilla in record time, and it appeared that the pair was destined to live happily ever after. (Just kidding — Chad predicted that he'd cheat on her within about six months, but I will not speak ill of the dead and I will definitely not speak ill of Chad Radwell.)
But, when one is a character on Scream Queens, happy occasions tend to end with a whole lot of bloodshed. Chanel planned her wedding in record time and, on the day of the joyous event, it momentarily appeared as though Chad had chosen to bail and leave her at the altar. As it turned out, he had a totally legit excuse for missing his own wedding — he'd been murdered. Let's please take a moment to pay tribute to the character who, IMHO, was the show's MVP.
OK, now that we're done mourning, let's talk about Dr. Holt. Every time Chad and Chanel shared a romantic moment, he was seen suspiciously lurking as he seethed with fury. Also, he's been pretty darn sketchy since the moment we met him. So, I think it's safe to assume that he's responsible for our beloved Chad's death — but that definitely doesn't mean he's the season's villain. Right now, it looks like Chad's murder was solely the result of the rivalry between he and Dr. Holt. Don't get me wrong, I'm sure Holt has other skeletons in his closet — but it's way too early in the season for Murphy to give us such a major clue about the Green Devil's identity.
And now, if you'll excuse me, I'm going to shed a few tears over the loss of my favorite Scream Queens character. Rest In Peace, Chad — I'll never forget you and all the wisdom you bestowed on viewers during your time on the series.
Images: Michael Becker/FOX; Giphy