Pat McGrath's Metamorphosis 005 Kit Is Coming Soon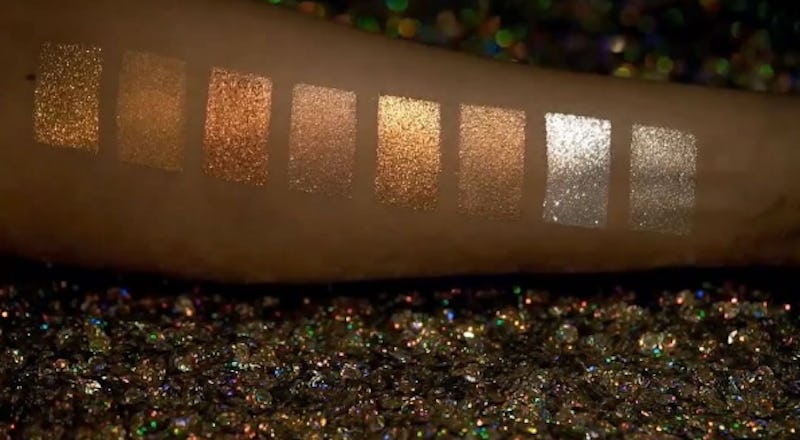 After teasing her fans for weeks now, the wait is finally over. Well, kind of. Pat McGrath unveiled her Metamorphosis 005 Kit, and the eye collection is just as sparkly as you imagined. I'm not talking about the sequins in the packaging either. When does Pat McGrath's Metamorphosis 005 Kit launch, you ask? Start saving now, because her latest creation is coming soon.
If you thought the shiny trend was going out of style anytime soon, then think again. On top of her full-on glitter lip that the company recently launches, Pat McGrath's new eye shadow and liner collection will have your eyes shining just as bright. This isn't just metallic though, it's glitter plus metallic, so this kit is pretty much out of this world.
On top of the returning Gold 001 shadow, the Everything Kit will have three other glitter pigments and shadows to go with it. That's not it either. You'll also get a black, dual-ended eyeliner and Mehron mixing liquid to turn the pigments into a liquid as well. You'll be happy to know that you don't have too much longer to wait to get your hands on it either. According to her Instagram, the Metamorphosis 005 Kit launches on the Pat McGrath website on Nov. 15. Here's the Instagram video of the full collection to show you just how on-point it is.
Have you ever seen a more glittery kit in your entire life? I think not. If you miss the launch on Pat McGrath's website or are just looking to avoid the chaos, then you'll be happy to know that you have a few other shopping options. The Metamorphosis 005 Kit also launches on Sephora.com on Nov. 22 as well as in select Sephora stores.
According to Allure, the Everything Kit will cost $165. Compared to the companies other recent pricey launches, this is no surprise. When you consider how many products you're getting, it all makes sense. The price of the breaks down to about $16 each.
Set those alarms, people. Because despite the hefty price tag, these products won't be around for long.
Images: patmcgathreal/Instagram