Students Push Back Against "Locker Room Banter"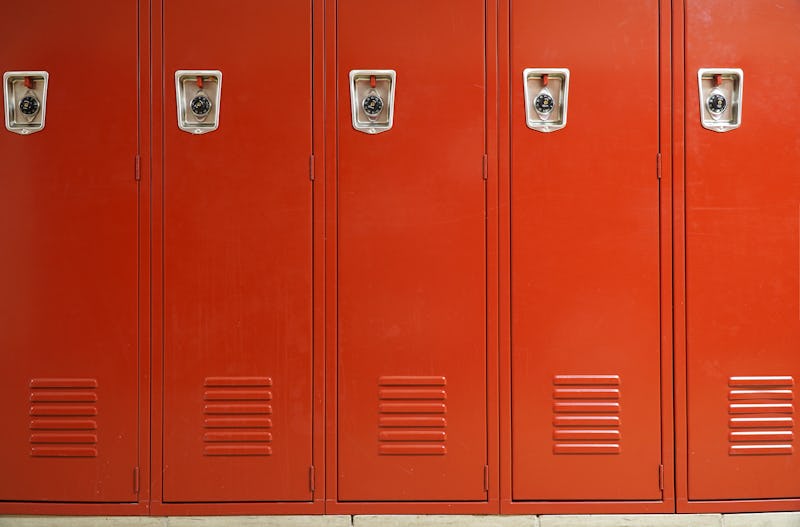 Following the release of the now-infamous video of Donald Trump lewdly discussing women and sexual assault with Billy Bush, Trump attempted to excuse his statements as mere "locker room banter." But Oregon student athletes are pushing back against "locker room banter" as a defense of vulgar and degrading speech about women. In a photograph that has since gone viral, male athletes at Centennial High School in Gresham, OR, wear t-shirts declaring their feminism, and the caption is simple and essential: "Sexual Assault is not locker room banter."
At 16 and 17 years old, the six teens in the photograph may not be old enough to vote, but they still found a way to let people know that they don't support sexual assault or Trump's version of "locker room talk." "I didn't agree with what he said about how touching women was okay and he just shooed it off as locker room talk," junior Adam Voigt told KGW-TV. "It's not really how we talk in the locker room." Senior Junel Jeannis-Ostin added, "That's not the way boys or athletes talk in the locker room." (It's worth noting that a number of pro-athletes have also pushed back against the idea that Trump's language is typical of locker rooms.)
In the photo, the athletes, who hail from the school's basketball, football, soccer, and cross-country athletic teams, are all wearing shirts with the slogan "Wild Feminist." The shirts were created by Wildfang, a Portland clothing company, to protest Trump's comments. Wildfang CEO Emma McIlroy told the Huffington Post, "When we chatted with the Centennial High School boys and their coach about it, they really wanted to be involved. The boys wanted to make it clear that in their locker room they treat women with respect."
The photo, which has gone truly viral with nearly 13,500 shares in five days, isn't only about Trump and his comments; it speaks more broadly to the role men can play in supporting gender equality. "What we're trying to do is not political. What we're trying to do is promote women's rights," senior Majax Nudta explained to KGW-TV.
"It's very important to speak out about this, because it has to be known that there are men out there that support women and women's rights," senior Rhys Atkinson told the Huffington Post. "I believe in the equality of everyone. Everyone deserves the same rights, and it's not fair that women can be degraded through speech or actions."
Fortunately, the administration at Centennial High School is on board with the athletes' message. "These young men, like many of the students at Centennial High School, are socially conscious," Principal Mairi Scott-Aguirre tells Bustle. "[They] chose the wearing of the t-shirts in our locker room to state their belief that sexual assault is not, nor should be locker room banter. We are proud that CHS has a very active issues-oriented student body."
Hundreds of people have taken to Facebook to comment on the photo and praise these teens for standing up for women. "Feminism cannot be [a] women's movement alone, it is a struggle for equality that needs us all," one commenter wrote. Another added, "These young men look so strong!! Respect looks good on them!!" In short:
Image: nd700/Fotolia; Centennial High School - Gresham, OR/Facebook; Giphy