What BFF Date You Should Go On Based On Your Sign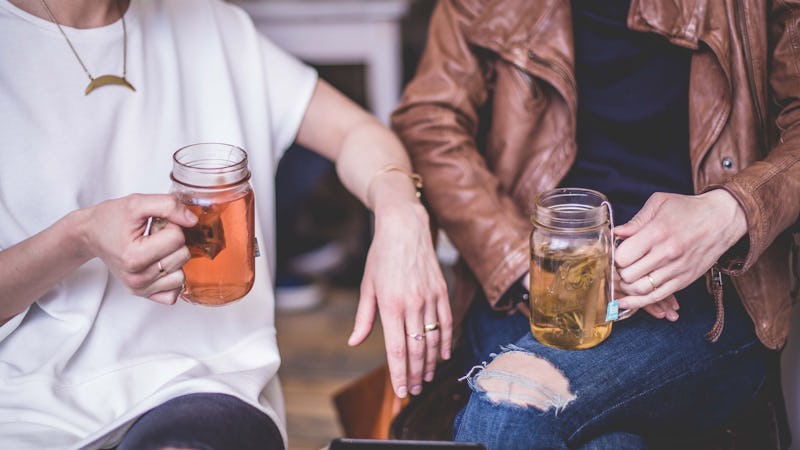 If you've spent the last few weeks going pumpkin spice crazy and lining your dates up one after the other to get the most out of fall, this weekend, put that dating life on hold, and take your best friend out for a spin. Yes, love can wait!
All fall long, we're love-crazed. This weather registers hearts in our eyes and all we want to do is find a hand to hold and a pair of pumpkin spice lips to kiss. But don't let your attentions keep you from maintaining the important relationships you already have in your life. You don't want to neglect your friends this season, that will make for a lonely winter. Regard your friends with the same attentions that you'd regard romantic interest. Make your friends feel special by planning something out that will keep you from drifting apart during your marathon dating life.
If you haven't been hanging out with your friends because you can't ever think of anything to do besides go to brunch or get a drink after work, I've put together a list of activities that you and your bestie can do, based on your astrological sign. Your next best friend date is written in the stars:
Aquarius
You love to feel busy, get messy, and use your hands. Head to the craft store with your bestie and pick out some retro DIY activities for the two of you. At first you might be like, "Hey this is for kids, it's stupid," but then when you pair it with some cider or wine you're going to be like, "Crafts are so fun, why don't we do them all the time?"
Pisces
You love the water, but swim season is over, so find the local aquarium and bring your bestie who loves animals. It's just the kind of activity that you've always wanted to do, but could never think of a reason to go. Now you have one.
Aries
You're pretty competitive and you love sports. Get some tickets to the nosebleed seats, tailgate, and make a whole day out of it. It's way more about the novelty of going to a game than it is about caring about the team, so feel free to invite a bestie who isn't into sports, too.
Taurus
You love nature and you love to keep things real. Pack your bestie in the car and head out to the country. Go for a day hike in the woods, stopping to have a scenic picnic lunch. It will be a friendship memory you won't forget.
Gemini
You love to be around people and you love to chat. Invite over a group of your besties for a pot luck dinner. Your besties will love an excuse to get together and you love any excuse to fill your house with people!
Cancer
You're a sensitive person, but you actually love getting the feels. Grab a bestie and set up a movie date to go see the latest romantic drama. It's way less sad when you cry together.
Leo
It's karaoke night and you know it. You love attention and your friends love to be entertained by you. Reserve a private room at a karaoke bar and spend the night singing your heart out withy our bestie. It's way more fun going with friends than a date, you're not trying to impress anyone and can just have fun.
Virgo
You love a perfectly organized plan, so flex your strong suit and put together a scavenger hunt with your besties. You can plan it all out and let them enjoy it, truth be told you'll be sufficiently entertained just watching your immaculate plan come to life, let's be honest.
Libra
You love art and have been meaning to go back to those museums your parents made you go to as a kid, now as an adult. Grab your bestie that will appreciate a school-trip-type day and head to the museum. Go early to avoid lines and grab a drink afterwards to talk about what you liked best.
Scorpio
You're a bold soul and you like to shake things up. Take your bestie and head out of town of for the weekend. Go on a road trip, take a train somewhere, camp, stay in a motel go visit a friend who lives far away. The spontaneity of this trip will give you a huge thrill, and you'll be happy to have gotten out of town before the winter makes it harder to do.
Sagittarius
You love a good unconventional adventure — take your bestie for a last-minute kayaking day trip. It will be the most intimate way to check out fall foliage and really help the two of you slow down and be present for an afternoon.
Capricorn
Hard work is actually fun for you. Resist the urge to spend the weekend working on your job and take your most durable bestie out for a day long bike ride. You can pick some points of interest ahead of time, like a place to stop and get lunch, coffee or ice cream. By the end of the day the two of you will be exhausted and you'll love that feeling going to bed — tired from physical work and not your job for once! Not to mention, it's a great bonding experience for besties.
Images: Unsplash, 1, 2, 3, 4, 5