10 Fall Activities You Swear You'll Do This Season But Probably Won't (Sorry)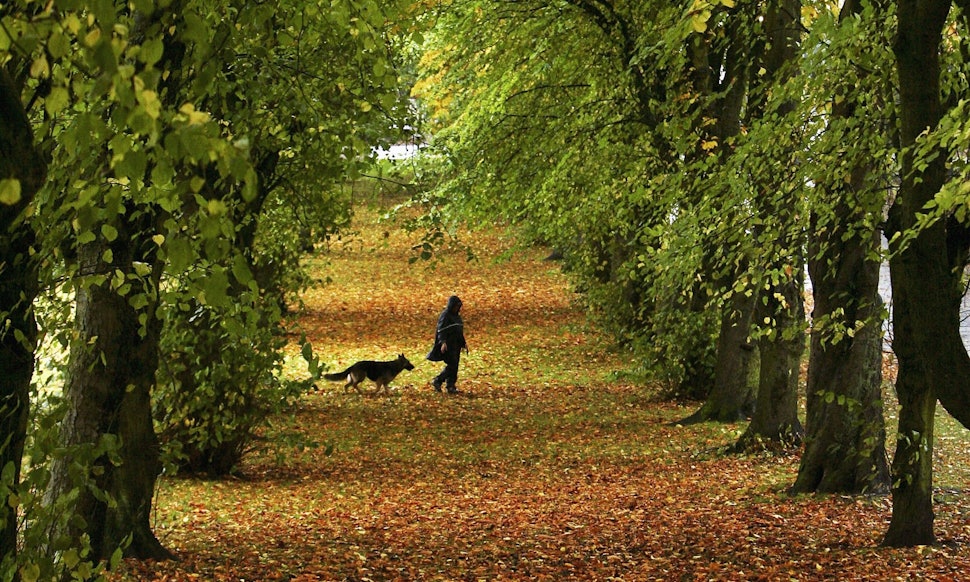 Jeff J Mitchell/Getty Images News/Getty Images
We just celebrated the first day of fall (!!!), which means it's time to whip out last year's now dusty to-do list of cozy fall activities and start checking things off. You know exactly what I'm talking about. Every year you come up with a whole itinerary of things you swear you'll do to make this the best season ever, and every year that list ends up sad, neglected, and completely untouched. I get it. There are so many fall activities to do it's hard to get around to all of them — you're lucky if you get around to just one. I can barely dress appropriately for fall; I really can't schedule a trip to go apple picking.
In an ideal world, I can take most of fall off from work and just wear plaid shirts and brown boots, drink lattes, and rake leaves for fun. There will be a pie perpetually baking in the oven, and my house will smell like apple cinnamon and friendship. Heck, maybe if I'm feeling whimsical I'll throw a cinnamon stick in my hair, or make a wreath out of multi-colored fall leaves, or become friends with a group of small birds. But alas, I am a real, actual person who has neither the time nor interest in doing any of that. What I will do, however, is list all of the fall activities I claim I'll finally get around to this year… maybe. After all, there's nothing wrong with a little wishful thinking.
Go Apple Picking
Every year since birth, I have claimed that this is the year I will go apple picking with my friends. We will dress in flannel and my hair will be loose and wavy. We will take perfect Instagram photos and munch on apples all day long.
This vision has never, ever come true.
Carve Pumpkins
This isn't even an activity I really want to do — I just want to be able to say that I set a goal and it came to fruition. Pumpkins are scary, but not as scary as not achieving my goals. Which is sad, because I haven't carved a Jack-O-Lantern since my trick-or-treating days. Have you?!
Bake a Seasonal Pie
Pies are better than cakes. There — I said it. This spiced bourbon apple pie from A Beautiful Mess proves it, if you ever get around to whipping one up. You can bake it with all of those imaginary apple you picked.
Image: A Beautiful Mess
Curl Up with a Good Book and Warm Mug
Is it so wrong to just want one Pinterest-perfect day? All I want is to wear the perfect fall sweater and curl up with a good book and cup of coffee. And a scone… oh and a dog, too. How cozy!
Image: Fotolia
Go on a Hayride
Hayrides are like pumpkin carving. I don't really care if I actually do this, it but it's such an autumn staple I feel like I kind of have to. Oh well. Still probably won't.
Take a Stroll Through Autumn Leaves
This is always number one on my fall to-do list, and it is also the number one activity I never do. Somehow, I always feel like I totally missed the leaves changing. How is that even possible? I live in NYC.
Play in the Leaves with a Dog
Dogs and leaves are the greatest pairing since peanut butter and jelly. Please universe, if you are listening send me a dog (and an affordable apartment that allows pets). Then maybe, finally, I'll find some leaves.
Enjoy Some Seasonal Beer
Unless I happen to be at a bar that only happens to serve perfect pumpkin ale, you can bet that come winter time I will be regretting not drinking more of this stuff up.
Dress for the Season
In the world of Pretty Little Liars, it is literally always autumn. I don't think seasons exist on that show. However, I would be lying if I said I wasn't totally obsessed. When these girls aren't dressing for a funeral, they are dressing for fall — a skill I have yet to master.
Image: ABC Family
Corn Maze
Nope. We can talk about how much fun this will be, but it's never going to happen. Ever.