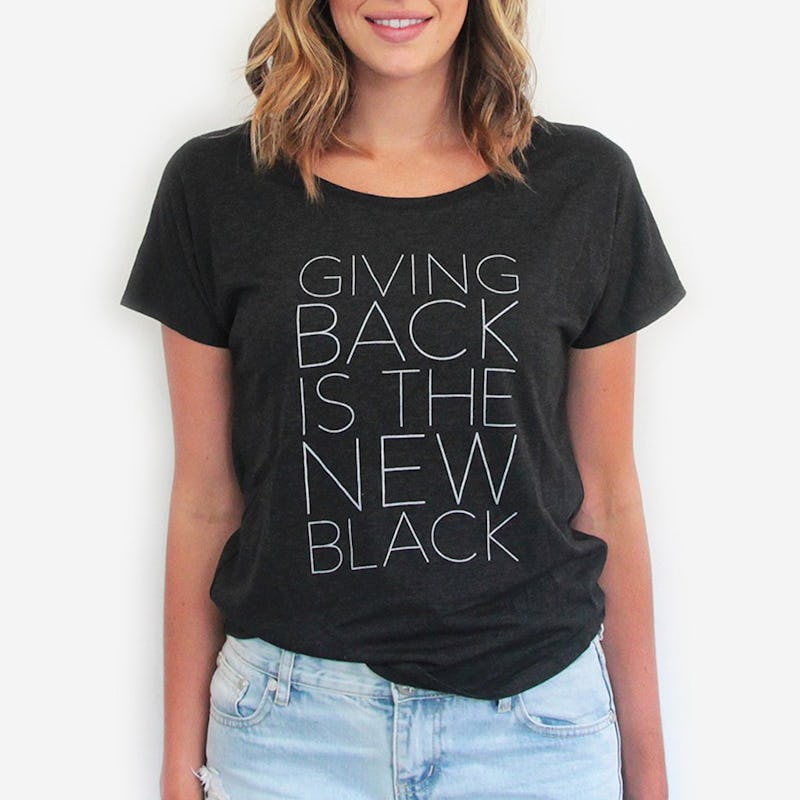 It's officially holiday gift-buying season, and that means you now have an excuse to spend hours online shopping. But while it's nice to give gifts to friends and family, blind, mass consumerism is also a very big problem, environmentally and ethically. Luckily, there are a ton of ethical companies that manufacture fairly and provide higher living wages to their workers. But some companies really go above and beyond, donating an impressive portion of their profits to charity, or even following the buy-one give-one model. Because there are (happily) so many ethical gifts to choose from out there, I'm going to focus on some of the companies that fall into the latter category here and spotlight gifts for 2016 that give back.
Just think how much better you'll feel spending your hard-earned cash on something that benefits not only your loved one but the greater good. You'll also be giving two gifts to them — the wonderful product itself, and the story behind it. Whether the person you're shopping for is an animal-lover, cares about the environment, or makes kids their cause, there is a gift on this list for everyone.
Here are 20 gifts for 2016 that give back — because a happy holiday is an ethical holiday.
Krochet Kids Infinity Scarf
The Quinn, $50, Krochet Kids
Krochet Kids is a nonprofit that makes really cute scarves, bags, hats, and more. The organization employs women in Northern Uganda and Peru to make the products, and at the same time, uses all the profits to provide them with an education so that they can graduate the program and find new, even higher-paying jobs. So when you're rocking one of their awesome creations, you can know it was handmade by a woman who was funding her own education. Pretty cool.
THINX HipHugger Panties
THINX Hiphugger Panties, $34, THINX
Yes, you can give a pair of period panties as a gift. For your skeptical friend or sister you've been raving about THINX to, this makes an awesome gift — she might be too shy to try a pair for herself, but she's sure to get hooked in no time. Ethically made by women in Sri Lanka, for every pair purchased, THINX donates funds to AFRIpads, an organization that trains women in Uganda to sew and sell washable, reusable cloth pads, turning local women into entrepreneurs.
Bombas Socks
Bombas Socks, $12+, Bombas
I own three pairs of Bombas, and I have to say, they really are the bomb. They feel so nice — sort of lightly-pressurized and padded like running socks — and they look adorable, too. Bombas operates on the buy-one give-one model, and focuses on donating to homeless shelters, where socks are the number-one most requested item (you often can't donate socks, but people's feet always need to be warm). You can find them in an array of styles, from sporty to dress socks — and they have a 100 percent customer satisfaction guarantee, not that you'll need to use it.
Composition Notebook Leggings
Composition Notebook Leggings, $20, OutofPrintClothing
Each purchase at this bookishly-themed site helps to fund literacy programs and book donations to communities in need. Really, it's a one-stop shop for all your nerdy friends.
IMAD Dog Pendant
IMAD Pitbull Pendant, $28, IMAD
IMAD stands for "I Made A Difference," and when you purchase an IMAD pendant, $1 from the sale is donated to the Animal Welfare Institute, an organization dedicated to the better treatment of all animals. They have all kinds of dogs available as pendants, so this makes a great gift for someone who's obsessed with their pup!
Tree Of Life MacBook Case
Tree of Life 13" MacBook Case, $48, Della
Pretty much every item on Della is drool-worthy — from clothes, to bags, to cases. Founded by a young woman, "every dollar earned at Della goes toward providing employment, education, and financial stability for women and men in Ghana," according to the company's site. "Our employees receive a steady, fair income and are empowered through education via micro-financing, savings and entrepreneurship classes." Sounds good to me!
Conscious Step Socks
Conscious Collection: Books, Water, Poverty, $45, Conscious Step
These 168 thread count, organic, and fairtrade cotton socks are knitted in India, and each pair of socks purchased donates a fixed amount to their corresponding partner. So, for example, you can buy socks that benefit water supply, AIDS, deforestation, or world hunger — or all of the above! I have three pairs, and they really are high-quality. Even better, they make me feel great every time I slip them on.
"Eats His Veggies" Tee
Eats His Veggies Tee, $35, Vaute Couture
Designed as a benefit for the awesome organization Vegan Outreach by Vaute Couture, this cute shirt is the perfect gift for the vegan or vegetarian guy in your life.
Tushy Bidet Attachment
Tushy Bidet Attachment, $69, Tushy
This makes both a great AND hilarious gift — the Tushy bidet attachment helps you be more hygienic and save paper, and according to Tushy, for every bidet sold, one family gains access to clean, communal toilets in a developing country.
Safari Tote
Safari Tote, $35, Clothe Your Neighbor As Yourself
This completely non-profit — and cool — clothing brand that lets you decide how 100 percent of the profit from your purchase is given. All of the clothing is made from organic cotton and exceeds labor standards, yet is surprisingly reasonable.
Ruby Cup
Ruby Cup With Sterilizer, $38, Ruby Cup
It might seem like a weird gift, but if you swear by menstrual cups and have been trying to get your friend or sister to make the switch, you can make the investment for her! Ruby Cup operates on the buy-one give-one model, so for every cup you buy, one is donated to a schoolgirl in Africa, so that she never has to miss school because she lacks pads again.
Mother-Daughter Triangle Necklace
Mother-Daughter Triangle Necklace, $230, Article22
ARTICLE 22 is an ethical jewelry line made from bombs by artisans in Laos, historically one of the most heavily-bombed countries in the world. ARTICLE 22 not only supports the community — it cleans it up. One bracelet, for example, helps clear bombs from 3-2 m of farmland. Your mom would love this — and you'd get something out of it too.
Pearl The Mermaid Doll
Pearl The Mermaid Doll, $45, Cuddle and Kind
OK, um, how cute is this? For each doll purchased from Cuddle and Kind, 10 meals are donated to hungry kids through their partnership with World Food Program USA. The company also employs women in developing countries to hand-make the dolls in Peru, providing over 100 sustainable, fair-trade wages for women. Your niece or nephew is going to love this.
Belvedere Vodka
Belvedere (RED) 750 ML, $40, Reserve Bar
Belvedere's partnership with (RED), #MAKETHEDIFFERENCE campaign ensures that for every bottle purchased, 50 percent of the proceeds go towards the fight against AIDS. ​Vodka + charity? Not a bad gift, if I say so myself.
"Giving Back Is The New Black" Tee
Giving Back Is The New Black Tee, $36, HalfUnited
Half United is a company that has all kinds of cute clothing and accessories, and as their name suggests, they donate half their profits to charities aiming to end world hunger. That's right, half.
Glow For A Cause Trio
Scent Trio, $40, Glow For A Cause
Glow for a Causes' scent trios include a full-size roll-on perfume, solid perfume, and 2.5 oz. body butter in our signature scents. They give five percent back for every purchase to several different charities.
Elijah Berle Skateboard Deck
Elijah Berle Skateboard Deck, $55, Crailstore
Another partnership with the RED campaign, the purchase of this skateboard deck provides 23 life-saving pills to someone with AIDS.
TIM Watch
TIM Women's Watch, $140, TIM Watch
Now, this is pretty cool: when you purchase a TIM watch, a micro-fund is immediately given to a person in need. Then, you can download the TIM app to see which countries your funds are currently being giving in, how many people you've helped, and even learn about the actual people whose lives are being changed because of your watch.
Lush Charity Pot
Lush Charity Pt, $7-$28, Lush
Lush donates 100 percent of the price of this vegan body lotion to organizations working in the areas of environmental conservation, animal welfare, and human rights. As in, 100 percent.
Starling Project Candle
Starling Project Candle, $55, Starling
While a bit pricey at $55 each, this is about more than just a nice candle. According to the company, the proceeds from "each candle provides solar energy (which offers access to electricity, clean water, safety, health, education, and much more) to under-resourced countries globally via the support of key philanthropic organizations including UNICEF." So far, they given over $100,000 — and that's just since last year.
With so many cool, well-made options to choose from out there, there really is very little excuse not to try to shop ethically. You can also check out this more extensive list from Busy Mommy, which features over 150 ethical companies that give back. Bookmark it, and the next time you need to buy something, see if you can't get it from one of these (often smaller) companies that deserve and need our support!