See The Morphe x KathleenLights Eyeshadow Palette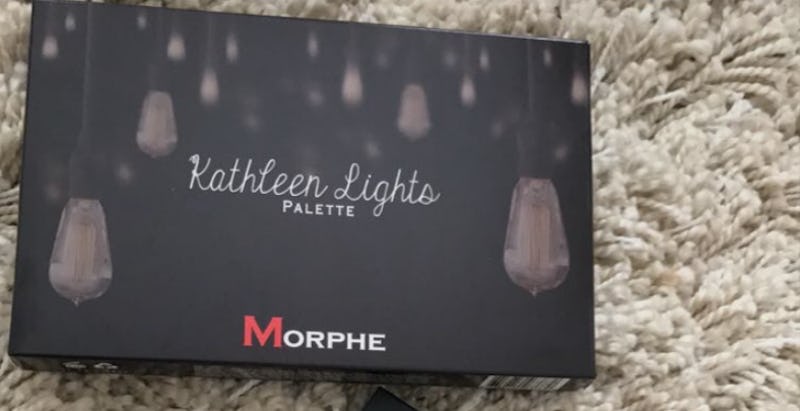 Remember that secret collab that KathleenLights, AKA Kathleen Fuentes, has been teasing for so long? Well, it's finally here. After keeping her fans out of the loop for months now, the YouTuber has finally broken her silence. According to her Snapchat, Fuentes and Morphe created an eyeshadow palette together. It was definitely worth the wait too. The shades are absolutely gorgeous and have everything from cool-toned sparkles to matte warm hues.
There's nothing I love more than when beauty vloggers and brands combine. Fuentes has done it before with ColourPop and Makeup Geek, and now she's working with Morphe brushes for the very first time. She's been keeping this launch, which she says is her last one for a while, a secret until now. Now that it's here, it's clear that the palette is every bit as gorgeous as you thought it'd be.
According to Fuentes' Snapchat, the KathleenLights x Morphe Palette is a collection of 15 new and existing eyeshadows from the brand. Some are her favorites from the line and other were created specifically by her and are exclusive to the palette. She says that she choose colors that she loves to wear, including a sparkly green shadow and a staple matte black.
First off, I'm absolutely loving the packaging. It's simple, sweet, and to the point. The palette is available on Oct. 25 on the Morphe website. Although the price hasn't been announced yet, there's no doubt in my mind that it will be affordable. Here's what the inside looks like
Look at how gorgeous those colors are! If you're a fan of Fuentes on YouTube, then you know that she's a fan of both warm and cool toned colors, both of which are in this palette. There's everything from classic staples to pops of color.
I don't know about you, but I'll be setting my alarms to make sure I get my hands on this gorgeous eyeshadow palette! Her fans are just as excited too. Here's what they have to say about the collab.
How many KathleenLights palette is too many? The limit does not exist!
Appropriate wording.
Emoji on point.
Images: Kathizzle11/Snapchat (2), Trendmood/Instagram (1)