This Crocheted E.T. Costume Is #HalloweenGoals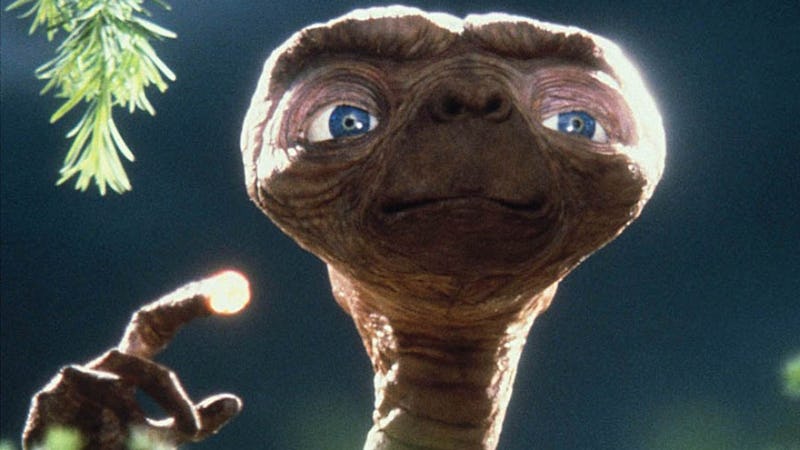 It's not even Halloween yet, and already a very special homemade costume is going viral. One devoted mom crocheted an E.T. Halloween costume for her son. and it is so spot-on that Steven Spielberg would be proud. Stephanie Pokorny of Mentor, Ohio turned her toddler into the famous '80s alien with just a bit of brown yarn and a lot of know-how — and the end result is truly something worth phoning home about. "Our family, especially my husband and sons, try to do a collaboration costume each year," Pokorny tells Bustle in an email; as such, it's perhaps it's unsurprising that photos of her creation are trending on Facebook, having gained thousands of likes and shares since she posted them two weeks ago.
Pokorny, a professional crocheter who runs the website Crochetverse, writes on Facebook that she created the elaborate costume freehand without use of a pattern. What's more, she's a speedy crocheter, too: She began the costume for her nearly 2-year-old son, Jack, on a Friday and finished the following Monday. That's right — thanks to Pokorny's nibble fingers, the whole thing only took four days to make.
Creating a costume of this caliber takes a lot of thought and effort, but surprisingly it didn't break the bank. Pokorny used regular worsted weight yarn ("Red Heart Super Saver Jumbo in Cafe Latte," for those handy with a crochet hook), with the entire cost of the project coming in under $10.
Hold on to your bicycle, children of the '80s and '90s, cause this E.T. costume is #flawless:
As a self-proclaimed "full-blown Halloween addict," it's not unusual for Pokorny to go to great lengths for the Oct. 31 holiday. In terms of previous collaborative costumes sported by her family, Pokorny tells Bustle, "We've done For a Few Dollars More (Clint Eastwood) and Alice in Wonderland in years past." She adds, "I try to make as much of the costume as I can as well." While little Jack is a bit too young to understand the costume, Pokorny loves the '80s and hopes to instill that love in her little ones. "I'm a huge '80s fan ,and so is my husband, so E.T. felt natural!" she says.
One thing's for sure: If there was a Halloween costume contest, this family would win every year.
Though the E.T. costume only took a few days to create, the mental planning can be quite a lengthy process. "When I have an idea and I plan to freehand it, I sort of 'create' it in my head first," Pokorny explains to Bustle. "That can take a couple weeks to work ... out mentally. So, by the time I actually take to yarn and hook, it comes out pretty quickly." Pokorny has been crocheting since she was 16, and even has a colorful crochet-themed tattoo. Despite her dexterity with a hook and yarn, coming up with costumes for her little ones is time consuming. "I have what I like to call August Halloween, because that's about the month I start contemplating the costumes!" she says.
She doesn't let her kids have all the fun, either — her own Harley Quinn design is on point!
While she doesn't intend to sell her one-of-a-kind E.T. costume, Pokorny hopes it motivates others to have fun and be creative. Indeed, when she posted the pics on Facebook, she had no idea that they would get so much attention on social media. "It is completely unexpected, but so very exciting," Pokorny tells Bustle. "I hope it makes people smile and laugh and inspires others to create as well!"
So what are you waiting for? With less than two weeks to go it's time to get started on your own DIY costumes to celebrate the '80s and '90s!
Images: Crotchetverse/Facebook; courtesy of Crochetverse