Ragman May Become Even More Heroic On 'Arrow'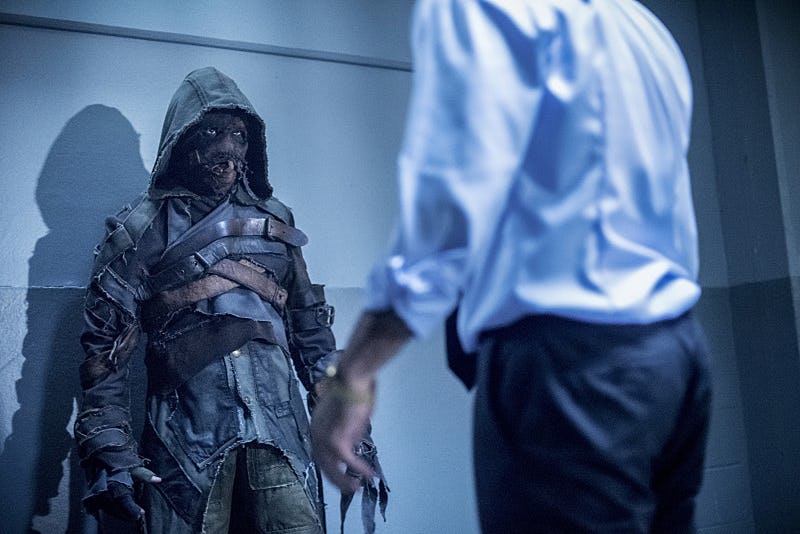 Arrow keeps adding more characters to Season 5, and so far, it's been working. One of the newest characters, Ragman, was introduced on Arrow as a villain, but was quickly proved to be much nobler than Oliver originally believed. In fact, he's now an official member of Team Arrow. And like most of Oliver's new recruits, Ragman, aka Rory Regan, has a DC Comics history that's been tweaked a bit to help him fit in on the CW series. While Arrow has incorporated plenty of DC characters before, the new team of comic book staples is a welcome change from the Season 5 antagonists, who so far are largely original characters without powers, like Tobias Church. But Ragman's tragic past and changing goals should prevent Arrow from getting bogged down with antagonists.
Most of what's been fascinating about Ragman so far is taken from his comic book backstory, as the show cloaks him in his original costume and shows his unique set of powers. Ragman, who made his debut in 1976, was originally a hero named Gerry Regan and his powers were tied to his Jewish identity — according to Visualizing Jewish Narrative: Jewish Comics and Graphic Novels by Derek Parker Royal, Ragman is loosely based on the story of the Golem of Prague. Eventually, Gerry passed on his superhero mantle to his son, Rory, and similar to Batman, the comics' version of Rory is a vigilante in Gotham City who hopes to clean up the city's dangerous streets. However, unlike the Caped Crusader, Ragman has a suit that literally absorbs the souls of the people he's beaten.
Clearly, this has been tweaked for the show and the version of Ragman played by Joe Dinicol. First of all, Rory operates in Star City instead of Gotham, and the powers his rags possess are directly tied to the events of Arrow Season 4. As Rory told Oliver, he was living in Havenrock when Felicity changed a missile's course to hit the city. His father wrapped him in ancient rags that protected him and received even more powers from the nuclear blast. When we first met Rory, he was less of a hero and instead someone hellbent on avenging his destroyed city, but now that Oliver has helped give him a new goal, he seems like a promising recruit to join Wild Dog and Evelyn Sharp.
In the comics, Ragman was also part of a team, but nothing like Oliver's crew of recruits. He was involved with the Justice Society during a comic arc called the The Day of Vengeance, which actually suggests that he can pop up on one of the CW's other superhero shows. The DC TV universe is all about sharing characters and orchestrating crossovers, and since Legends of Tomorrow will be adding the Justice Society this season, there could be a fully heroic Ragman by their side in whatever alternate future exists in the various timelines of the series.
Ragman may not be the most powerful player on Arrow, but Rory has enough potential to become a major part of not only Team Arrow, but the whole DC TV universe.
Images: Dean Buscher/The CW; DC Comics