Team 'Arrow' Finds A Surprising Ally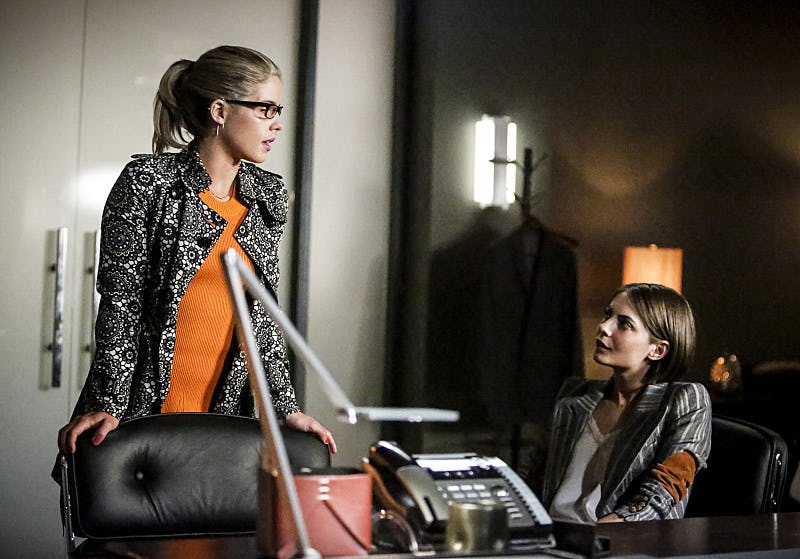 Central City may be a magnet for metahumans, but it looks like Star City is trying its hand at the supernatural as well in regards to Arrow 's newest recruit, Ragman. After suffering from the apparent side effects of Damien Darhk's Genesis Day, Ragman (aka a man dressed in all rags) was out for vengeance against those who helped launch the missile that destroyed his town, Havenrock. That's right, the very same location that Felicity allowed the nuke to land, killing thousands rather than tens of thousands somewhere else. Obviously, it wasn't a decision she wanted to make, but she wanted to save as many lives as possible. Fans know that. Oliver knows that. But somehow I doubt this guy will be quite as understanding. So does this mean Felicity is in danger from Ragman's wrath? I'm worried this new alliance could come with a price.
Oliver may have managed to convince this vigilante to come fight for the greater good, but revenge doesn't go away that easily and it's only a matter of time until Felicity's role in the destruction of his town (and family) comes to the surface. What will happen then? We don't know this character well enough yet to be sure how he'd react. Obviously, I want to hope for the best. Maybe he'll become close enough to Felicity to know the type of person she is and understand what an impossible decision she had to make. But then again, is that really how we think this will play out?
The writers brought Havenrock back into the picture for a reason, so this twist is bound to lead somewhere. I only hope that Felicity won't end up suffering anymore than she already is from this tragedy. Because judging from the look on her face when Havenrock was mentioned, her past feels just as present as ever.
Image: Bettina Strauss/The CW