How 'AHS: Roanoke' & Coven Could Be Connected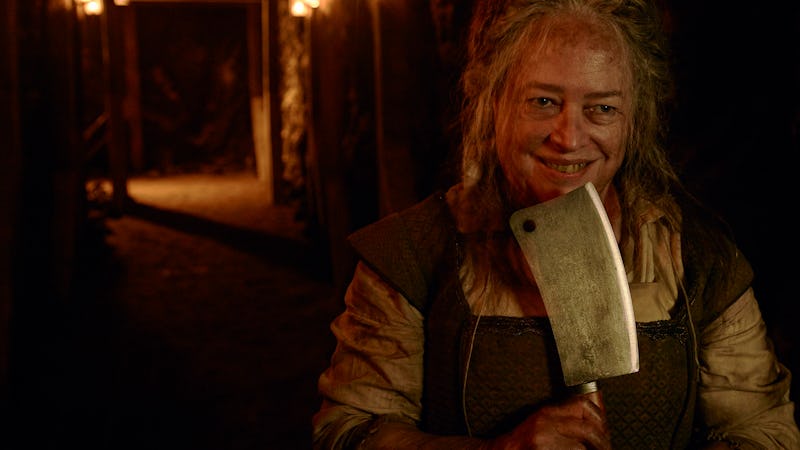 Ryan Murphy, toying with the audience in his trademark way, has now promised that the rest of American Horror Story: Roanoke will connect with Season 3, Coven . Now, fans already know that the seasons all take place in the same universe, since there have been multiple references to previous seasons before, and Season 4 even incorporated characters from Season 2. And so far, there have been a few references to previous seasons, like Evan Peters' character, the patriarch of the Mott family from Freak Show.
However, in an interview with Entertainment Weekly, Murphy promised that there will be so many more connections to one more season in particular this year: Coven. Additionally, Murphy teased that the world of Coven isn't over yet. "At some point, we're going to do a return to the Coven season. I don't know what season that will be," he said. So, that means, not only will there be more ties to Season 3 in the upcoming episodes of Season 6, but the story won't stop there. Very intriguing. But, as that's almost too much to think about, let's stick with talking about the remainder of Season 6 for now. Which Coven similarities could pop up in the final episodes?
Taissa Farmiga's Return
Already confirmed, Taissa Farmiga, who last appeared in Coven, will be back for the rest of the season. Could she be playing the same character, or one that will be connected to her former role, like another witch?
Other Guest Stars
So far, Farmiga and Leslie Jordan have both returned for the first time since Season 3. That could mean that other Season 3 guest stars like, say, Danny Huston, could come back as either new or recurring characters.
Lady Gaga's Role
Also in that EW piece, Murphy revealed that Gaga's character will be the "first Supreme," tying it into Season 3's most influential factor. So it could mean that she somehow finds her way to Salem, or explain how she passes on her "witch" traits to other women.
The Southern Connection
Season 3 took place in New Orleans, and the sixth, of course, is in North Carolina. The mythology of the South heavily influenced the look of the season. So far, that's been absent in Roanoke, save for some rustic caricatures. It would be pretty hard for, say, Delphine to come back, but
Murder Nurses
Nurses have appeared in several seasons, but the Season 6 hospice nurses who were murdered (or murde-ed) by Tomasin and her ghost crew were totally superfluous, just like the nurses who were killed by the Axeman in Season 3. Maybe AHS' nurse obsession could finally pay off this year.
The Zombie Resurrection Magic
While Season 6 has so far been about ghosts, one of the unique concepts from Season 3 was the idea that the witches, for either good or evil purposes, could bring dead bodies back from the dead. If Lady Gaga's character really is a witch, then perhaps she could use this power in the remainder of AHS: Roanoke.
Knowing that American Horror Story mastermind Ryan Murphy plans to incorporate some aspects from Coven may give some suggestion about what will happen after the season's big twist, but prompts far more questions than it answers. Only watching the rest of the season can reveal the truth.
Images: Pershant Gupta/FX (2); Giphy (3)