Don't Worry, We'll Know The 'AHS' Season 7 Theme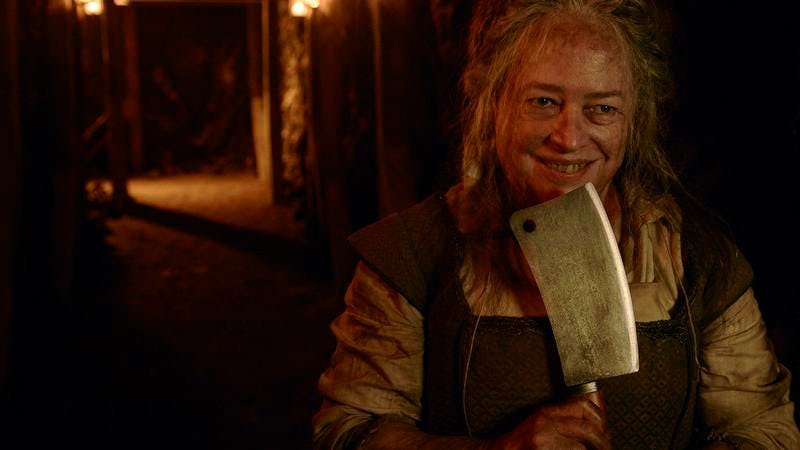 Since Season 6 of American Horror Story is well underway, one would think fans would have a crystal clear idea of what the theme is. The sixth season's numerous teasers were designed to bewilder us, and, even after the season finally premiered, American Horror Story: Roanoke remains a bit of a mystery. There's a mid-season twist on the way, and, because of that, there's really no telling where the rest of Season 6 will go. But this won't hold true for the rest of the series, thankfully. In recent conference call with TVLine, Ryan Murphy confirmed that AHS Season 7's theme will be revealed before the season airs. You can all relax now.
"We're going to announce [the premise] in the Spring," said Murphy. "We're not doing a secrecy thing, but [next season] does have a big hook behind it." On top of that, for the first time in all six seasons of AHS thus far, TVLine reported that Season 7 will involve "several Freak Show characters." You guys, the connection between all of AHS ' seasons that we've have been waiting for could be on its way. Even with all the mysteries of Season 6, that undefined connection is one question I've been dying to have an answer to, and I know I'm not alone on that.
Nothing about the theme or the cast is confirmed. However, I do have one theory in mind for how the characters could return: A reunion in the afterlife. Considering how Freak Show ended, it makes sense that all of the different worlds and characters could reunite in death. Until we know for sure one way or another, prepare yourself for one gigantic twist. From the sounds of it, we haven't seen anything yet.
"Something happens where half the cast is revealed to be doing something completely different than you've seen in the first five [episodes]. You realize what you've been watching with some of the characters is not [who] they are. [The actors] had to do a mad scramble to find new voices and accents. It is a big turn. It's the biggest plot twist we've ever done with the show. And there's a startling announcement in Act 3 that resets the season up until Episode 10."
I'm shuddering already.
Images: Frank Ockenfels/FX; Giphy