Gwynnie Bee Is Changing The Fashion Game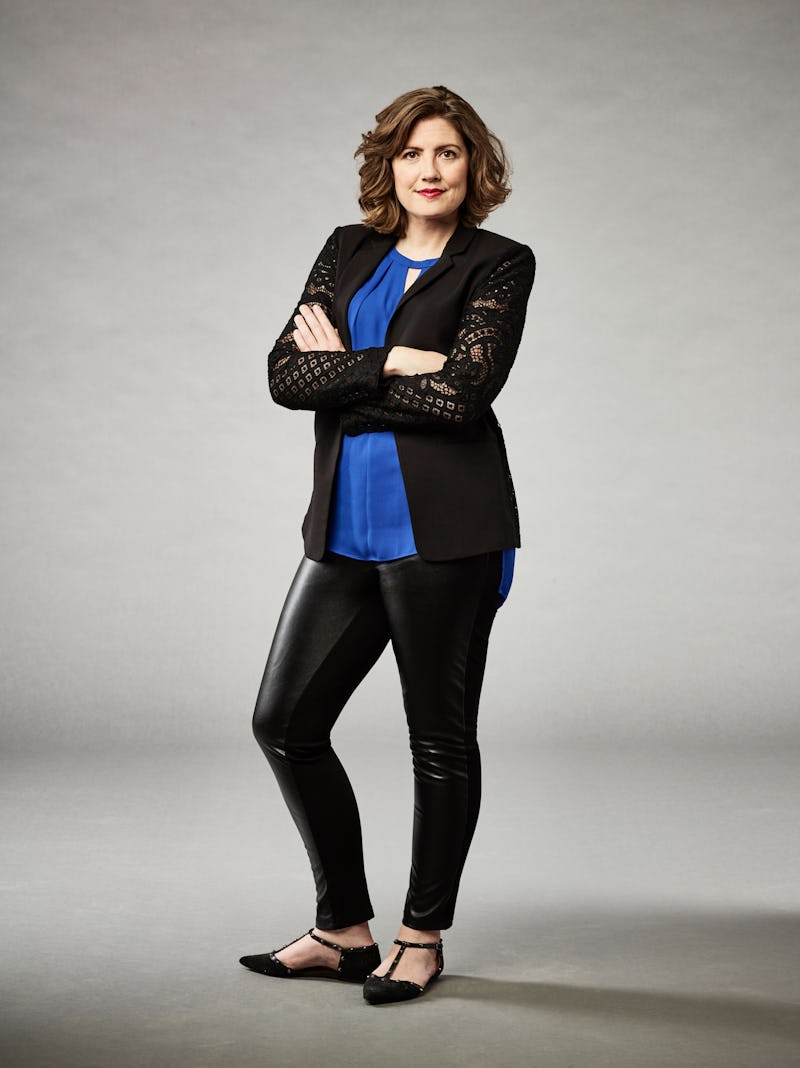 When Project Runway: Fashion Startup premieres Thursday, Oct. 20 at 10:30 p.m. ET on Lifetime, you might hear the name "Gwynnie Bee" thrown around a lot. If right about now you're wondering who Gwynnie Bee is, I'm going to stop you right there and let you know it's actually a what. But when you watch the series premiere of Project Runway: Fashion Startup and hear what the company is all about, I'm sure the name "Gwynnie Bee" won't ever make you scratch your head again.
Gwynnie Bee is a very unique online retailer, which Project Runway: Fashion Startup investor Christine Hunsicker (pictured above) founded and serves as the company's current CEO. And when I say "unique," I mean that Gwynnie Bee is completely changing the fashion industry, so buckle up, because we're about to take a trip to the future of retail.
So by now, it should start making some sense why Hunsicker is a part of Project Runway: Fashion Startup's illustrious panel of investors to help find the next big thing in fashion and make it a resounding success with her money and mentorship. That's exactly what she did with Gwynnie Bee, after all. Learn all about Gwynnie Bee below, and it'll be easy to see why the fashion game will never be the same now that this company is leaving its mark.
It's Changing The Fashion Industry In More Ways Than One
Fashion is all about looking forward, and that's exactly what Gwynnie Bee is doing with its revolutionary retail model. Not only does it cater to sizes 10 to 32, which don't tend to get a lot of representation in the fashion industry, but it's also an online women's clothing subscription service, meaning that it's completely reimagining the consumer experience.
It's Like Netflix For Clothing
Many startups claim to be "the Netflix of X" when trying to describe their companies in this society that's gravitating toward renting rather than buying. Hunsicker told CNBC in March that she too found Netflix's model "compelling" for Gwynnie Bee because "you're able to create engagement that unlocks data about that customer."
So that analogy should help clarify how Gwynnie Bee works a little bit. Users browse the website and add items that they'd like delivered to their door to their online closets. After they receive them and wear the clothes, users then return them to Gwynnie Bee and do this all over again. If you fall in love with something and don't want to return it, you can do that too by buying the item for a price that's less than retail.
Gwynnie Bee offers a 30-day free trial, after which you pay $49, $69, or $95 a month for one, two, or three items to be sent to you at a time, respectively. Each plan comes with unlimited exchanges and free cleaning and shipping, according to Gwynnie Bee's website. So I guess in a way, it's more like Netflix's DVD subscription service, if you think about it.
It Features An Impressive List Of Designers
Gwynnie Bee offers more than 190 brands, according to its website. Some of those designers include Karen Kane, Rachel Antonoff, and Melissa McCarthy Seven7. The retailer also just added luxury label Tocca to that growing list, which has already created some buzz by the likes of Refinery29.
It's A Sartorial Success
Sure Project Runway: Fashion Startup will help give Gwynnie Bee some publicity, but it has been doing quite well on its own. After its humble beginnings with just four people running the company in an East Village apartment, Gwynnie Bee now has more than 350 employees and operates out of four offices in the United States and India, according to Hunsicker's show bio, including a warehouse in Columbus, Ohio. The company has also shipped more than 3 million boxes since its inception in 2011. However, I am excited to see what having a platform like Project Runway: Fashion Startup does for the company.
The Real Gwynnie Bee Isn't A Person
Though Gwynnie Bee sounds like the name of a Manic Pixie Dream Girl in the latest indie dramedy, the moniker has some even more whimsical inspiration. "I wanted to do a children's book series. The main character was named Gwynstance. I was a strong-willed seven-year old," Hunsicker explained during a March 2014 interview with Tue/Night. Actually, that's really fitting, too.
Hunsicker Is Such A Boss
Any of us would be lucky to have a successful company like Gwynnie Bee as part of our legacies. But Gwynnie Bee isn't Hunsicker's first win. Before starting this company in 2011, she served as the COO of the file-sharing software company Drop.io, which was eventually acquired by Facebook, according to her show bio. Before that, she was COO of the startup Right Media, which was purchased by Yahoo in 2007. It's no wonder Project Runway: Fashion Startup called upon Hunsicker to offer up her entrepreneurial expertise.
And now we just have to wait and see if any of the companies featured on Project Runway: Fashion Startup can duplicate Gwynnie Bee's success.
Images: Zach Dilgard/Lifetime (2); Giphy (3)