'Rocky Horror's Riff Raff Has A Musical Past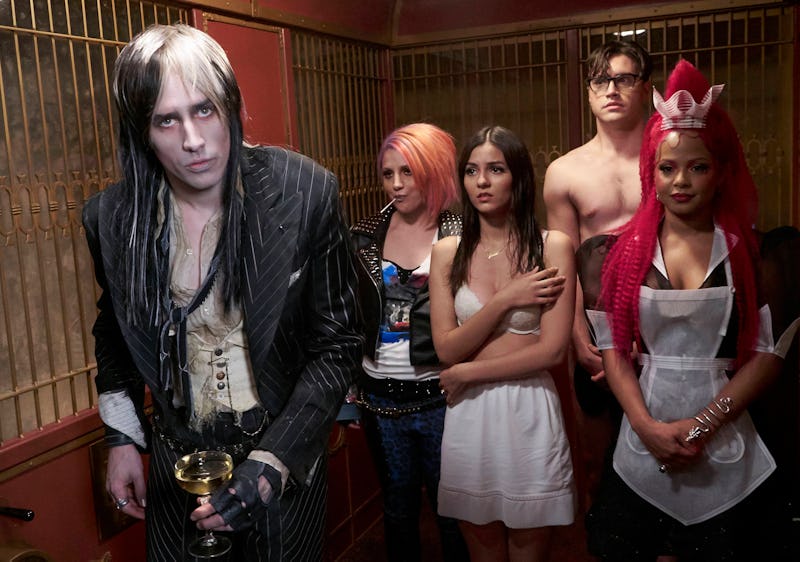 FOX is sending The Rocky Horror Picture Show through a time warp of its own. The TV movie remake, subtitled Let's Do The Time Warp Again, promises to be both an ode to the beloved 1975 cult classic as well as an update for new viewers who are just now meeting the film's unforgettable characters. The updated movie, which debuts on Fox on Thursday, Oct. 20, may not feature the original cast (save for the original Frank-N-Furter, Tim Curry, who makes a cameo as the Criminologist), but it does have a slew of actors who are channeling the Rocky Horror originals. One of these actors is Reeve Carney, who plays Riff Raff in the Rocky Horror remake. Though he's appropriately doom and gloom in the TV movie, you may be surprised by where you've previously seen him.
Carney is no stranger to musicals, or music in general. The actor began as a musician, having studied at the University of Southern California's Thornton School Of Music. According to his interview with fan site @U2, he left the school in 2007 to pursue work with his band full-time, and ended up in New York City for a very different musical venture. In 2011, Carney starred in the Broadway musical Spider-Man: Turn Off The Dark, ending his run as Peter Park in September 2013. In case you doubted that this guy could sing, check out the his rendition of "Boy Falls From The Sky" from the musical:
After he stopped swinging from webs over the Great White Way, Carney moved on to a different, non-musical medium: a horror television series. Carney starred as Dorian Gray (as in, Oscar Wilde's The Picture Of Dorian Gray) in Showtime's Penny Dreadful, a television series in which Riff Raff might actually fit very well. The actor appeared in all three seasons of the series, which ended earlier this year.
Couldn't make it to Broadway and way too freaked out too tune into Penny Dreadful? There is one more major place you may have seen Carney's face. Like actors Scott Eastwood, Dominic Sherwood, and Lucas Till, Carney has appeared in a Taylor Swift music video — though definitely not as a good guy. Carney, who appears in the "I Knew You Were Trouble" video, portrays Swift's pseudo boyfriend, who is too cool for his own good in the worst possible way — basically, he ditches her at a rave so he can go make out with someone else.
If you can forgive him for breaking Taylor's heart in that video, you'll see that Carney is a star to watch, and when Rocky Horror premieres on Thursday night, we'll get to se him in all his Riff Raff weirdness.
Image: Steve Wilkie/FOX