These Twin Girls' Halloween Costumes Are #Goals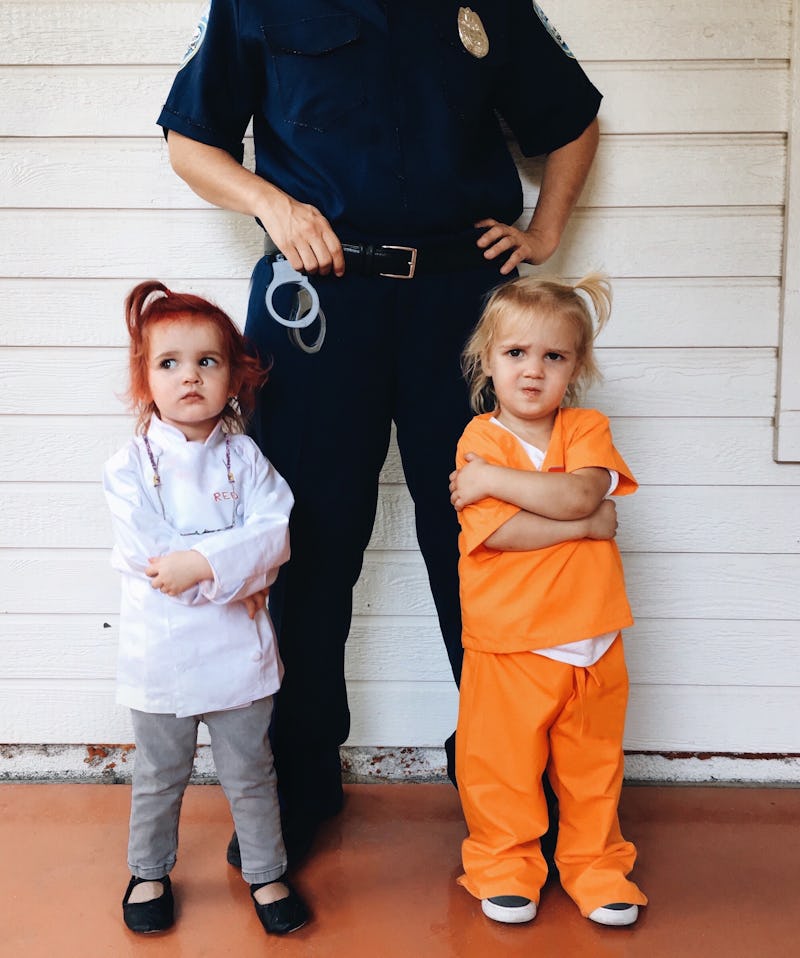 With time quickly running out, many Halloween Johnny-come-latelies are scrambling to find the right costume by Oct. 31. If you are lacking dress-up inspiration, look no further. These cute twins in matching Halloween costumes on Instagram are your new Halloween #goals, and as they say, "imitation is the sincerest form of flattery." Mother of five Katie Stauffer of Mesa, Arizona has the costume game on lock. Nearly every day for the month leading up to Halloween, Stauffer dresses up her twin daughters and posts pics of their adorable outfits on her Instagram.
For Emma and Mila the holiday is extra special as it is also their birthday, reports The Huffington Post. The twins, who will be turning two this year, are naturals in front of the camera, and quickly became Stauffer's favorite models. "The twins were born on Halloween and so on their first birthday I decided to [dress them up] all month long and post them on Instagram," Stauffer tells Bustle in an email. "It was a hit so I did it this year as well. I hope to do it every year or until they say so."
Stauffer, who also runs the photo and family-centric blog Over Our Wall, pulls her creative costume ideas from a wide variety of sources, including the news cycle and pop culture. "I like to choose current events," Stauffer tells Bustle. "Its funny to see babies dresses as adults or movie characters." I couldn't agree more!
Since starting the project, Stauffer's photos have gone viral; each post gaining thousands of likes and hundreds of positive comments on Instagram. The social media attention was quite surprising to the Arizona mom. "To have a costume go viral is honestly really really cool," Stauffer adds. "Its pretty rewarding since its sort of an art to me... I love planning them."
Boost your Halloween game by checking out some of Stauffer's adorable Instagram photos:
Stranger Things — Barb and Eleven
It's creepy how cute these two are. (And nice touch with the frozen waffles.)
Presidential Candidates Hillary Clinton and Donald J. Trump
They may be far to young to vote, but still manage to make a political statement. As the caption says, "Good Luck America 😉🇺🇸."
Kim Kardashian-West and Kourtney Kardashian
It's hard to "keep up" with their spot-on costume game, as the glamorous twins flawlessly channel Kiki and Kourt.
Orange Is the New Black — Galina "Red" Reznikov and Piper Chapman
These two troublemakers aren't even in school yet, but they're already getting detention!
Haters Back Off! — Miranda Sings
In anticipation of the Oct. 14 premier of Haters Back Off! the twinsies dressed as the satirical amateur singer.
Spa Day
Finally, some much needed beauty rest for these busy toddlers.
Two Tiny Chefs
And... I think I just went into cuteness overload.
Images: Katie Stauffer