How "Don't Stop Believin'" Became The Worst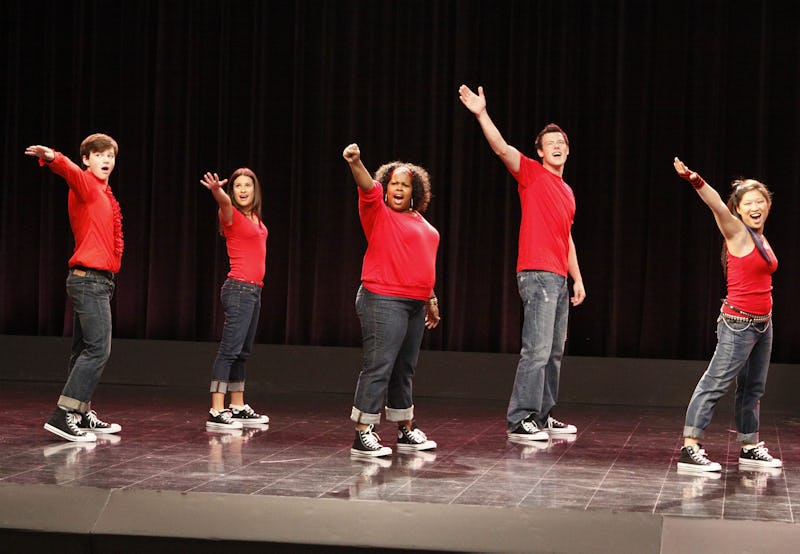 How many times have you heard "Don't Stop Believin'" in the past 10 years? Probably a lot — and if you watch FOX's popular musical dramedy, you're going to hear it again tonight on Glee 's "New Directions," Part 2 of the series' two-part 100th episode event. I know what you're wondering, "Glee's singing that song AGAIN," and unfortunately, the answer to that question is, "Yes." But it's not Glee's fault that you're so over Journey's 1981 hit — the song has been on a steady course towards Overplayed Hell since 1998.
Since tonight should be the very last time "Don't Stop Believin'" is ever played, performed, or used to end a series for the rest of time — we mean it, Ryan Murphy — we've put together a brief history of Steve Perry's hit about a city boy and his midnight train. Because you can't hate on something that you don't know anything about, people.
The Birth of "Don't Stop Believin'"
Journey started as a jazz-rock band in San Francisco in 1973 to little success until they recruited their equally unsuccessful frontman, Perry, four years later. Their luck improved following Perry's recruitment and in 1980 keyboardist Jonathan Cain joined the band. You have him to thank — apparently, every time he called home to his dad during those early years as a struggling artist he told him, "Don't stop believing or you're done, dude." Cain wrote the song's chorus and then brought it to Perry and guitarist Neal Schon and so, "Don't Stop Believin'" was born.
The power-ballad was released in 1981 and peaked at #9 on the Billboard charts for three weeks but flopped overseas. But 18 years later, something amazing happened:
The Arguable Return of "Don't Stop Believin'"
Cain would say that Journey's hit made it's big return when it was featured in the opening scene of Adam Sandler's The Wedding Singer in 1998. He claimed that following this film, the band was approached by other soundtrack coordinators that wanted the song for it's emotional quality and ridiculously retro feel.
But, really, it was its appearance in the 2003 film Monster that won Charlize Theron an Academy Award for her starring role. The song played over a critically-applauded scene where Theron and Christina Ricci's characters are rollerskating. They say how much they love the song and as it plays, their attraction builds until they kiss.
The song took on a powerful emotional value following the critical acclaim of Monster. Which led to its appearance in Scrubs and Family Guy.
Reality TV, The Sopranos, & "Don't Stop Believin'"
And so began the painful era we live in today, when it played during one of Lauren Conrad and Stephen Colletti's sexually tense and awkward car rides on MTV's Laguna Beach. Following its appearance on the reality show, the song jumped onto iTunes Top 10 Singles as it became an anthem and karaoke staple for a new generation.
Then came the first reason why this song should be banned from television — the ultimately disappointing and fan-enraging series finale of The Sopranos.
The most-hated series ending of all time ended abruptly while Journey's hit played on the jukebox at Tony Soprano's table. And it haunted and continues to haunt us because David Chase just won't tell us what happened next. (Damn you ambiguous ending.) Following The Sopranos' series finale, "Don't Stop Believin'" became the first catalog song to reach 2 million downloads. Download sales of the song jumped 482 percent in three days following the episode. That's one way to success.
Glee & "Don't Stop Believin'"
Last but not least, Glee. The show premiered on FOX in 2009 and Will Schuester's merry band of misfits performed "Don't Stop Believin'" during the pilot episode to an empty auditorium to show their team unity. The song featured solos by Finn and Rachel and appeared on Glee: The Music, Vol. 1.
Including that fateful episode, the Glee cast has performed "Don't Stop Believin'" a whopping five times (it won them Regionals and Rachel her role in Funny Girl). And Tuesday night's performance during "New Directions" will make six. If we're counting next year's final season — that's one cover per year that Glee's been on the air, which is just absurd. The cast's cover of the song was Glee's first official single, sold over 1 million copies on iTunes, and is the most successful song of the series. So, I think we can all agree that it's definitely time to say goodbye.
So there you have it, Glee and Journey fans alike, that's how "Don't Stop Believin'" went from humorous and all-in-good-fun '80s power ballad to the song you wish would just die already. And now we leave you with this, perhaps the straw that breaks the camel's back — Kanye's 2008 Lollapalooza performance (it happened before Glee, but still — ugh):
Image: FOX