The 'Hairspray Live!' Cast Shines In This New Pic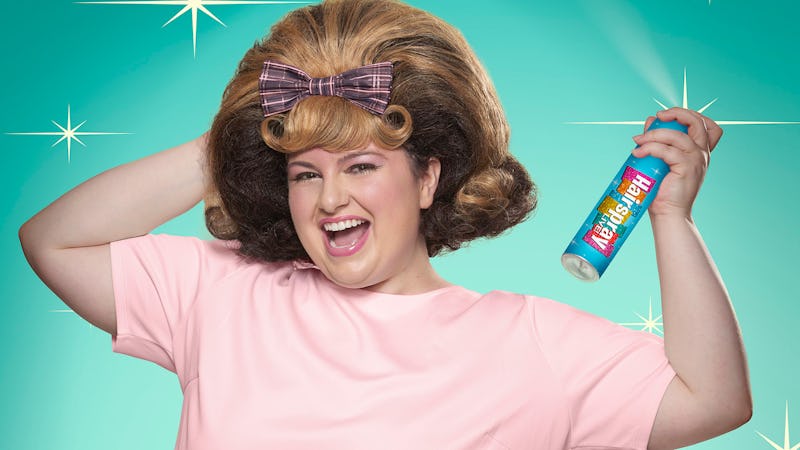 You can't stop the Hairspray Live! cast, let alone the beat, even if you wanted to. In the first Hairspray Live! photo, the star-studded cast is in all of their bright and bold glory, embracing the over-the-top and can't-be-stopped enthusiasm of this hit musical. The special is set to air on December 7 on NBC, and, trust me, when I say star-studded, I mean it. There's hardly a single member of this cast who isn't a huge name in Hollywood or on the big broad way, and this photo captures the amazing amount of talent packed into this one exciting musical.
So let's go through the list. There's Maddie Baillio, the newcomer to the Hairspray Live! cast. She'll be playing Tracy Turnblad, like so many up and coming singing stars have. She's also the only face you probably don't recognize, because the rest of the cast are already total stars in their own right. We've got Martin Short, Kristen Chenoweth, Derek Hough, Jennifer Hudson, and Ariana Grande. There's also Harvey Fierstein in the mix, who was the original Edna Turnblad when it first premiered on Broadway (and who has won a ton of Tony awards since).
In other words, this cast is huge. And this first image of them definitely shows off what big, bright stars they all are.
The image, posted to the Instagram page for Hairspray Live! on NBC, shows the cast decked out in their brightest duds, stepping right out to the beat. Like, literally. They're posing on a big ol' piece of sheet music. Clearly these characters have music in their blood and their bones, and that's just what fans want. Hairspray Live! is the fifth live musical to be broadcast on television in the last few years. It follows its predecessors, The Sound of Music Live!, Peter Pan Live!, The Wiz Live!, and Grease Live! And with a cast as accomplished and as enthusiastic as this one, something tells me that this live musical is going to have fans extra delighted to watch.
Image: NBCUniversal