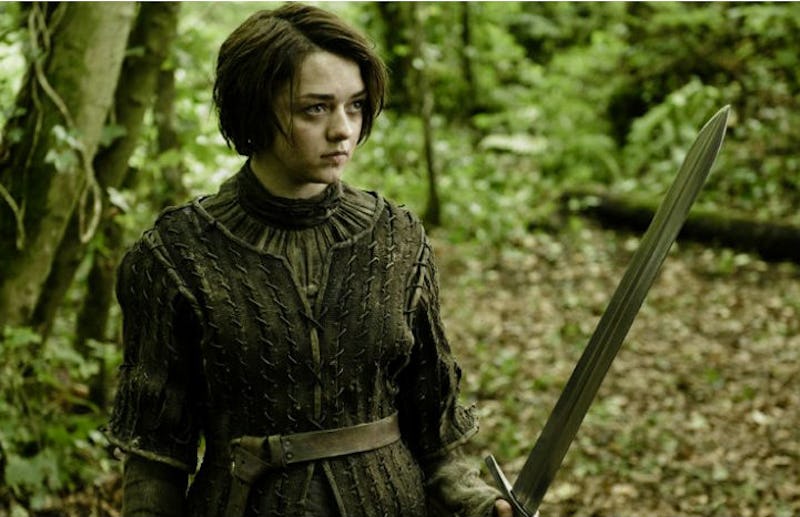 This post contains Game of Thrones spoilers. It looks like our favorite kickass young heroine is turning a bit... darker, shall we say? Now that it looks like Arya Stark and The Hound are officially a duo and she's killed three more people in first two minutes of the season premiere, we've got to ask: is Arya evil? She very well may be taking a turn for the dark side as Season 4 of Game of Thrones gets into full swing.
This question would have seemed nearly implausible even a season ago. After all, Arya is the daughter of Ned Stark (rest in peace), the hero we saw tragically beheaded in the penultimate episode of Season 1. We were moved to tears by her family's tragic end at last season's bloody Red Wedding. She's a stark contrast to her sister Sansa, who seems less Stark and more Marnie from Girls (she whines about everything and does nothing), but all in all the Starks seem like the house to root for. If the non-Tyrion Lannisters represent depravity, and the Targaryens have dragons, then the Starks are the noble and honorable ones. However, if we've learned anything in Westeros, it's that honor gets you nowhere and that no one is safe. Sure, we've known since last season that Arya had it in her to kill people, but three people is a new level.
Still, the triple killing was a moment of triumph: she grabbed Needle — her sword that's been missing since Polliver used to kill her friend Lommy — from Polliver's dead in a moment of sweet, sweet revenge. But Arya's actions beg the question: does revenge make someone evil?
It's an age-old trope: an isolated, misunderstood person with nothing left turns to evil. For all Arya knows, Bran and Jon could very well be dead — everyone else is, after all. It's someone's motivation that makes him or her evil, isn't it? Can someone so inherently good turn so evil and violent?
It's easy to feel her triumph when Arya walks away from the dead bodies and with Needle (and The Hound with his chicken, at long last); it seems particularly difficult to suddenly stop rooting for someone whose side we've been on since the very beginning — since she was taking "dancing lessons," and long before her hair was chopped off.
"Evil" seems to be something that's innate, not inherited, but we may have to wait until later in the season to decide if we still want to keep rooting for Arya. Maisie Williams, who plays the pint-sized Stark, has advised against it — she doesn't want us to like Arya anymore. Unless the Stark girl kills someone benevolent, it will be hard for us not to want to side with her; until then, any kills by her hand and not the Lannisters' will feel like successes.
Image: HBO