7 Powerful Medicated Lip Balms You Haven't Tried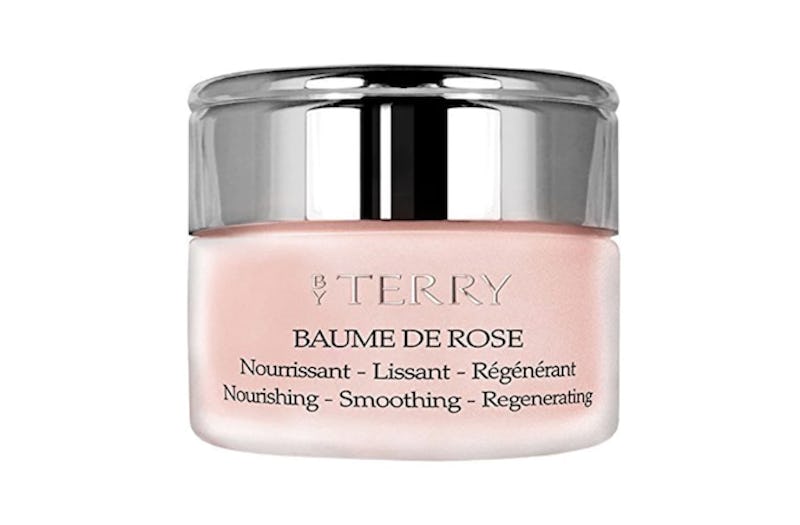 Is there anything worse than waking up with painfully dry, chapped lips? Sadly, no ordinary lip balm is going to provide the instant R&R your pout needs. Instead, swap your go-to brands for these effective medicated lip balms that you've never heard of, but should be using.
As someone who is prone to uncomfortably chapped lips, I understand the struggle of finding the best lip balm. I myself have gone through my fair share of trying (then throwing away) almost every run-of-mill medicated lip balm brand. Seriously, I'm sure I can throw a giant scavenger hunt with all the half open containers I have around the house, in my purse, and tucked away in cabinets. I am a self-proclaim lip balm addict, and I use it 365 days a year, depending on the season. So yeah, I know what it's like to have a lip balm be your lifesaver one night, and have it do zip the next. So if you're like me and have tried every product under the sun, you may find this selection to be refreshing and helpful next time your lips are as cracked as a sidewalk.
I trolled Reddit, my go-to to find any bizarre beauty products, and asked beauty editors for their favorite balms to soothe chapped lips. You'll need them, especially when cold weather strikes when you'll want to slather on all of the lip balm.
1. An Electrifying Lip Balm
Doctor Lip Bang's Lip Freak, $14, Amazon
Reddit user TerrytheMerry is a fan of this lip balm's tingly sensation brought on by cinnamon oil. Doctor Lip Bang's balms are made with essential oils and are 100 percent natural. They promise to give you an electrifying cooling effect to relieve your parch pout.
2. Intense Lip Relief
Jack Black Intense Therapy Lip Balm SPF 25, $10, Amazon
Latina's fashion and beauty assistant Ashley Jimenez calls this her all-time-favorite lip balm, and I can see why. Its shea butter formula conditions the driest of lips, and the added mint will give your pout a cool and refreshed feeling.
3. A Vegan Night Treatment
Hurraw! Lip Balms: Moon Balm, $5, Amazon
This lip balm is a vegan and organic treatment that has a rich and creamy formula that's perfect for reviving your chapped lips overnight. Reddit user _GlennCoco compares this balm to the green Blistex formula, so you know it's serious business. Plus, the chamomile and vanilla scent is super relaxing, making it one of the best lip balms to use right before bed.
4. A Lip Balm With A Cooling Sensation
Dr. Jart Ceramidin Lip Care, $14, Amazon
This is Reddit user kidaore's, No. 1 night treatment for lips and for a good reason. Not only does Dr. Jart's Ceramidin Lip Care provide intense hydration, but it also shields your lips from dryness. And, the minty flavor provides an extra relief to dry, chapped lips.
5. A Lip Balm Worth The Splurge
Terry Baume de Rose Lip Balm, $60, Amazon
Bustle's Fashion and Beauty Editor Olivia Muenter loves the luxurious feel of this lip balm. "I like this balm because it's super luxurious and rich, and makes my lips feel moisturized and healthy without feeling too sticky or heavy," says Muenter. Great for not only chapped and cracked lips, but the formula can also be used for cuticles and other rough, dry patches on your skin. You'll also appreciate its fresh rose scent.
6. Lanolin Works Wonders For Lips
Now Solutions Lanolin, $8, Amazon
Yes, lanolin's primarily known for solving chapped skin in relation to nipples. But Reddit users rave about lanolin as the ultimate solution for a chapped and cracked pout. But, you don't need a fancy lip balm brand to get the job done. Just grab pure lanolin at the baby aisle, and slather it on your lips. Cracked lips begone.
7. A Spa Treatment For Your Lips
Bite Beauty Agave Lip Mask, $26, Sephora
While on the pricey side, Bite Beauty's lip mask is one of the best overnight treatments to relieve your dry pout. Reddit user jlebb likes this product because of its thick consistency and intense moisture. The formula is comprised of nourishing agave nectar, moisturizing jojoba oil, and even three times the amount of antioxidants found in red wine, according to Bite Beauty. Totally worth the splurge.
Images: Amazon (6); Sephora (1)
Bustle may receive a portion of sales from products purchased from this article, which was created independently from Bustle's editorial and sales departments.