'Black Mirror' Is Great Halloween Viewing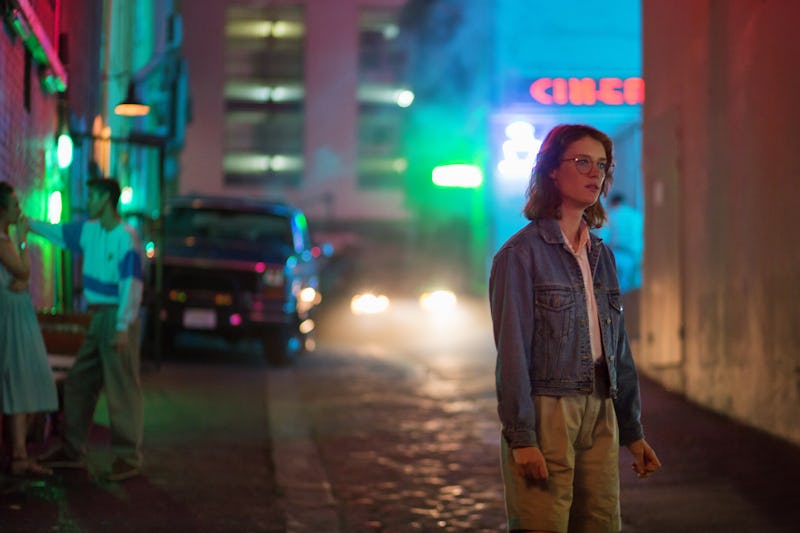 After nearly two years without a new episode of the already cult-classic techno-horror anthology Black Mirror, Netflix premiered six new episodes on Oct. 21. If you've heard anything about Black Mirror, you've likely heard that it's a modern equivalent of the Twilight Zone and reminiscent of other television horror anthologies. But, how Scary is Season 3 of Black Mirror ? While it's appropriate viewing for the Halloween season, many curious viewers may be more interested in watching Black Mirror for its social satire than any scares that the series may provide. Fans may wonder whether or not certain Black Mirror episodes are best watched with the lights off or on.
Black Mirror features similar subject matter from episode to episode, but the tone varies between the different stories. Each episode tells a self-contained story, ranging from Season 1's relationship drama "The Entire History Of You" to Season 2's thriller "White Bear." While each episode exists in its own unique world, the show consistently presents dreary visions of the future and how technology continues to affect humanity. Each episode of Season 3 of Black Mirror may not be terrifying, but expect these episodes to change how you look at the technology in your life. If you think any episode in particular may be too spooky for you, here's a look at each of the six episodes that make up Season 3.
"Nosedive"
Synopsis: "Insecure office worker Lacie (Bryce Dallas Howard) lives in a happy, smiley, status-obsessed nightmare world. Her old friend Naomi (Alice Eve) is one of society's elites — and Lacie may have found a way to join her."The world of "Nosedive" may be described as a "nightmare world," but expect a few laughs from this story co-written by Parks and Rec alums Mike Schur and Rashida Jones.
"Playtest"
Synopsis: "Thrill-seeking globetrotter Cooper (Wyatt Russell) visits Britain, hooks up with Sonja (Hannah John-Kamen) and tests a video game so advanced, it's terrifying … In "Playtest," viewers are treated to a videogame-themed installment directed by Dan Trachtenberg​, fresh off the success of 10 Cloverfield Lane."
"Playtest" sounds more like the techno-horror genre that Black Mirror is often associated with, and in the hands of 10 Cloverfield Lane director Dan Tracthenberg, this one will be an episode to watch during the daytime.
"Shut Up And Dance"
Synopsis: "When withdrawn 19-year-old Kenny (Alex Lawther) stumbles headlong into an online trap, he is quickly forced into an uneasy alliance with shifty Hector (Jerome Flynn) — both of them at the mercy of persons unknown."
"Shut Up and Dance" sound like it could easily be compared to the shocking Season 2 episode "White Bear," featuring protagonists that are at the mercy of a greater unknown force. The reveal of the truth behind the circumstances of "White Bear" was one of the most memorable moments of Black Mirror's original run, and "Shut Up and Dance" could replicate that success.
"San Junipero"
Synopsis: "California, 1987: San Junipero is a fun-loving beach town synonymous with sun, surf, and sex. And for recent arrivals Yorkie (Mackenzie Davis) and Kelly (Gugu Mbatha-Raw), it's going to be a life-changer.""San Junipero" seems to break from the Black Mirror formula. Instead of being set in a speculative future, "San Junipero" goes to the past. The episode is directed by Owen Harris, who directed Season 2's heartbreaking "Be Right Back," so expect San Junipero to tug at your heartstrings instead of going for a scare.
"Men Against Fire"
Synopsis: "Future soldiers Stripe (Malachi Kirby) and Raiman (Madeline Brewer) must protect frightened villagers from an infestation of vicious feral mutants. Technologically, they have the edge — but will that help them survive?"
Any story with the phrase "vicious feral mutants" in its synopsis is almost certain to be a terrifying watch. Save this one for viewing with a friend or two for emotional support.
"Hated In The Nation"
Synopsis: "In near-future London, police detective Karin Parke (Kelly Macdonald) and her tech-savvy sidekick Blue (Faye Marsay) investigate a string of mysterious deaths with a sinister link to social media."
Black Mirror is trying on its police procedural hat for its Season 3 finale. Depending on how terrifying you find the average episode of CSI, SVU, or NCIS — you will likely find this cerebral counterpart more eerie than scream-inducing.
Even as anthologies have come back into popularity, there's nothing on television quite like Black Mirror in tone or structure. The whole season only lasts six episodes, but it's best to spend time in between viewings. Marathoning the entire season at once may result in extreme pessimism for the future of the world and a fear of smartphones.
Images: David Dettmann (2), Laurie Sparham (5)/Netflix