This Women-Led Photo Project Is Everything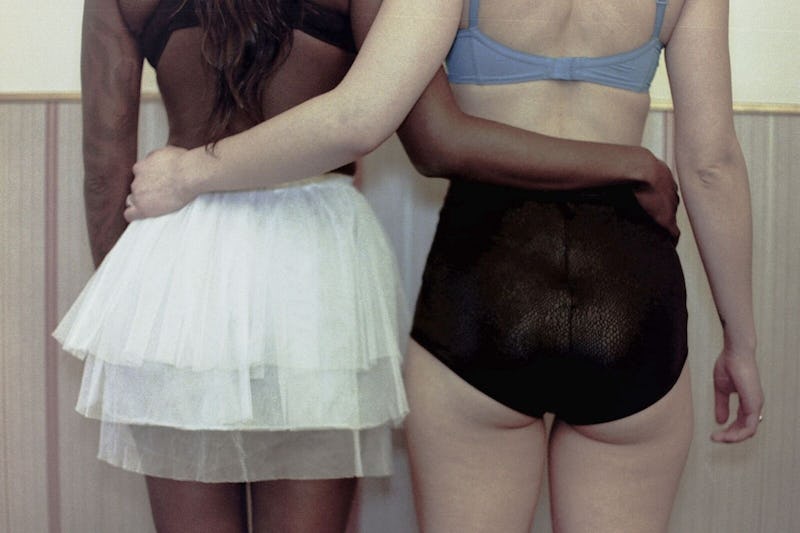 Whether it's shooting magazine covers, taking editorial photos, or heading up marketing campaigns, there aren't nearly enough women photographers being hired for or heading up creative teams. But the multimedia photography project Girlgaze is seeking to level the playing field by showcasing powerful photographs from women all over the world, as well as providing support and general visibility for them. They're photos by girls and women, and for girls and women, aiming to "represent what it is to be female, to be young, and to be a girl and navigate that in this world," says founder and photographer Amanda de Cadenet in an interview with Bustle.
Girlgaze started out as an Instagram movement that aggregates stunning photos by women using the hashtag #girlgaze. Now, it's backed by some of the industry's most successful photographers such as photojournalist Lynsey Addario and fashion photographer Collier Schorr. On Saturday, Oct. 22, the Girlgaze: A Frame of Mind photography exhibit will be opening at the Annenberg Space for Photography in Los Angeles, California, featuring a selection of the pictures from Girlgaze's global community. The show will run for six months and includes around 150 photos from nearly 120 women photographers.
The idea is that women everywhere, regardless of race, gender, sexuality, ability, and personal background, should have the chance to nurture their creative potential and do meaningful work with their talent. "We want to create an opportunity for the next generation of girl photographers and directors to know that there is a community that appreciates what they do," Cadenet says. "Ultimately, the end goal is to have more [women] in the workplace creating more content that we consume."
When the founder first put out a call for photos on Instagram, the project received more than 450,000 submissions over the span of just a few months. Over time, the @GirlgazeProject Instagram account took on "a life of its own," Cadenet says. It's led to collaborations with Teen Vogue as well as job offers for more than 20 girls who have participated in the project. Now, the team is building a mobile app that will allow women to join the Girlgaze community and submit their work for job opportunities, which could potentially lead to a new career in the long run. A book filled with Girlgaze photos is also scheduled for release in 2017.
Like Hollywood, the photography industry is overwhelming dominated by men. Only 15 percent of professional news photographers are women, according to a study done by World Press Photo in 2015, and diversity is also lacking. "We definitely need more girls behind the camera, but I strongly believe we equally need more of every gender, ethnicity, and generation, too, in order to better understand the world in general," writes Ophelie Rondeau in an email to Bustle. Rondeau, 29, is a Germany-based photographer whose work is being showcased in Girlgaze's upcoming exhibit.
Another significant part of Girlgaze's mission is to give more attention and space to the women's own perspective on women. Even though you see women in the media, creative photo projects focusing on women are largely executed by men. Cadenet says that needs to change. "Women are often portrayed through the male gaze," she says of the media industry. "Nine times out of 10, it is a fantasy of the female, it's their ideal female."
As she's seen and collected hundreds of photos for Girlgaze online, Cadenet says the movement has shown her that women portray themselves and each other through an unfiltered lens. "Girls really do show [women] in a way that's way more honest, way more authentic, and still incredibly beautiful and sensual at times," she says.
Just a few of the themes shown in Girlgaze's photography over the months include body image, sexuality, censorship, and mental illness. Rondeau's work largely focuses on the relationship dynamics between girls, whether that be between best friends or romantic partners.
"It is very important for me to be showing my own vision of femininity and I'm extremely honored to be given the opportunity to do so," Rondeau tells Bustle of her Girlgaze work. "I get many emails from strangers telling me how much my photos mean to them, simply because they remind them of themselves and a particular time in their life." Now, Rondeau's passion for photography has gone from merely a hobby to a career that inspires her to reach seemingly unattainable dreams.
For Yumna Al-Arashi, a Girlgaze photographer from Lebanon, photography allows her to document women's stories and explore truth in human rights and culture. "I use it as activism, a way to unite people, to share stories, to grow and to show beauty," writes Al-Arashi, 27, in an email to Bustle.
A one of a kind project, Girlgaze isn't just a safe space for girls and women to share their work and learn from each other. It's also become a tool for empowering women and changing the misrepresented landscape of photography. "Creativity cannot be boxed," Cadenet says.
You can visit the Girlgaze: A Frame of Mind exhibition from Oct. 22, 2016 to Feb. 26, 2017 at the Annenberg Space for Photography in Los Angeles. To see more online, check out Girlgaze's website and connect with @GirlgazeProject on Instagram.
Images: Courtesy of Ophelie Rondeau (2), Amaal Said, Francesca Milano/Girlgaze