Here's How Much Nasty Gal's Nasty Women Merch Is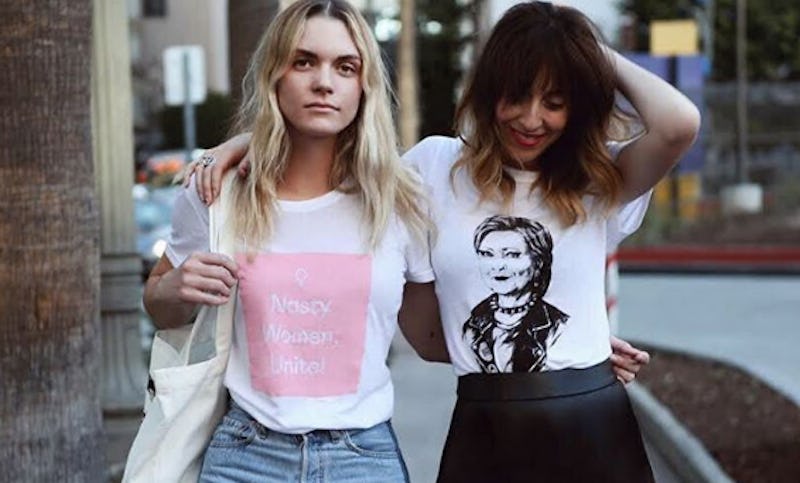 When politics and fashion collide, magic happens. That's exactly how Nasty Gal's latest line came to be. In honor of the most recent political bout of name calling, Nasty Gal created a Nasty Women clothing line. How much can you get this "girl power" worthy swag for? The line will cost you, but you'll be making more than just a clothing purchase if you opt-in.
This election season has been, well, interesting. Tons of different insults have been thrown around, and the most recent is inspiring a fashion line. After Donald Trump called Hillary Clinton "a nasty women" in the last presidential debate, women all over started embracing the term. Enter Nasty Gal, a brand whose name lends itself very well to getting in on this particular movement. The company, which also temporarily changed the world "Gal" in its logo to "Women" on the website, created a whole line of Nasty Women gear.
The line is a collection of two t-shirts and a tote. The one tee and the tote have an image of Clinton in a leather jacket and edgy black lipstick, while the other says "Nasty Women, Unite." All of the profits for the items go towards Planned Parenthood as well. Each shirt is $48 and the tote is $25. But if you think of it as a donation, it's more than worth it.
How fun is that! In my opinion, this is the perfect way to share your political views in a trendy way. As of Oct. 22 at 10 am EST, all three of the items and all sizes are still in stock. There's no telling how fast these will sell out though.
Nasty Gal Nasty Women Tote Bag, $25, nastygal.com
According to the site, all of the styles are limited edition. It does say that there will be at least one more restock in the description, but it's unclear when exactly that will be. To be safe, I'd snag this gear before it's gone.
What are you waiting for? Go get to shopping!
Images: NastyGal/Instagram (1)