The Ultimate Foodie Gift Guide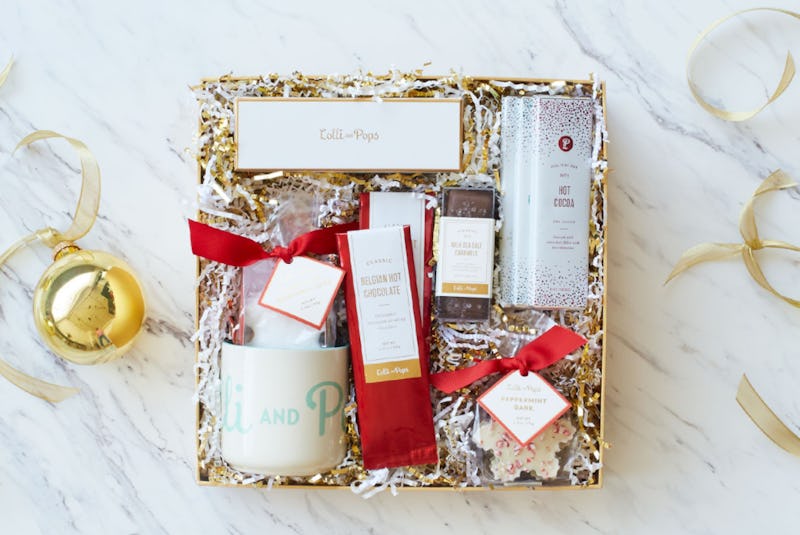 Food, glorious food. Christmas is the season for eating delicious food, and this ultimate foodie holiday gift guide is the way to do it in style and with class. Whether you're looking for gifts for your family, your friends, your coworkers, or even yourself — if they're a foodie, then they'll be satisfied (in fact, probably elated) with anything on this list of goodies.
There are always a few ways to go when shopping for a foodie. You can go the actual food route, you can go the cute kitchen accessory route, or you can go the practical chef route. There's an abundance of all three categories below, and even some nifty gifts that fall somewhere in-between. From maple syrup samplers and George Foreman indoor grills to garlic mincers and pot holders, there are dozens of choices to be made below. (Who knows, you might even end up adding one or two of these items to your own Christmas list).
Don't be that gift giver who ends up handing out gift cards on Christmas morning because you didn't set aside the time to plan ahead. Everything on this list can be ordered online, so you have no excuses to not do all your shopping on your iPhone. You're welcome.
1. Paint Me A Picture Pot Holder
Paint Me a Picture Pot Holder, $12, Mod Cloth
Yes, that's Frida Kahlo, looking fly as hell on a cotton pot holder. Every foodie needs dope kitchen accessories, and it's pretty fair to say that this pot holder fits the bill. Easy to machine wash, this pot holder is practical, pretty, and all around badass.
2. Hammered Borealis Spoon Rest
This stainless steel beauty will put any other spoon rest to shame and instantly perk up any kitchen counter. The hammered texture makes for a rustic look, and the golden color of the metal is anything but an eyesore. This is a great gift for cooks, and wannabe cooks.
Hammered Borealis Spoon Rest, $20, Anthropologie
3. Box Of Winter Wonderland
Box of Winter Wonderland, $40, Nuts
Forgo the usual candy ribbon and candy canes this year and give your friends something they'll actually enjoy eating. Box of Winter Wonderland has it all — dried apricots, peppermint malted milk balls, dark chocolate cashews, chocolate-covered sunflower seeds, roasted and salted almonds, chocolate nonpareils, salted pistachios, and dark chocolate-covered espresso beans. Told you.
4. Leaf Kosui Bowl Set
Leaf Kosui Bowl Set, $30, High Fashion Home
Foodies can never have too many kitchen accessories, and these adorable little dishes are as useful as they are lovely. Fill them with soy sauce, small toppings, or whatever else you need a small sprinkle of during your meal. Tiny dishes also always come in handy when you're cooking at home.
5. GarlicZoom Garlic Chopper XL
GarlicZoom Garlic Chopper XL, $15, Chef'n
Garlic makes every meal better (seriously, there are few entrees that I can think of that garlic can't enhance), but chopping it up can be a real pain. Not to mention, the stink stays on your fingertips for days. The GarlicZoom Garlic Chopper XL has got you covered, though, and will do all the chopping for you. The best part? Just toss it in the dishwasher when you're done.
6. Maddy & Maize Small Batch Popcorn
Small Batch Popcorn, $6, Maddy & Maize
Boasting every flavor from Birthday Cake to Porcini Mushroom, Rosemary & Olive oil, this (totally affordable!) small batch of popcorn is one that every foodie has got to try at least once in their life. Trust me when I say it will make you rethink the possibilities of popcorn for the rest of your life... and in the best way possible. Supply is limited, so don't waste time!
7. George Foreman 2 Serving Classic Plate Grill
George Foreman 2 Serving Classic Plate Grill, $25, Amazon
If you've got a foodie friend who is also a city-dweller, a George Foreman Classic Plate Grill is sure to be a hit. While apartment renters (and owners!) might not have a luxurious backyard to barbecue in, that shouldn't stop them from grilling.
8. Williams-Sonoma Infused Oil Gift Set
Infused Oil Gift Set, $40, Williams-Sonoma
Blood Orange, Roasted Garlic, Aromatic Basil, and Citrus Habanero... four flavors that any foodie would get excited about. And guess what? They're all included in this WiIliams-Sonoma Infused Oil Gift Set. Who knew olive oil could be so exciting?
9. Grafton Waxed Wheel Sampler
Grafton Waxed Wheel Sampler, $20, Dakin Farm
Cheese. If it doesn't do a body good, it at least does a soul good. This triple sampler includes a Maple Smoked Waxed Wheel, Garlic Cheddar Waxed Wheel, and Sage Cheddar Waxed Wheel for your foodie friend's delightful consumption. (And maybe if you're nice, they'll share some with you...)
10. Amber Etched Glass Decanter
Amber Etched Glass Decanter, $12, Tuvalu Home
Can anything make your liquor shelf look classier than a set of glass decanters? Unlikely. The Amber Etched Glass Decanter jazzes things up even further thanks to its warm hue and '20s inspired design. If you really want to take things up a notch, gift the decanter alongside a bottle of your friend's favorite whiskey.
11. FreshForce Citrus Juicer
FreshForce Citrus Juicer, $25, Chef'n
Since we're on the topic of fancy cocktails, a citrus juicer is a wonderful accessory to add to any bar setup. The FreshForce Citrus Juicer, in particular, squeezes out an additional 20 percent of juice from lemons and limes than most conventional, handheld juicers. There's no denying how much better the real stuff tastes compared to bottle fruit juice. Just sayin'.
12. World Gourmet Sea Salt Sampler
Pink salt has become all the rage as of late — but what about green salt, black salt, and red salt? Test out your tastebuds on this 16-pack of gourmet sea salts that includes flavors such as lime, ginger, rosemary, onion, and the like.
World Gourmet Sea Salt Sampler, $32, Monticello
13. Ceramic Food Storage Bowl Set
Ceramic Food Storage Bowl Set, $34, Urban Outfitters
Who needs tupperware when you have ceramic food storage bowls that are a million times cuter and a million times easier to wash? Pack up your leftovers, your office lunches, and your travel snacks in these trendy containers — and look good while doing it.
14. Freds At Barney's New York Chocolate-Drizzled Popcorn Tub
Fred's New York Chocolate-Drizzled Popcorn Tub, $28, Barneys
How good of a friend are you? A good enough one to purchase this enormous tub of milk chocolate-drizzled popcorn and not eat one bite of it? If so, cheers to you, because I couldn't do it. Yum.
15. XL Blast Drink Machine
Black+Decker XL Blast Drink Machine, $60, Amazon
Is your foodie friend constantly inviting you over to their apartment for refreshments? Help them up their mixed drink game with an XL Blast Drink Machine that will tear through ice and frozen fruit without a lick of hesitation. That's right, you'll both be able to enjoy frozen margs, wine slushies (yes, that's a thing), and any one of these delectable frozen drink recipes. Done and done (and done).
16. Lucille Apron
The worst part about cooking? Definitely the backsplash of oils, batters, and water that befalls whoever's playing chef for the night. This apron is more fashionable than most of my closet. Save your clothes. Be adorable.
Lucille Apron, $32, Anthropologie
17. Herb Pot With Tray
Herb Pot with Tray, $30, Williams-Sonoma
If you know anything about cooking, then you know it's all about the herbs. Unfortunately, most grocery stores charge an arm and a leg for them. So, what's the solution? An at-home herb garden! Affordable to maintain and it doesn't get any fresher than when it's picked right off the stem.
18. Aztecs Revenge 10-Pack Mexican Style Hot Sauces
Aztecs Revenge 10-Pack Mexican Style Hot Sauces, $20, Bed Bath & Beyond
Spice up your friends' lives with this 10-Pack of Mexican Style Hot Sauces. From Cayenne and Buffalo to Mango-Habanero and Lime, these hot sauces cover a wide range of flavors and an even wider range of heat.
19. Taylor GrillWorks Folding Thermometer & Bottle Opener
Taylor GrillWorks Folding Thermometer & Bottle Opener, $15, Target
Ever get into the "I want to start cooking more" conversation with one of your friends? If so, a meat thermometer is one of the most well-thought-out gifts you can give them. Beginner chefs (and even more experienced ones) can be intimidated by meat, but with a reliable thermometer on hand, there's no reason to be. Added bonus? This one comes with a bottle opener. Now your friends can cook (and guzzle beer) to their hearts' delight!
20. Sugarfina Faves 8 Piece Bento Box
Faves 8 Piece Bento Box, $65, Sugarfina
If your foodie friend has a serious sweet tooth, the Sugarfina Faves 8 Piece Bento Box is sure to put them in a good mood. Filled with all the bestselling candies that a sugar-lover could ask for, they'll get their fair share of Champagne Bears, Peach Bellini, Fruity Loops, Sugar Lips, Sugarfina Pearls, Dark Chocolate Toffee Almonds, Dark Chocolate Sea Salt Caramels, and Robin's Egg Caramels.
21. Express Whole Juicer
Juiceman Express Whole Juicer, $57, Amazon
Juicing is all the rage these days, and every person, let alone foodie, should own a juicer. Toss in veggies, fruits, yogurts, and powders to make your morning breakfast routine as healthy and delicious as possible. It's like you're watching out for your friend's tastebud and health. You're so good.
22. Beast Mode 3-Pack Chocolate Bar Gift Set
Beast Mode 3-Pack Chocolate Bar Gift Set, $12, It'Sugar
What foodie doesn't love chocolate? This 3-pack of chocolate bars by Marshawn Lynch not only has the coolest packaging, but is also has the best flavor combos one could possibly think up: Mint Kookie N' Milk, P-Nut Butter Pretzel, and Chocolate S'mores Bar 'N Milk! The ecclectic combo will appeal to just about every chocolate-lover's palette.
23. Diamond Ice Cube Tray
Diamond Ice Cube Tray, $14, Urban Outfitters
Don't we all want some bling in our beverages? Now you and your friends can finally make that dream come true! There are some pretty cool ice cube trays out there on the web, but I haven't seen anything that compares to this diamond dish.
24. Vermont Maple Sampler Trio
Vermont Maple Sampler Trio, $12, Vermont Country Store
Maple syrup isn't just for pancakes (though it tastes pretty dang good on them). Top off your oatmeal, ice cream, coffee, or even pizza with the sweet syrup and you'll be surprised how much better it makes your dish. This triple sampler includes Golden, Amber, and Dark syrups to guzzle down.
25. Read Between The Lines Cocktail Napkins
Cocktail Napkins, $8, Read Between The Lines
Every foodie who loves to entertain could use some fancy, holiday napkins, and these cocktail napkins by Read Between The Lines are some of the best. The text is stamped onto the napkins in metallic foil, and you won't find wittier lines than these. Practical, funny, and pretty to look at... it's a three-for-one.
26. Beer Growler
We all know a beer geek or two, and with the trend of filling growlers becoming more and more popular, this is a solid gift for those wanting to transport their beverage of choice around without a degradation of quality. The sleek design and simple color choice makes it one of the coolest growlers I've seen in a long time.
Beer Growler, $60, Made by RBT
27. Lolli & Pops Holly Jolly Box
Holly Jolly Box, $59, Lolli & Pops
Lolli & Pops' Holly Jolly Box has all of your favorite holiday treats nestled inside of its uber-adorable packaging. There's no shortage of chocolates, caramels, peppermint, or cocoa in here (and even an adorable mug for making that cocoa!). If there's one surefire way to spread holiday cheer, it has got to be with this box full of treats.
Images: modcloth.com, anthropologie.com, nuts.com, chefn.com, maddyandmaize.com, georgeforemancooking.com, williams-sonoma.com, dakinfarm.com, tuvaluhome.com, moticelloshop.org, urbanoutfitters.com, barneys.com, blackanddeckerappliances.com, bedbathandbeyond.com, target.com, sugarfina.com, juiceman.com, itsugar.com, vermontcountrystore.com, readbetweenthelines.com, madebyrbt.com, lolliandpops.com