You Know You Want A Wine Slushy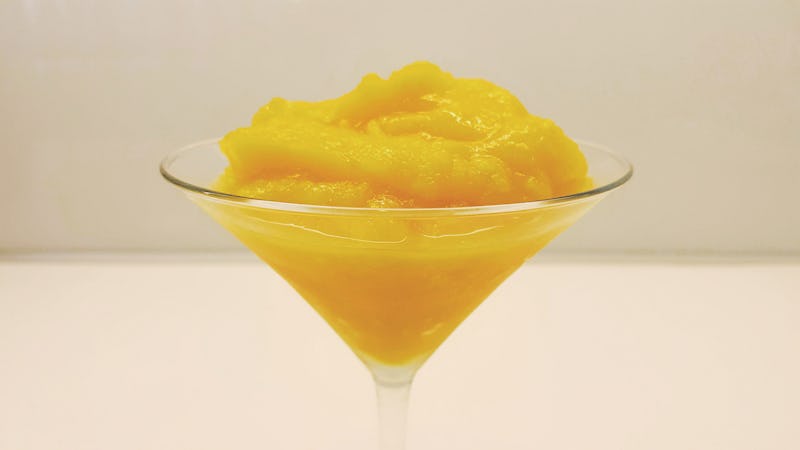 Remember the strawberry watermelon, blue raspberry, and white cherry slushies of your youth? There is nothing better than sipping (or slurping) one during the dog days of summer. Luckily, grown folks have a respite too — it's called a wine slushy. Don't know how to make wine slushies? Fear not, for I'm about to show you.
Basically, when wine and slushies make a baby, you get a hybrid that's half dessert and half boozy drink. It's truly the best of both worlds. Fresh fruit also plays a major role in making this adult beverage extra delicious, which means you can feel slightly less guilty about the hours of day-drinking you have ahead of you. Consider the wine slushy, and make one for yourself. Olivia Pope would be proud of your resourcefulness.
This drink doesn't require a slushy machine (as if any one of us owns one). However, you will need a blender, frozen wine, and frozen fruit. Did I mention that this recipe only contains two ingredients? You'll want to choose a light-bodied white wine that's slightly sweet, such as Riesling, Pinot Grigio, or Moscato. The fruit possibilities are endless; try frozen mangoes, berries, peaches, or cherries. Take summertime boozin' into your own hands, and learn how to turn a childhood favorite into a legitimate adult beverage.
Ingredients:
1 bottle of a light-bodied white wine
2 cups of frozen fruit
Directions:
Pour wine into a 16-cube ice tray, and freeze (it'll take about eight hours). Reserve 1/2 cup of wine separately.
Once the wine is frozen, take a small spoon and run it along the perimeter of each cube to pop it out of its mold. The "wine cubes" will not slide out as easily as water ice cubes.
Add the cubes to your blender, and add in two cups of frozen fruit.
Pour in the reserved 1/2 cup of wine, and blend until the mixture is of a slushy consistency - about three minutes on high. Be careful not to over-blend.
Pour into a glass and serve.
Images: Taylor Henriquez (6