Mon-El Has Heroic Connections Beyond 'Supergirl'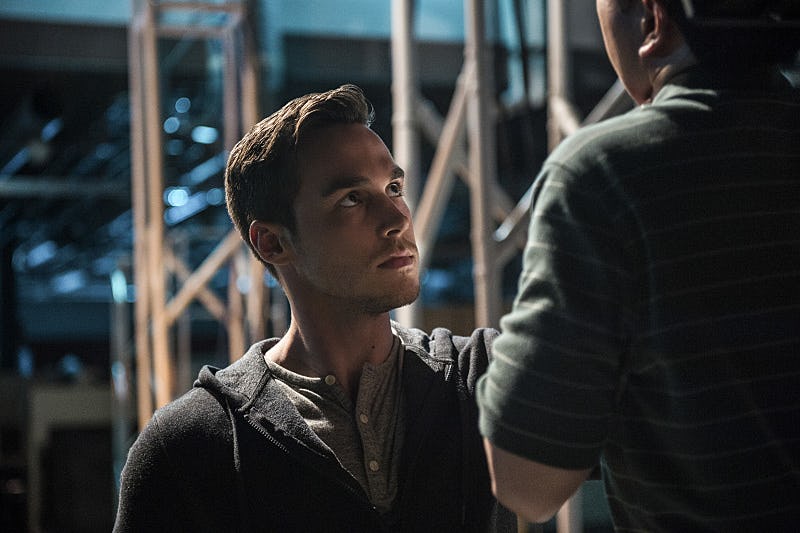 Supergirl has tackled everything from aliens to smug corporate bosses. But judging by the look on Kara's face in the Season 1 finale, the mysterious man who arrived in a pod at the end of last season might be her biggest challenge yet. We've since been properly introduced to the man in the pod on Supergirl, aka Mon-El, but the Oct. 24 episode promises to reveal even more.
Viewers were first introduced to Mon-El, another Kryptonian alien, at San Diego Comic-Con, where producers revealed that Vampire Diaries actor Chris Wood would be playing the man found inside the pod. At the Television Critics' Association panel a few weeks later, it was finally confirmed that Wood's character is Mon-El, marking the introduction of one of DC's most significant characters.
So, who exactly is Mon-El? We'll no doubt learn more about him (and his overarching plot, as Wood is a series regular) in Monday's episode, but producer Andrew Kreisberg told Collider that despite the character's rich comic history, Supergirl' s version will have his own spin. But that doesn't mean Mon-El's DC history doesn't contain clues about how his presence will affect Kara and the rest of National City.
Mon-El has all the abilities of Superman, save for one — kryptonite isn't his weakness (ah, how convenient). Instead, his weakness is lead, which could make for some interesting setbacks once he starts learning how life on Earth works in the show. In the comics, Mon-El was born on Daxam as someone who was mostly interested in Kryptonian lore. This led him to search for the planet Krypton, and when he was nearby, the planet exploded, sending him to Earth. Mon-El awoke on Earth suffering from amnesia and not remembering his name or knowing that he had any powers.
He quickly befriended Clark Kent, aka Superboy (this is Clark as a teen, so he's not exactly a man yet), who gave him the name of Mon-El, a combination of the day Mon-El came to Earth (Monday) and Clark's real name (Kal-El). Superboy assumed the two were brothers based on the fact that Mon-El demonstrated the same, strange powers. But when Mon-El proved he wasn't hurt by kryptonite, Superboy became suspicious, and decided to get him back by tricking him into touching a rock made of lead. This almost killed Mon-El, but feeling guilty about almost killing his friend, Superboy saved his life by bringing him the Phantom Zone.
Mon-El was healed by the Legion of Super-Heroes, a group he eventually joined. Does that mean we could eventually see a possible Legion of Super-Heroes-centric episode of Supergirl or even a spinoff? Anything is possible, but maybe we should see what Mon-El's real intentions are first. After all, Tuesday night's episode will see Kara searching for the alien, believing him to be part of the attacks threatening Earth. And it seems like we'll have a long way to go before we have Supergirl and Mon-El saving the world together. But make no mistake, I'm excited for the ride.
Images: Diyah Pera/The CW; DC Comics