'No Tomorrow' Explores Non-Monogamy & Boundaries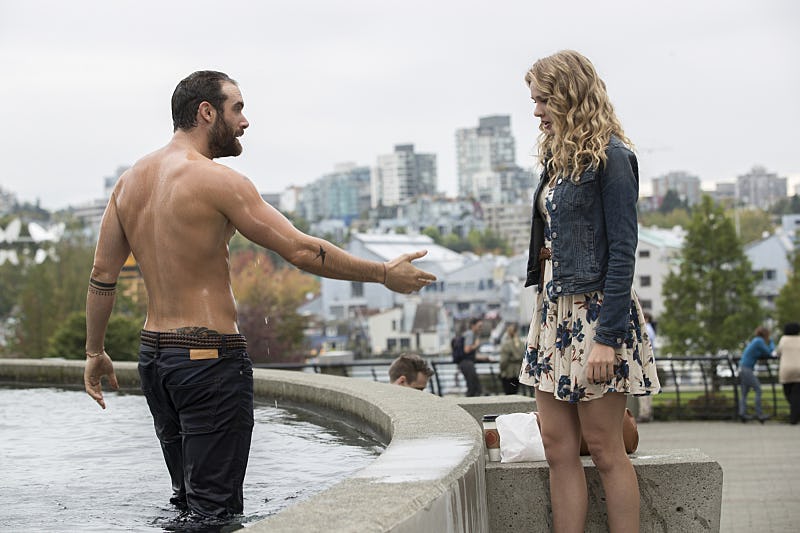 The Oct. 25 episode of The CW's consistently charming No Tomorrow was all about non-traditional relationships and much to my surprise, the discussions being had were refreshingly honest. The disarmingly charming Xavier has been pushing Evie for weeks now to venture outside of her comfort zone and after failing to get her to literally eat bone marrow, Xavier transformed the action into a mantra by telling Evie she needs to "suck the marrow out of life." For Evie, that came to fruition when she showed up on Xavier's porch, took off her shirt, and after dancing around in her bra, ran inside to discover Xavier's other love interest making her way out the door. Cue the awkwardness.
The presence of Tuesday (played by a boho chic Jenna Dewan Tatum) brought up a rather frank discussion about ethical non-monogamy, the sexual boundaries society places on us, and whether or not an individual has to accept the norm in order to feel sexually and emotionally fulfilled. Evie was initially appalled at Xavier's involvement with Tuesday and given the way society conditions us, I can't blame her. Feeling cheated of a crucial piece of information or perhaps left in shock that the assumption she was operating on (that she and Xavier were monogamous) was totally false, Evie set out to reconfigure her own sexual ethics compass. Cue her foray into casual dating and open relationships.
You have to hand it to Evie, who is often a stand-in for the viewer on the show and whose more traditional approach to dating was likely relatable for many of us. Xavier's honest, non-confrontational, and refreshingly insightful ("You can't possess another person!" as he says) approach almost feels too subversive for comfort. But that's what makes this latest episode of No Tomorrow so exciting. Watching the show push against these ingrained societal boundaries was exhilarating. Forcing Xavier and Evie to examine both sides of the non-monogamous coin felt revelatory to watch. Better still, the show doesn't punish Xavier and Evie for wanting to either stay monogamous or explore non-monogamy — a major coup for a television series.
This open approach to romance feels so relatable, especially in our actual Millennial dating culture. Even Kareema's advice to Evie, which involved pushing her towards trying dating apps, was reflective of the "carpe diem" motto both No Tomorrow and the current dating culture have. No strings, no heft, all fun. It was refreshing to see Evie actually let her guard down and open up to this new dating mode. Watching her push her boundaries and really explore what would work for her on her own terms was a great way to keep the agency in her court while being respectful and open about the often-disregarded practice of casual dating and non-monogamy.
As for Xavier, watching that exploration from the other side also elicited interesting results. Xavier, a man who is all about living in the moment and out loud, found himself unconsciously checking his phone for texts from Evie when he knew she was out on a date. Similarly, his rejection of hooking up with Tuesday in the coat check and his lukewarm reception to Evie's declaration that she could embrace non-monogamy gave off the impression that it was he who was in for a big change. His preconceived notions about how relationships could and couldn't work seem to be challenged now that he's found Evie.
Whether Evie and Xavier actually stick to non-monogamy in the time they have left on Earth, I can't say for sure. That depends on whether the Earth actually ends. Regardless, this latest episode of No Tomorrow opened up the conversation of non-monogamy in a fun, albeit toothless fashion that left me ready for more.
Images: Jack Rowand (2), Bettina Strauss/The CW