These Holiday Gift Sets Are Perfect For Sharing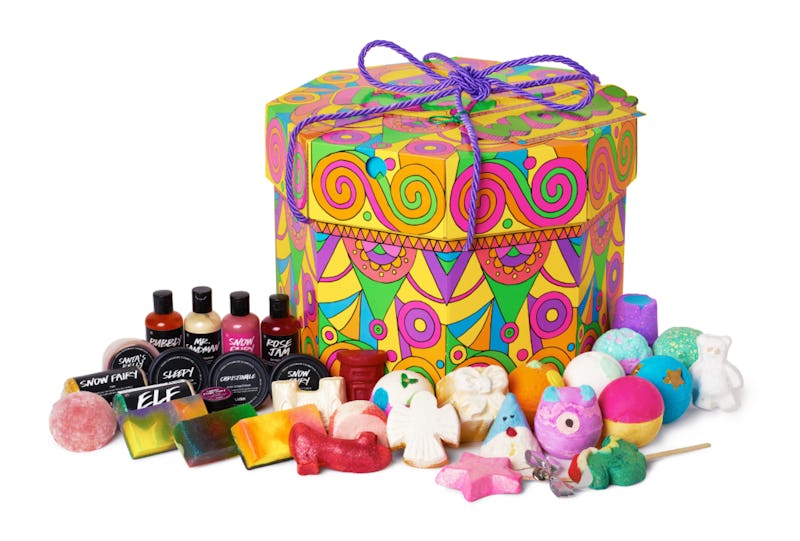 Whether you're shopping for yourself or a friend, gift sets are always a fun way to go for holiday presents. But something that's even more fun than finding the best set is making one yourself by combining different holiday gift sets that are perfect for splitting with friends. That way, everyone can have a slice of each beauty gift (and you won't even have to choose just one). Plus, if you're the kind of person who can't help but to shop for herself while shopping for her friends (guilty), it's easy, not to mention pretty awesome, to include yourself when making these beauty gift baskets.
So instead of deciding between lipstick and lotion, mix and match different sets to give you and your friends everything you deserve this holiday season. Making your gift bags will be almost as fun as ripping everything open and comparing swatches. The only problem will be choosing which sets to split. So to help you decide, I've rounded up 25 of 2016's best holiday sets that have everything from liquid lipsticks, to highlighters, to bath bombs, to perfume. No matter which ones you choose, you'll totally be spreading the beauty cheer this year.
1. Lippies For Days
Buxom Buxom Freezes Over 15 Piece Mini Lip Collection, $59, Sephora
With 15 different lippies and three different formulas, there are so many ways to split up this amazing gift among you and all of your lip-gloss and liquid-lipstick-loving friends.
2. Shimmering Highlighters
Japonesque Color Highlighting Trio, $34, Ulta
This set of gorgeously glowing highlighters even comes with individual gift boxes to easily divvy them up for your closest friends.
3. Delectable Scrubs
Lalicious Sugar Scrub Tower, $39, Lalicious
Share the sweetest and most moisturizing scrub by dividing this set of six, mini, sugar scrubs among you and your friends.
4. Double-Duty Beauty
Tarte Cosmetics Kissing Squad Lip Sculptor Quad, $34, Ulta
These full-size lipsticks with matching glosses are perfect for the lippie-fiends in your life.
5. Covetable Colognes
Jo Malone London Cologne Collection, $115, Jo Malon London
Your friends will all smell amazing individually or together with these brand-favorite colognes that can be worn alone or layered.
6. Cheeky Body Butters
Soap & Glory Get Into The Smooth, $12, Ulta
Because friends help friends smell delicious.
7. Lip Crayons
Lorac Mocktail Mixer Pro Matte Lip Color Set, $28, Ulta
When you find a gorgeous, matte lippie, you share.
8. Eco-Friendly Brushes
Vert Beauty Brush Kit, $185, Vert Beauty
Every makeup maven needs good brushes. Tie a bow around a few and tuck each set into your beauty gift bags for a nice surprise.
9. Magical Masks
Peter Thomas Roth Skinstant Mask Magic Kit, $45, Peter Thomas Roth
Whether your friends need to hydrate, brighten, or clarify their skin, this set of full-sized masks will do the trick.
10. Blowout Essentials
Drybar Merry Mini Must-Haves Blowout Extending Essentials To Go, $29, Sephora
Give the gift of a great blowout with these styling necessities.
11. Blushers & Plumpers
Too Faced Naughty Kisses & Sweet Cheeks, $32, Too Faced
These mini, plumping glosses and blushes were meant to be gifted as perfectly matching sets.
12. Charming Lacquers
Smith & Cult Nail Trio, $50, Neiman Marcus
Give the gift of a perfect manicure with these holiday-inspired hues.
13. Bath & Body Faves
The Body Shop The Best of the Body Shop, $180, The Body Shop
With some of the brand's best and full-sized bath, body, skincare, and makeup goodies, this set will serve all of your friends.
14. Chubby Pencils
Clinique Tiny Temptations Set, $50, Ulta
20 chubby lip pencils in every color imaginable means perfect pouts all around.
15. Sweet Scents
Ralph Lauren Romance Trilogy Holiday Coffret, $65, Ralph Lauren
Spread the love with these three, romantic scents.
16. Lovely Lip Balms
Beekman 1802 Goat Milk Lip Balms, $20, Evine
OK seriously, how cute is the packaging on these lip balms? Cute enough to share? I think so.
17. Styling Aids
R+Co Getaway Set, $35, R+Co
Solve all of your friends' hair woes with this set of styling minis.
18. A Little Bit Of Everything
Sephora Favorites Trending: Beauty's Most Coveted, $75, Sephora
Whether your girls covet beauty tools, eyeliners, or highlighters, this set will provide the ideal gift for everyone on your list.
19. Bath & Shower Treats
L'Occitane Best of L'Occitane, $110, L'Occitane
Gift cult-favorite bath, body, and skincare products with this set that has it all.
20. Pretty Polishes
Deborah Lippmann Her Majesty Gel Lab Pro Color Set, $45, Deborah Lippmann
Whether your friends go for nudes, vamps, creams, or metallics, you'll have the polish of their choice with this set.
21. Mini Palettes
Smashbox Light it Up: 3 Mini Palettes: Eyes. Contour. Lips., $45, Smashbox
Have one friend who's a contour-queen and another who's a lipstick addict? No worries, this set can be easily divided to suit everyone's taste.
22. Liquid Lip Stash
NYX Cosmetics Soft Matte Lip Cream Vault, $65, NYX Cosmetics
No matter what shades your girls go for, there's plenty to go around with this lip vault that has every color from NYX's cult-favorite Soft Matte Lip Cream line.
23. Mini Pigments
MAC Cosmetics Nutcracker Sweet Bronze Pigments and Glitter Kit, $35, MAC Cosmetics
Even though they're mini, these little pigments will still last a lifetime. And who doesn't love a shimmery neutral?
24. Mud & Lip Treatments
GLAMGLOW The Magic Box of Sexy, $269, GLAMGLOW
Prep for a future spa night by gifting each of your gals her own full-sized treatment mask.
25. Bath Bombs Galore
Lush Wow, $300, Lush
While it may be hard to not keep this magical box of goodies for yourself, you could easily take care of all of your friends with just this one set. Colorful baths all around!
Because sharing really is caring.
Images: Courtesy of Brands