9 Obscure Literary Halloween Costumes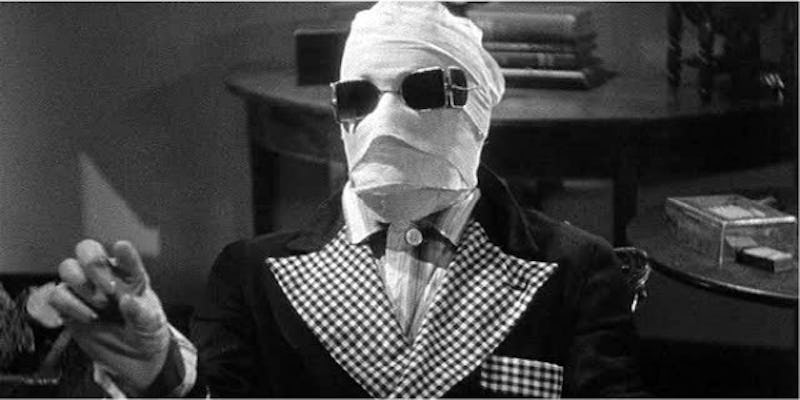 October 31 is nearly upon us, and time is running out to come up with an obscure Halloween costume. If you don't think of something soon, you're going to end up going as a cat again. Or worse, you'll get suckered into a group costume as the character who no one else wanted to be (I mean, who really wants to be Peeta to someone else's Katniss?). You need a smart costume that says "I read books" and also "I don't mind explaining this costume repeatedly all night long." So if you're in the market for a totally unique, annoyingly clever Halloween costume, here are a few obscure literary looks that you can try.
I mean, literary costumes are all well and good, but do you really want to wear something so accessible? Do you want to join the legions of Daenerys Targaryens, Luna Lovegoods, and Frankenstein's monsters? Or do you want to use your Halloween get up as an opportunity to rep an underrated classic? If popular Halloween costumes are too mainstream for you, and punny Halloween costumes are just too corny, then one of these might be right up your alley. Or, at the very least, these costumes will let you get away with a basic black cat, nurse, or mummy get up and seem wildly well-read at the same time:
1. The Invisible Man
The goofy, H.G. Wells one, that is. Not the Ralph Ellison one. This costume is a great idea for re-purposing an old mummy costume, or using up all that gauze you have hanging around. In the book, the titular man pretends to have a head injury to (ironically) hide the fact that he's invisible. Simply wrap your head with cotton gauze, except for the eyes, add a pair of mirrored aviator sunglasses, and wear long sleeves and gloves. Voila! Invisible.
The Invisible Man, $3, Amazon; Cotton Gauze, $5, Amazon; Aviator Sunglasses, $13, Polyvore; Cotton Gloves, $8, Amazon
2. Behemoth
Want to dress up as a black cat and be a smart-ass about it? Go as Behemoth, the giant, vodka-drinking black cat from The Master and Margarita, a biting satire on Soviet Russia. Just wear all black, cat ears or a cat mask, and a tail. Be prepared to explain who you are and then say, "What? You don't read Bulgakov?" multiple times.
The Master and Margarita, $8 Amazon; Cat Mask, $24, Urban Outfitters; Cat Ears, $9, Amazon; Cat Tail, $8, Accessorize
3. The Jabberwocky
Everyone's dressing up as Alice, or the Queen of Hearts, or the Cheshire cat—but no so many people are putting together a Jabberwocky costume. What does the Jabberwocky even look like? That's pretty much up to you to decide. You can buy a gorgeous Jabberwocky mask on Etsy, or you can cobble together your own interpretation of the character with a dragon mask, clawed gloves or talons, and a scaly shirt.
Jabberwocky Mask, $40, Etsy; Claw Talons, $8, Amazon; Dragon Shirt, $10, Amazon
4. Nurse Ratched
Nurse Ratched is a far cry from the sexy nurse costumes that usually dominate the Halloween landscape. She's cold, calculating, and the antagonist of Ken Kesey's novel, One Flew Over the Cuckoo's Nest. A vintage nurse's uniform, vintage nurse's cap, and stern expression are plenty to transform you into literature's least favorite medical professional.
One Flew Over the Cuckoo's Nest, $9, Amazon; Vintage Nurse Uniform, $30, Amazon; Vintage Nurse Hat, $7, Amazon
5. Dr. Jekyll and Mr. Hyde
Dr. Jekyll and Mr. Hyde is one of the most famous horror classics in literature, but one of the less popular modern Halloween costumes. You can DIY a half-way transformation with makeup, go as a couple's costume with one of you as Jekyll and one as Hyde, or just go full out Mr. Hyde with a creepy, vintage costume.
The Strange Case of Dr. Jekyll and Mr. Hyde, $3, Amazon; Mr. Hyde Costume, $40, Costumeish; Dr. Jekyll Costume, $62, Candy Apply Costumes
6. Molly Millions
Any cyberpunk fans out there? If you've ever read William Gibson's cyberpunk classic, Neuromancer, then you know exactly how cool Molly Millions is. She has mirrored eyes. She has claws in her fingertips. She cries by spitting because her tear ducts have been removed. To capture Molly's look, you'll need mirrored lenses, claws, and, of course, a lot of leather.
Neuromancer, $13, Amazon; Sunglasses, $13, Amazon; Claws, $10, Amazon; Faux Leather Jacket, $39, Amazon
7. Fawkes the Phoenix
Sure, there are a lot of Harry Potter costumes out there. But you won't find too many people rolling up to the party dressed like Fawkes the phoenix. A fiery bird mask, red dress or shirt, and red feather boa will suggest flames and feathers for your magical bird ensemble.
Harry Potter series, $64, Amazon; Phoenix Mask, $165, Etsy; Feather Boa, $20, Amazon; Red Dress, $15, Rose Gal
8. Arthur Dent
Arthur Dent, the reluctant protagonist of The Hitchhiker's Guide to the Galaxy, makes for a great last minute costume. Wear a bathrobe over your pajamas, a pair of slippers on your feet, carry a cup of tea, and look confused. For an extra DIY element, you can carry around a kindle or ipad with "DON'T PANIC" on the screen for your own personal Hitchhiker's Guide.
The Hitchhiker's Guide to the Galaxy, $9, Amazon; Tea Cup, $7, Amazon; Bathrobe, $35, Amazon; Slippers, $13, Amazon
9. The Green Light
Going to a Gatsby party, or part of a Great Gatsby group costume? Go as the green light. You're a symbol of unrequited love and the death of the American Dream, sort of! Gatsby costumes are wildly popular, but for some reason the green light isn't a common choice. You can rock a giant green inflatable suit, or go subtle with a touch of green like a light up tie or headband.
The Great Gatsby, $6, Amazon; Light Up Necktie, $25, Amazon; Light Up Headband, $13, Amazon; Inflatable Suit, $30, Amazon
Images: Universal Studios, Giphy (6), United Artists, Polyvore (10)