'Good Girls Revolt' Is Filled With Truth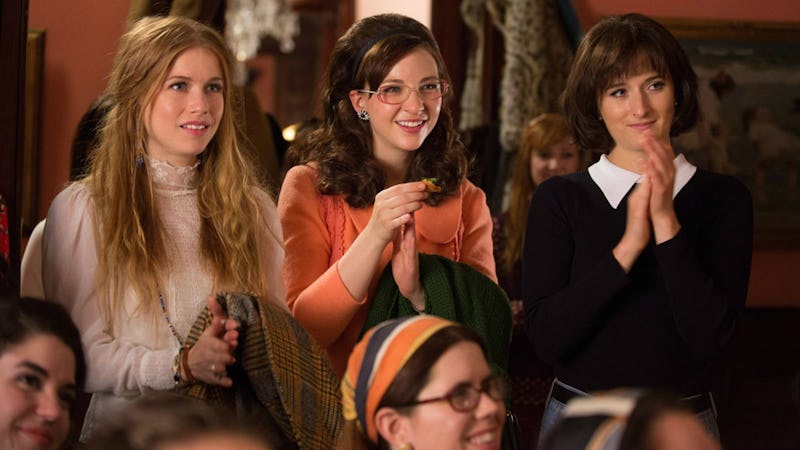 Amazon Studios new TV series Good Girls Revolt seems to be the answer to the questions Mad Men left fans with. The retro workplace series commences in 1969 and is based on the women of Newsweek magazine's real lawsuit for equality in the office. Bustle reached out to Newsweek for comment on the original lawsuit and the show portraying it now, but has not yet heard back. The lawsuit resulted in a settlement in which Newsweek agreed to provide equal employment opportunities to women. In the Amazon series, Newsweek's name has been changed to News of the Week and many characters have been fictionalized. But, is Erin Darke's character Cindy Reston based on a real person?
Good Girls Revolt is based on journalist Lynn Povich's book The Good Girls Revolt: How the Women of Newsweek Sued Their Bosses and Changed the Workplace. The series and the book describe the struggle of female researchers in the 1960s. The women could not advance to reporter and editor positions, which were almost exclusively reserved for men. Instead, female researchers would often do much of the work on an article, without receiving a byline or at least sharing one with their male counterparts. Of course, these women also faced sexual harassment and other challenges of being a woman in a subservient office job in the 1960s. According to a Newsweek article about the Amazon series, the Newsweek women were "the first in media to sue for sex discrimination."
While the story is real, only two characters are based on real people: Grace Gummer's Nora Ephron and Joy Bryant's Eleanor Holmes Norton, a lawyer who helped the real women sue. But, don't let the rest of the fictional cast fool you. Erin Darke's character Cindy Reston may be fictitious, but her life is based on a harsh reality of the time period.
Cindy is a married woman and has her life planned out. She is going to write captions at News of the Week for two years and then become a novelist. Though, it turns out, her husband has other plans. In the pilot episode, viewers find out that her husband is tampering with her contraceptive device and trying to get her pregnant. Cindy has a plan, but her husband does not support it and believes he is in charge of her body and future. In the 1960s, this marital power play was not recognized for what it was — abuse.
In an interview with Mental Floss, Darke discussed her character and her reignited passion for feminism after filming the series.
"[Cindy's] so different from me, but I think maybe in her I can see this alternate universe version of me where, if I had been raised in a different time by different people, that could be the person I ended up being. Imagine growing up without ever having anyone tell you that you can pursue your dream, and then, as an adult, making that discovery on your own and trying to deal with that. I have so much compassion and love for her in that journey that she's on because it's a journey that I didn't have to go on … I definitely came out of shooting Good Girls Revolt with a renewed sense of the need to fight for feminism. It was both a reminder for me of how far we've come, but also that it's not done."
Cindy may be a fictional character, but her marriage was a reality for many women who didn't have a choice in their futures in 1960s America, or in their own homes at the hands of their husbands. And, the struggle is not over. While divorce has lost its stigma and women have more access to contraception and power over their own bodies, domestic abuse is still prevalent. Hopefully by highlighting these issues in Good Girls Revolt, viewers will remember that, even 50 years later, these battles still need to be fought to truly help women be equal at home and at work.
Image: Amazon Studios