Two U.S. Gymnasts Can Solve Your Social Media Woes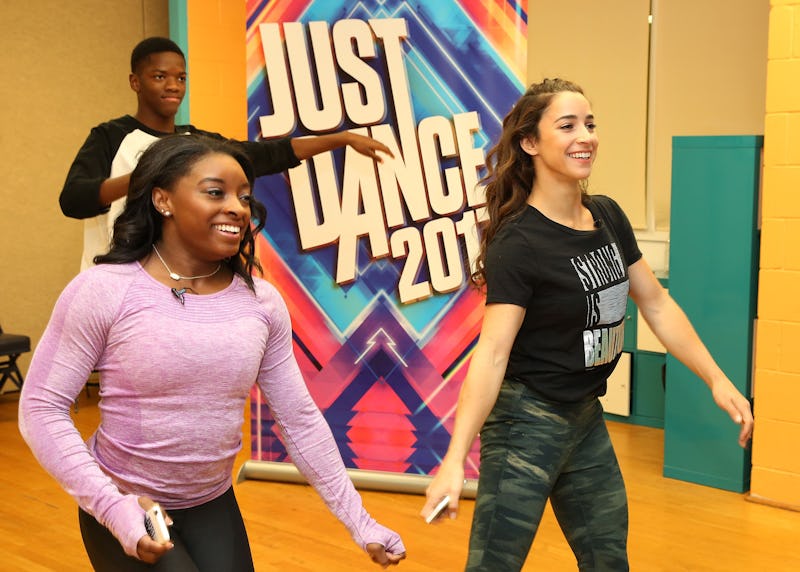 Social media can be stressful enough if you're a regular person, but if you're a gold medal-winning Olympian whose fame skyrocketed over the course of one summer, then there's a lot more to deal with when checking your Instagram than whether you got that 11th "like." All of the members of the 2016 U.S. Women's Gymnastics Team, aka the Final Five, are very active on social media, but that, sadly, comes with a major downside: internet trolls (something Biles recently had to confront after starring in Jake Miller's "Overnight" video). After leading the kids of a Bronx, N.Y. Boys and Girls Club in dance routines from Just Dance 2017, two members of the Final Five, Aly Raisman and Simone Biles, give me their advice for dealing with bullies on social media. And their solution is ridiculously easy.
"I just don't read the comments," Raisman says, before noting that most of the comments they get aren't from trolls, and that's what matters. "The people who write those comments, they don't know you. I mean, we just try to focus on ourselves and focus on the positive," she says. "I think we get 99.99 percent positive and .01 percent negative, so you have to focus on all the positive."
And Biles and Raisman have a lot of practice focusing on the positive. We watched how genuinely happy they were for one another when Biles took gold and Raisman took silver in the individual all-around in Rio. And if you are one of the many people who follow them on social media (Biles has 3.4 million Instagram followers; Raisman 2.2 million), then you've also seen just how happy and thankful they are in their daily lives. Plus, they lead a bunch of school kids in choreographed dances to "Single Ladies" and "Watch Me (Whip/Nae Nae)" at 9 a.m. — you've got to be a positive person to do that.
Biles and Raisman are also looking at the glass as half full when it comes to the next Olympics: 2020 in Tokyo. They both plan on taking at least a year off before getting back into training, but they aren't setting any goals for themselves when it comes to what they'd like to accomplish if chosen to compete again — at least not yet. "We're just happy," Raisman says. "We just finished two months ago," adds Biles, before her friend concludes, "We're very satisfied."
And with 11 Olympics medals between them, they have every right to feel that way.
Images: Amy Sussman/AP Images for Ubisoft (2)