Kat Von D x Too Faced Are Meant To Mix & Match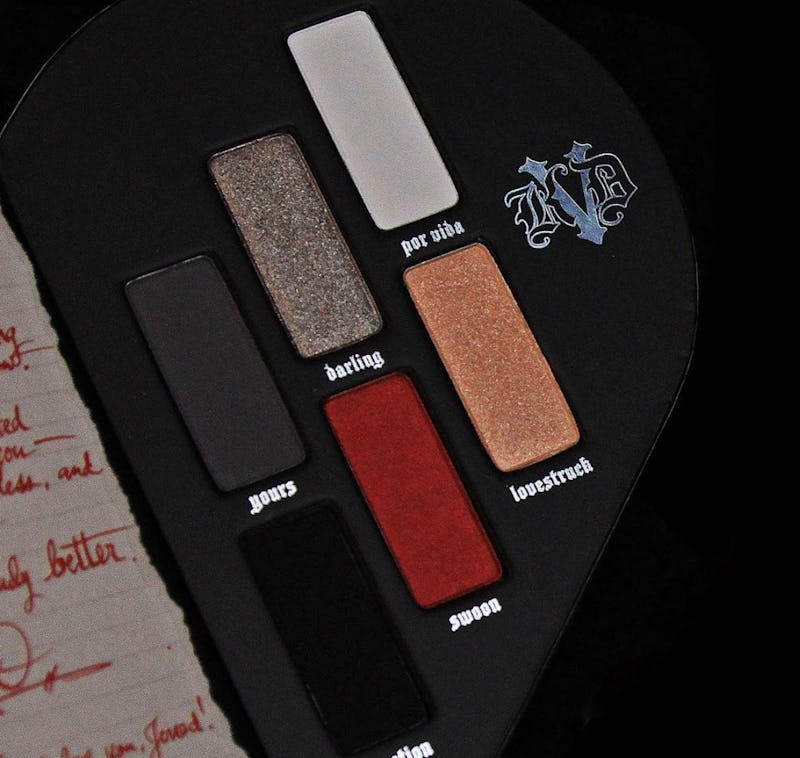 They really are "Better Together!" The Kat Von D x Too Faced Better Together palette, which lands at Sephora on Dec. 26, flawlessly combines both brand's opposite aesthetics. KVD's dark, daring, gothic, and edgy products and hues provide a lovely contrast to Too Faced's ultra feminine and delightfully naughty, good-girl-gone-bad vibe. For their heart-shaped, Better Together Ultimate Eye Collection palette, which is magnetically connected with two brand-specific halves that can be pulled apart, each brand offers six new eyeshadows. KVD's shadows are blood red, black, bronze, and more and are housed in their usual slim, rectangular pans. Too Faced's shadows are sparkly and live in the signature, heart-shaped pans. So, can you mix and match both sides of the Kat Von D and Too Faced Better Together palette?
Of course you can! What would be the point of combining forces and products if you can't mash 'em up, along with test-driving something new that you may not have previously tried?
In 2016, the only makeup Golden Rule is that there are no rules. You should be able to play and have fun with products, pairing unusual or unexpected colors and brands for a totally custom, totally "you" look!
Too Faced's Jerrod Blandino has often said that this limited edition collab is meant to show that brands benefit when working in concert as opposed to competing with and/or dissing each other.
Let's observe both halves of the Better Together Palette.
I cannot wait to do a grey smoky eye with KVD's Devotion, Yours, Por Vida, and Darling, adding a little lashline pop with Swoon! I didn't know what I'd do with Lovestruck...
... until I saw the Too Faced half and realized that shadow could totally work with Friendspiration and Heart of Gold for a sunset and bronzy smoked out eye. TF's Power Couple and KVD's Swoon could combine for a high-impact eye. So. Many. Possibilities.
This is what the palette looks like when connected and what it comes with. I love how the heart is seamless but still allows both KVD and Too Faced to flaunt their individuality.
Once this beauty arrives on Dec. 26, you will be able to create endless combos. I am already breaking a commandment and coveting it.
Images: Kat Von D Beauty/Instagram (1); Too Faced/Instagram (1); Kat Von D/Instagram (1)