Make Dressing For Work Easier With 5 Expert Tips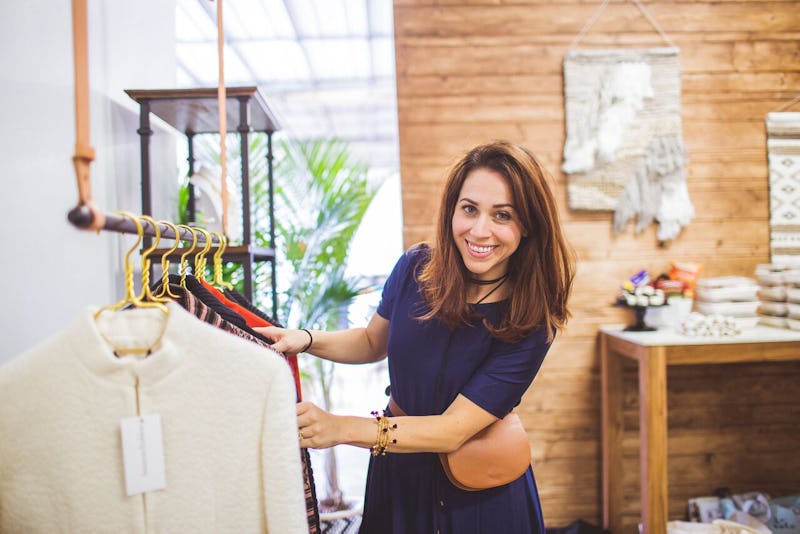 Whether you work in a formal office setting, a casual startup, or meet clients in your home office, knowing how to build a work wardrobe is no easy feat. I discussed 'suiting up' for work with Create & Cultivate founder Jaclyn Johnson, who's built an online platform and in-person conference series that coaches individuals on creating their dream careers. Johnson spoke with me over email about the parallels between Create & Cultivate's message, and how getting dressed for work can feel as empowering as the occupational calling you're answering each morning.
"It's about creating the life and career that works and feels right for each individual," she said. "That's what dressing should be about, as well." If you want to be the CEO of your own career, then "you better feel the same way about your closet," Johnson said.
Below, Johnson makes the case for caring about your work outfit, and you may find her expert insights ultimately make getting dressed easier — particularly when it comes to finding purpose behind planning out your ensemble. After all, "When you look good, you feel good. And when you feel good, you carry yourself into meetings, even phone calls, with more power," Johnson said.
1. Never 'Jumpstart' Your Work Wardrobe With Trendy Pieces — Invest In Staples You'll Want Each Year.
"People who love what they wear tend to avoid 'on-trend' pieces or anything that would get pushed to the back of their closet or donated at the end of a season," Johnson said. "Don't give it closet space if you wouldn't wear it a year from now."
As an example, Johnson picked out a few staple work wardrobe pieces from Amazon Fashion that she's loving below. The BCBG dress is a unique choice because of its asymmetrical hemlines, and the summery look easily transitions to fall once you add a chunky cardigan, Johnson said. Plus, "Hats are the best-kept fashion secret," she said. "Not only can you throw one on and instantly look stylish, they also are perfect for those chilly winter days."
BCBGMAXAZRIA Tara Woven Dress (XS-L) , $158, Amazon; Marc Jacobs Cora Ankle Boot (35-41), $475-$495, Amazon ; Ted Baker London Women's Floppy Hat, $89, Amazon
2. Don't Compartmentalize 'Work' And 'Play' Clothes.
"I think as you get older, the way you dress for work and the way you dress in life have a lot of crossover," Johnson said, "so it's worth investing in a piece that you would also wear outside of the office."
"A bag that, while, might not hold your laptop, will work for post-office drinks," Johnson said. A great pair of work friendly jeans and flats also makes for a sound style investment you'll make use of after-hours, Johnson said.
Rachel Comey Legion Jeans (Sizes: 2, 6); $345, Amazon; Rebecca Minkoff Sofia Clutch, $154, Amazon; Kendall + Kylie Fashion Sneaker (Sizes: 5.5-11), $104-$140, Amazon
3. Select Clothes Based On How Comfortable You Feel In Them.
Your style, your office environment, and what you feel good in should all be assessed before making a work wardrobe purchase, suggests Johnson.
"I love a statement necklace and a long vest that I can pair with dresses or pants," she said. "They are my go-to's, and they work for me because I feel comfortable in them."
Uxcell Plus Size Double Breasted Long Vest (Sizes: 1X-3X), $15-$23, Amazon; La Jolie Muse Necklace & Earrings, $22, Amazon; Kendra Scott Mira Mosaic Necklace, $295, Amazon
4. Remember That Making Time To Get Dressed Carries Over Into Other Avenues Of Self-Care & Decision Making.
The perennial question of 'Do I get dressed, or do I get a jumpstart on emails?' is a valid one for sure, but it's also a choice that can subtly affect the rest of your decisions that day.
While Johnson points out that Create & Cultivate's office culture means there's no judgement about how someone looks or dresses, "It's making a conscious decision in the morning to think, 'OK, no one in the office cares about how I'm dressed,' but I care," she said.
So whether you're flipping through a rack filled with Rachel Zoe pieces (like the one above), or pulling your trusted Levis out of the drawer, you're making an effort, and that matters. "That carries over into every decision you make that day," Johnson said.
5. Stay Connected To What Inspires You, So You Don't Lose Motivation.
If your inspiration for getting dressed for work comes from within, that's wonderful. When it relies on something more tangible, that's OK, too. Resources like Create & Cultivate can give you that spark of energy you need most when the alarm goes off.
Johnson said, "Readers can sign up for our newsletter to find out where we're heading next, and they can check out the blog. We post multiple times per day — from interviews with boss women like Moira Forbes and Nicole Richie to breakdowns on what millennial women should be investing their hard-earned dollars in."
At first glance, knowing how to shop for and plan out a work look you love may feel insignificant when you're flying out the door. But it's taking time for yourself — ensuring you feel your most comfortable and confident throughout your work day and the ones that follow — that makes all the difference.
Images: Kelley Raye Photography (5); Amazon (9)
Bustle may receive a portion of sales from products purchased from this article, which was created independently from Bustle's editorial and sales departments.