13 Incredible 'Underground Railroad' Quotes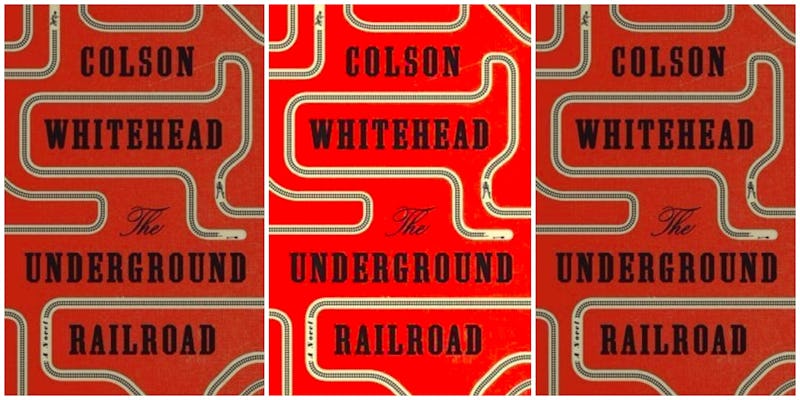 Book awards season shines a light on so many incredible stories and authors; it's like Christmas come early for literary nerds. This year, it has brought us the Man Booker Prize-winning novel The Sellout, the entire musical library of Bob Dylan, and an impressive shortlist of National Book Award finalists. One of these NBA finalists is the latest book from Colson Whitehead, and these The Underground Railroad quotes will definitely inspire you to push the book to the top of your TBR pile.
A riveting account of a young woman fleeing slavery in the South for the promises of the North on a literal underground railroad, Whitehead's latest novel tackles issues of race, slavery, and America's dark past-head on. The Underground Railroad doesn't pull any punches, detailing the the horrors of slavery through the experiences of Cora, a bright and unbreakable girl running from not only her torturous masters but from her own family's ghosts. Poignant and heartbreaking, The Underground Railroad is not merely a buzzworthy book or a bestseller; it was also a 2016 Oprah's Book Club pick, and a favorite to take home this year's NBA in fiction.
While all of the National Book Award nominees should be added to your TBR pile immediately, these 13 incredible The Underground Railroad quotes will have you crossing your fingers and hoping for a win for Colson Whitehead.
1. "Who are you after you finish something this magnificent — in constructing it you have also journeyed through it, to the other side. On one end there was who you were before you went underground, and on the other end a new person steps out into the light. The up-top world must be so ordinary compared to the miracle beneath, the miracle you made with your sweat and blood. The secret triumph you keep in your heart."
2. "Versifying left her cold. Poems were too close to prayer, rousing regrettable passions. Waiting for God to rescue you when it was up to you. Poetry and prayer put ideas in people's heads that got them killed, distracting them from the ruthless mechanism of the world."
3. "What a world it is, Cora thought, that makes a living prison into your only haven. Was she out of bondage or in its web: how to describe the status of a runaway?"
4. "Freedom was a thing that shifted as you looked at it, the way a forest is dense with the trees up close but from the outside, from the empty meadow, you see its true limits. Being free had nothing to do with chains or how much space you had. On the plantation, she was not free, but she moved unrestricted on its acres, tasting the air and tracing the summer stars. The place was big in its smallness. Here, she was free of her master but slunk around a warren so tiny she couldn't stand."
5. "The music stopped. The circle broke. Sometimes a slave will be lost in a brief eddy of liberation. In the sway of a sudden reverie among the furrows or while untangling the mysteries of an early morning dream. In the middle of a song on a warm Sunday night. Then it comes, always — the overseer's cry, the call to work, the shadow of the master, the reminder that she is only a human being for a tiny moment across the eternity of her servitude."
6. "She wondered why there were only two kinds of weather: hardship in the morning, and tribulation at night."
7. "The whites came to this land for a fresh start and to escape the tyranny of their masters, just as the freemen had fled theirs. But the ideals they held up for themselves, they denied others."
8. "Freedom was a community laboring for something lovely and rare."
9. "Cora didn't know what optimistic meant. She asked the other girls that night if they were familiar with the word. None of them had heard it before. She decided that it meant trying."
10. "A plantation was a plantation; one might think one's misfortunes distinct, but the true horror lay in their universality."
11. "If you want to see what this nation is all about, you have to ride the rails. Look outside as you speed through, and you'll find the true face of America. It was a joke, then, from the start. There was only darkness outside the windows on her journeys, and only ever would be darkness."
12. "Truth was a changing display in a shop window, manipulated by hands when you weren't looking, alluring and ever out of reach."
13. "And America, too, is a delusion, the grandest one of all. The white race believes — believes with all its heart — that it is their right to take the land. To kill Indians. Make war. Enslave their brothers. This nation shouldn't exist, if there is any justice in the world, for its foundations are murder, theft, and cruelty. Yet here we are."