Here's What's On The Sbux Holiday Menu This Year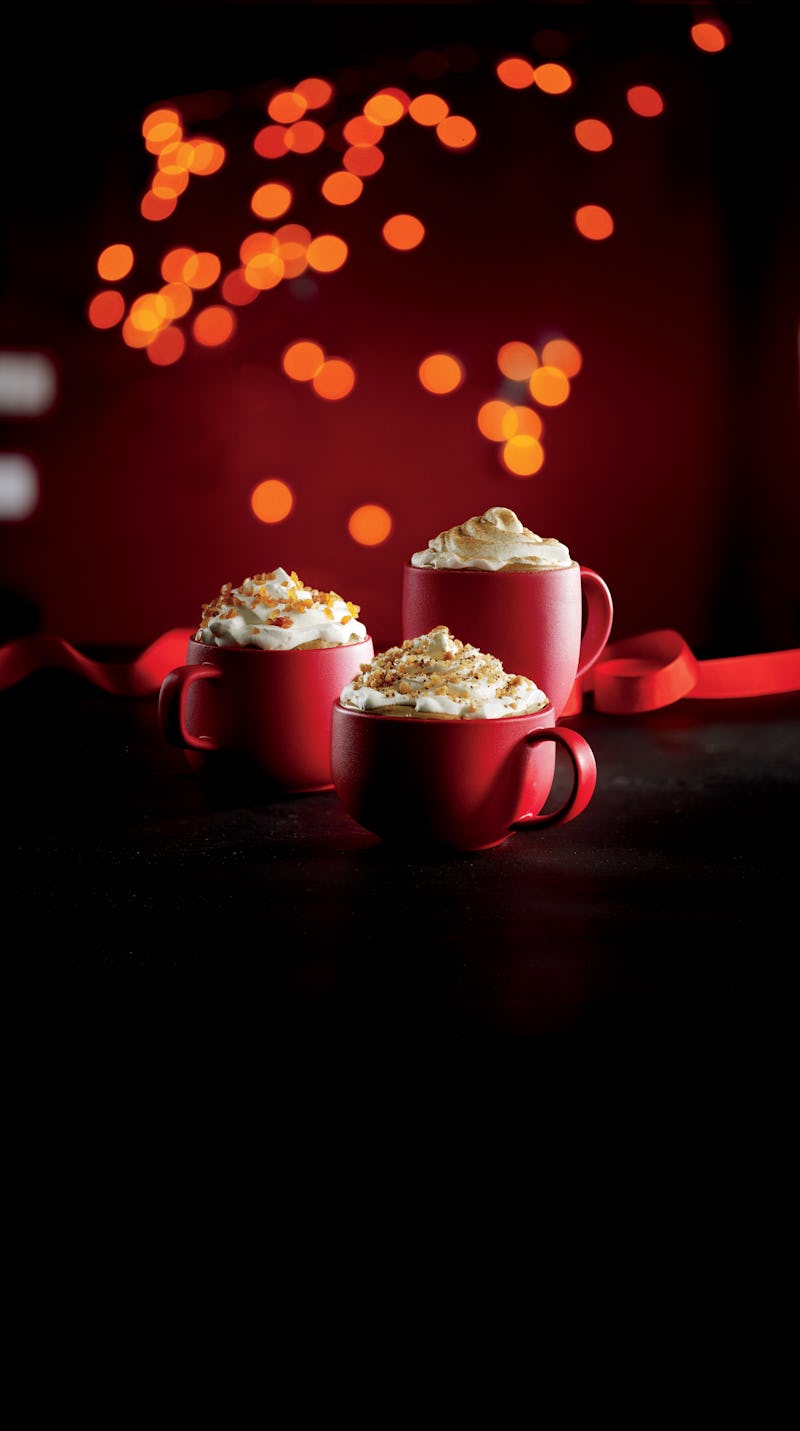 Halloween is over, and you know what that means: Everybody panic, because it's basically already Christmas. There's no better way to get in the spirit and kick off the two-month countdown than by swapping out your PSL for something more jolly, though, and Starbucks is delivering right on time — with the return of their holiday drinks starting today, Nov. 1. What are the Starbucks holiday drinks for 2016, you ask? I have good news for you, my friend: All of your favorite end-of-the-year beverages have officially made their return.
Starbucks wasted no time in bringing back their signature holiday drinks, which include four lattes and a mocha. (I'll have one of each, please.) All five are available in Sbux locations across the United States throughout the season and while supplies last — which won't be that long, if I have anything to do with it.
Plus, if the original coffee drink recipes are a bit too indulgent for you, note that there are lighter versions of the drinks, including a Skinny Peppermint Mocha, a Skinny Gingerbread Latte, an Iced Chestnut Praline Latte with almond milk and no whipped cream, a Caramel Brulee Light Frappuccino, and an Eggnog Light Frappuccino. Sbux is always good about offering different options. (Thanks, Sbux!)
For everyone else, here's what the five drinks are looking like this year. Read on and salivate.
The Chestnut Praline Latte
Oh yes. This is happening. Espresso, hints of caramelized chestnuts, steamed milk, whipped cream, and spiced praline crumbs. Crumbs have never sounded so delicious.
The Eggnog Latte
This isn't your Aunt Edna's eggnog at the yearly family holiday gathering. Sbux combines espresso, steamed eggnog, and milk, and tops it all off with a dusting of ground nutmeg.
The Gingerbread Latte
Gingerbread: Not just for cookies. This flavor — combined with espresso and steamed milk, then topped with whipped cream and ground nutmeg — gives a whole new meaning to the holidays.
The Caramel Brulee Latte
Haven't you always wanted to drink your dessert? Me too. Espresso, steamed milk, caramel brulee sauce, whipped cream, and caramel brulee topping make this drink an absolute must for the holiday season.
The Peppermint Mocha
This one gets me pumped. Espresso, steamed milk, flavors of chocolate and peppermint, whipped cream, and chocolate curls. Move out of the way so I can do a cartwheel.
Images: Starbucks (6); Giphy