What's In A Starbucks Caramel Brulée Latte?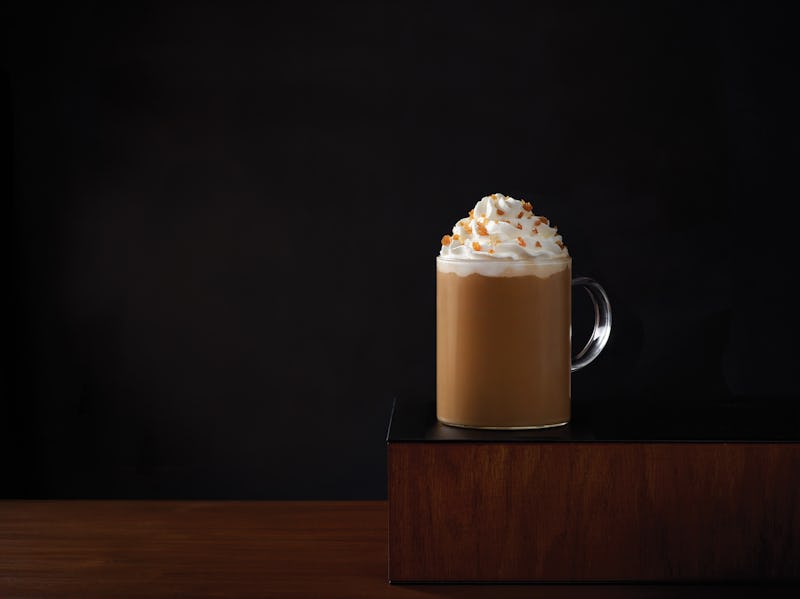 If there's anything that can distract me from post-Halloween malaise, it's a new sweet treat — and thankfully, Starbucks has several. Nov. 1 marks the return of your fave coffee chain's holiday drink selection for 2016, and this year, I'm craving caramel. So what's in a Starbucks Caramel Brulee Latte? Magic. Pure, unadulterated magic. That's what.
The Caramel Brulee Latte first became available at Starbucks over six years ago; it quickly became a low-key cult fave, with fans continually campaigning for year-round availability. The Starbucks Secret Menu even has a Caramel Brulee Latte Dupe for those who cannot live without their favorite holiday treat at other times of the year, which involves white mocha and toffee nut syrup. Personally, I cannot imagine consuming anything this hot mid-summer, but I'm also a humidity-fearing wimp.
In French, "brulée" means "burned"; in baking, "brulée" often refers to the technique of torching a layer of sugar and creating a hardened, incredibly delicious topping. The Caramel Brulee Latte mimics that sugary-smokey, highly addictive flavor, and even includes a crumbled topping reminiscent of actual creme brulée. Yum.
The Starbucks Caramel Brulée Latte will be available now through the end of the holiday season, so you have several months to sample it. Still unsure? Check out this ingredient breakdown.
Espresso
The basis of every good latte is a shot of espresso (or two or three or four, if you are me and have a "caffeine problem"). This particular drink has roughly 75mg of caffeine per 12-ounce Tall.
Steamed Milk
The standard is whole milk, but you can switch that out for skim, soy, almondmilk, or coconut milk.
Caramel Brulee Sauce
Think caramel, but with a slight smokiness going on.
Whipped Cream
Always.
"Shimmery" Caramel Brulée Topping
Ultra fancy! The fanciest!
Grab yours starting Nov. 1 throughout the holiday season; they'll be available for somewhere in the range of $4.25 to $4.75 depending on the market as long as supplies last.
Images: Starbucks; Giphy (5)