What The Heck Is She Singing?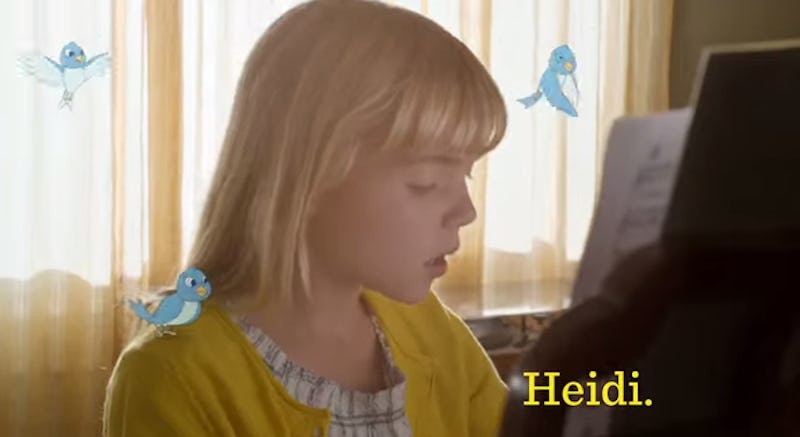 If you've been watching television recently, you may have noticed a couple of strange ads for Sprint's new Framily plan. One commercial shows a girl playing piano while birds fly around her and she sings in French. The song might sound vaguely familiar to you and that's because it's a French version of Motley Crue's 1985 hit "Home Sweet Home". A young girl with animated birds à la Snow White flying around her singing Motely Crue is pretty weird, but it's made even stranger as the commercial gets going.
The ad introduces us to the "Frobinson" family which plays off the idea of Sprints Framily plan which can include both family and friends mean even the strangest groups of people can join. The girl continues singing and we meet Mom, Judy Greer at a sewing machine; Dad, a hamster in a plastic ball watching basketball (You can see it in the ball's reflection! I'm really getting the details for you guys!); Chuck, Kyle Mooney sitting on a washing machine; Grandpa, an old man doing tai chi; Aunt Tia, a painter; Gor-don, a Cure fan from the 80s; Zack, a kid flying model airplanes; and Heidi, the girl playing piano.
Got that? I sure hope so because I cannot watch this commercial again. "Home Sweet Home" sung by a child in French gets very emotional after a while. I might start crying if I have to hear it while watching the hamster enjoy basketball one more time. The Frobinsons are so diverse, yet so perfect for each other. Full of so much love. I just... I just can't take it anymore.
If you're interested, the second Sprint Framily commercial really gives us a taste of the Frobinson's in action. It's not nearly as sentimental though.