Here's The Difference Between Shea & Argan Oil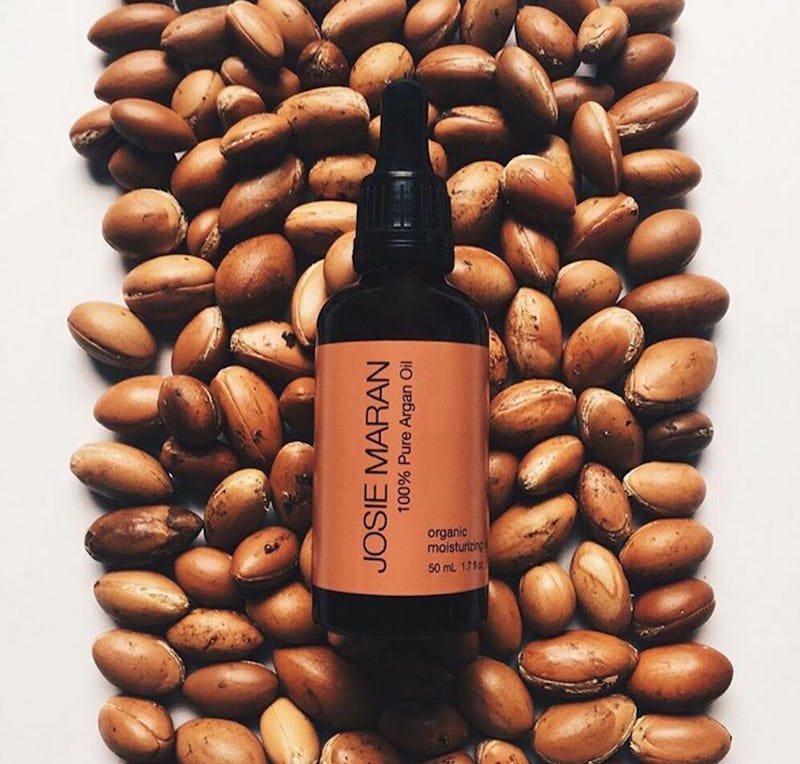 Selecting the best beauty oil for your skin and hair needs can be a bit of a daunting task. After all, there are so many options. And what's the difference between shea and argan oil anyway? To help get a better grasp on all of the different types of oils that you can add to your beauty routine, and how they will benefit your skin and hair, I emailed with a few experts.
Karrie Fonte, Macadamia Professional AVP of Global Education; Christyn Nawrot, PHYTO National Educator; Beth Bialko, Global Curriculum Developer for Dermalogica; and JB Shelton, Bosley Professional Strength Educator, all let me in on the different benefits of using various types of beauty oils. Nawrot first explains that any type of plant-derived oil that is featured in a haircare or skincare product will aim to hydrate, nourish, regenerate, repair, and/or protect. However, the actual benefits will depend on the type of oil, as Bialko says, "not all oils are the same." So you have a better idea of what type of oil to add to your routine to target your specific needs, here's what 14 different types of beauty oils can do for your skin and hair:
Josie Maran 100 Percent Pure Argan Oil, $46, Amazon
According to Fonte, argan (or Moroccan) oil is rich in essential fatty acids, antioxidants, and vitamin E. For the skin, these properties will help soothe and protect. For the hair, it will help repair damage, soften strands, and "balance the production of the scalp's naturally occurring oils."
Dr. Jart+ Ceramidin Body Oil, $24, Amazon
While it is ultra-nourishing for skin, avocado oil is also perfect for hair. According to Shelton, this is the oil you'll want to use for tackling dandruff, as it easily soaks into the scalp and locks in moisture. She also recommends applying it to your fingers before combing through your hair to help detangle it.
Bosley Professional Strength Rebalancing & Finishing Treatment, $25, Amazon
If thinning hair is a concern, Shelton recommends trying burdock root oil as it may help with hair loss while also "providing support to the scalp and nourishment to the follicles."
Boscia Tsubaki Beauty Oil, $68, A mazon
Also known as Tsubaki in Japan and Dongbaek in Korea, camellia japonica seed oil is rich in fatty acids and has two times the antioxidant protections of Vitamin E, says Bialko. If you're looking for calming and soothing benefits as well as stimulated collagen production, try this oil for your skin.
SheaMoisture 100% Pure Jamaican Black Castor Oil , $19, Amazon
Known for its hydrating, nourishing, repairing, and regenerating properties, Nawrot explains that castor oil can penetrate the pores of the skin and hair follicles to protect the skin and hair while also promoting healthy hair growth. No matter what your skin or hair type, this oil will help keep it healthy.
Herbivore Botanicals Phoenix Facial Oil, $32, Amazon
Bialko explains that the antioxidants and fatty acids in chia seed oil help fight free radicals and reduce inflammation. She further reveals that a "topical application of chia seed oil improves skin moisture, reduces dehydration, and alleviates dry, itchy skin."
7. Coconut
Palmer's Coconut Oil Body Oil, $8, A mazon
Not only is coconut oil great for keeping skin hydrated, but its fatty acids and antioxidants also help to keep skin clear and prevent signs of aging. As for hair, according to Shelton, it helps stimulate hair growth, moisturize damaged locks, and improve scalp health. She recommends that especially those with fine to medium hair who want volume and shine add coconut oil to their hair routines.
PHYTO PHYTOELIXIR Oil, $40, Amazon
Epaline is a derivative of corn germ oil and is beneficial for both the skin and hair, says Nawrot. She explains that it "hydrates, nourishes, repairs, regenerates, completely calms the scalp of even the most sensitive people, and provides amazing protection for the skin and hair fiber," and adds that it can benefit any and all hair types.
9. Flaxseed
ELEMIS Superfood Facial Oil, $72, Amazon
Make skin glow with flaxseed oil, which Nawrot says is rich in essential fatty acids to help protect against free radicals. She further explains that it "hydrates, nourishes, and regenerates the skin and hair fiber," making it great for every hair type but especially curly and slow-growing hair.
Macadamia Ultra Rich Moisture Oil Treatment, $40, Amazon
According to Fonte, macadamia oil has the highest, fatty-acid concentration of any nut oil, making it an excellent moisturizer. She further explains that it "most closely mimics the natural oils the scalp makes, therefore allowing for better penetration of the hair strand [and] leaving hair healthy with no build-up or greasy feeling." Nawrot adds that macadamia oil helps to restore the skin's barrier function, reduces water loss, and keeps the skin nourished and hydrated for longer periods of time.
Drunk Elephant Virgin Marula Luxury Facial Oil, $72, Amazon
For the skin, marula oil offers protection against environmental stressors to help reduce the appearance of fine lines and redness. For the hair, Shelton explains that it promotes faster hair growth while also sealing and smoothing the hair cuticles to strengthen the hair fibers.
L'Occitane Shea Butter Fabulous Oil, $38, Amazon
Due to its ability to deeply hydrate while also being lightweight, Nawrot says that shea oil is the perfect moisturizer for the scalp and hair. Especially because of how quickly it can absorb into skin and hair, she recommends it for all hair types, even the finest.
Fresh Life Body Oil, $48, Amazon
In addition to softening and protecting the skin, sunflower oil also helps keep hair healthy and moisturized. Shelton explains that this lightweight, non-greasy oil not only promotes natural hair growth, but it also helps protect the hair from harmful UV rays.
Dermalogica Phyto Replenish Oil, $56, Amazon
According to Bialko, "Tamanu oil is a powerful skin regenerator and is effective at promoting the formation of new tissue, accelerating wound healing and the growth of healthy skin." She further explains that in addition to its antioxidant, anti-bacterial, and skin-soothing properties, tamanu oil also helps protect the skin from UV exposure.
Regardless of which type of oil you add to your beauty routine though, all will help make your skin and hair happy and healthy.
Images: @josiemarancosmetics/Instagram; Courtesy of Brands