You Should Be Using Coconut Oil On Your Face, Too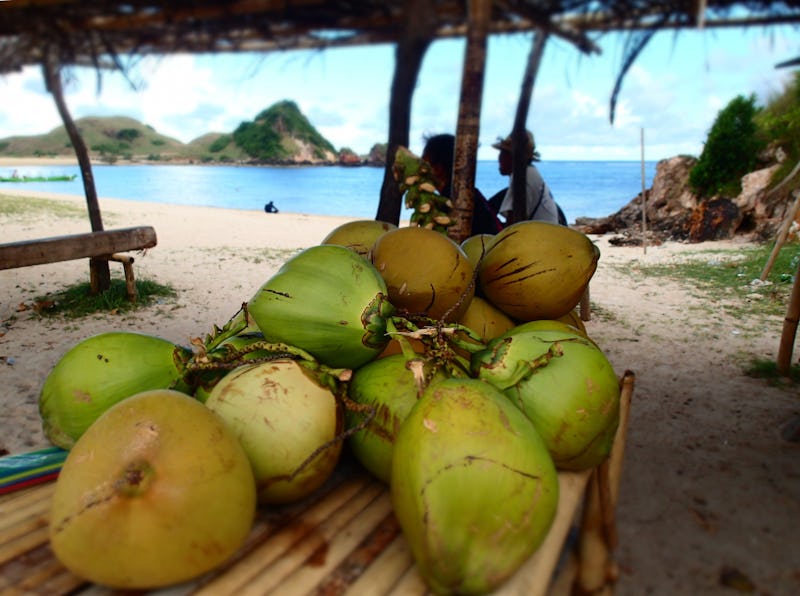 From hydrating hair masks to softening body lotions, all powerful coconut oil is practically used in every pampering product nowadays. But one question pressing on our minds however, is whether or not you can use coconut oil on your face. It seems a bit heavy for a facial moisturizer, right?
Sure, beauty enthusiasts (and brands!) everywhere are bringing this mega moisturizing staple to their everyday skincare routines, but does this all magical oil prove to be the amazing multitasker beauty lovers claim it to be? Or will it simply create a breeding ground for zits and unwanted bacteria?
According to Ildi Pekar, celebrity facialist to stars like Miranda Kerr, coconut oil really is the deal, as it contains a multitude of benefits essential for a healthy complexion. "Coconut oil is an effective ingredient used in skin care to help you reveal your beautiful skin," Pekar tells me. "Coconut oil has many benefits and is mainly known for hydrating your skin." That includes the skin on your face, of course.
Try: COCO&CO Coconut Oil for Hair & Skin, $10, Amazon
Filled with benefits, I find coconut oil to be the beauty gift that truly keeps giving, especially since you can use it in a variety of ways. It functions as everything from a sweet under-eye cream to a natural exfoliate; you can even use it to ease up those acne scars you've been desperately trying to conceal.
Need more reasons to join the coconut oil bandwagon? Here's a breakdown of all the reasons why you should treat your face to this oily goodness.
1. Coconut Oil Hydrates Like A Boss
Like a big gulp of water, your skin easily sips up the nourishing fatty acids found in coconut oil, making it ideal to use on your face. However, if your skin is drier than sandpaper, it's always best to use coconut products with a water base first.
"Most people aren't aware of the difference between dry skin and dehydrated skin," says Pekar. "However, I would not recommend coconut oil as a single ingredient alone if your skin is severely dehydrated. You would need to use a water base moisturizer instead of oil."
Yes you could slather a whole handful of virgin coconut oil all over your face, however, why not get a little crafty? Love a good DIY beauty recipe? Pekar recommends whipping up some coconut oil with lemon juice for a hydrating and brightening moisturizer. "The coconut will hydrate your skin, and lemon will clear and brighten your complexion," she says.
2. Coconut Oil Nips Acne Right In The Bud
Got a pain in the butt zit that just won't go away? Believe it or not, coconut oil can take care of those irritating breakouts too, since it contains antibacterial and antifungal properties galore. For a more natural acne spot treatment, try dabbing some coconut oil on your breakouts, that way you can watch them shrink overtime instead of popping them.
"Studies have shown that coconut oil's fatty acids are 15 times better than benzoyl peroxide for acne," says Pekar. "It is gentle enough without disrupting your PH levels and does not irritate your skin."
3. Coconut Oil Shows Wrinkles Who's Boss
It's totally tempting to buy those overpriced skincare products with ingredients you can barely pronounce, however, coconut oil is known for it's anti-aging properties anyone can enjoy pretty much risk free.
"Coconut oil has positive antioxidants such as vitamin E and pro vitamin A that help slow down the aging process," says New York based dermatologist Dr. David Bank. "Oxidation is one of the main reasons for skin aging, and coconut oil may help reduce the free radical damage."
Also containing effective antioxidants and ferulic acid, say goodbye to fine lines and spots, while getting that golden glow your skin totally deserves.
"The antioxidants and ferulic acid in coconut oil are helpful for anti-aging in reducing wrinkles and age spots. Coconut oil can also assist with repairing sun damage and create a healthy glow," adds Pekar.
4. Coconut Oil Makes One Mean Makeup Remover
Alcohol-rich makeup remover wipes got your skin in a tizzy? For a more natural alternative, coconut oil takes that stubborn liner and mascara off in a flash. The high vitamin E levels found in this oil helps protect your skin too, conditioning it while the oil removes all traces of foundation from your face.
"Coconut oil also acts as moisturizer for skin and hair," states Dr. Bank. "The vitamin E levels contained in coconut oil are extremely protective and act as a conditioner for the skin and hair."
BRB, going out to buy every single jar of coconut oil at Whole Foods.
Images: Sarah Tzinieris/Flickr; Giphy (4)