Will Washing Your Hair At Night Make It Greasier?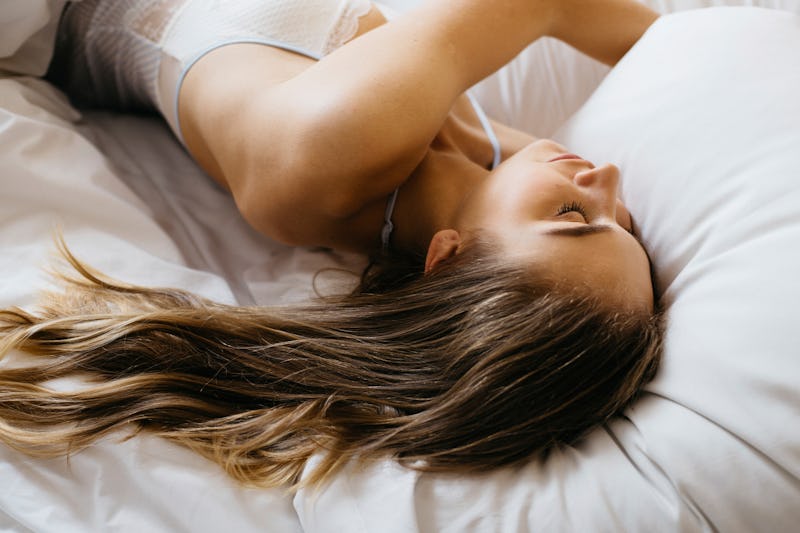 Cavan Images/Cavan/Getty Images
I usually prefer to wash my hair in the morning and let it air-dry throughout the day. But on the days when I wait to wash my hair before going to bed, I've noticed that it feels oilier in the morning. So does sleeping with wet hair actually make it greasier? To find out whether it's best to avoid snoozing with damp locks or if there's another factor that could lead to greasy, morning strands, I emailed with a couple of experts.
Jamie Batzel, global stylist for éprouvage, and Christyn Nawrot, PHYTO National Educator, both let me in on whether the status of your hair when you sleep will affect its oiliness in the morning. As it turns out, both experts agree that sleeping with wet hair won't necessarily cause greasy locks. However, Batzel explains that there are other factors for why sleeping with wet hair may make it seem as though your hair is greasier than normal when you wake up. For starters, "The pressure of your head on the pillow will flatten your hair more than just naturally letting it dry, so it may look greasy," says Batzel. She goes on to explain that if you usually blow dry your hair, sleeping with wet hair can also cause your locks to lack the volume a blow-dry can provide, making your hair seem greasier as well.
However, even though sleeping with wet hair won't necessarily make your locks greasier, both experts warn that it could be causing damage in the long run. According to Nawrot, "The hair is most vulnerable to breakage when it is wet...Movement during the night such as tossing and turning causes friction, damage, and can cause hair to become tangled and break." She notes that especially if you have weak, fragile, curly, or porous hair, you should be wary of sleeping while it is wet. If you still prefer to wash your hair before you sleep though, here are six things you can do to help make sure your strands don't seem as greasy in the morning or suffer as much breakage during the night:
Phyto Phytokératine Repairing Shampoo, $24, Sephora
To help make sure your shampoo isn't what's causing your strands to feel greasy, Nawrot recommends using one with a gentle cleansing base that will balance your scalp without stripping it.
VERB Hydrating Conditioner, $14, Sephora
Nawrot also warns against using conditioners with "heavy silicone and wax ingredients that coat the scalp and hair and can cause more sebaceous production." Instead, opt for a conditioner that will rinse clean without leaving residue on your scalp or hair for less-oily strands.
Threshold Scroll Hair Wrap, $10, Amazon
If you wash your hair before going to bed, Batzel recommends always towel-drying first. Nawrot adds to make sure not to ruffle your towel but instead wrap your hair in your towel for a few minutes so excess moisture can be absorbed. This way, you won't be sleeping with sopping-wet hair, and your towel won't cause any unnecessary damage while you dry your locks.
4. Detangle
Sephora Collection Tidy Detangling Comb, $8, Sephora
To make sure your hair isn't tangled and therefore subjected to more damage while you sleep, Batzel says to gently comb through your towel-dried hair with a wide-tooth comb before hitting your pillow.
éprouvage Thickening & Plumping Spray, $26, Walmart
Another way to gain some volume while you sleep so your hair doesn't appear as limp and greasy in the morning is to use a lightweight volumizing product before going to bed. Batzel suggests spritzing your roots and tying or clipping your hair up loosely on top of your head before lying down, so you can wake up with lifted locks.
Slipsilk Pure Silk Pillowcase, $79, Nordstrom
Both Batzel and Nawrot claim that satin or silk pillowcases are the answer to avoiding damage and breakage while you sleep. As Nawrot explains, "The tight weave of a satin pillowcase will not allow the cuticle of the hair to become caught in the fabric, thus keeping it protected and reducing the risk of tangles and breakage."
So don't worry if you feel like you always wake up with greasy or frizzy hair— there are ways around that.
Images: Getty Images (2); Courtesy of Brands