Introducing Bustle's New Harry Potter Podcast!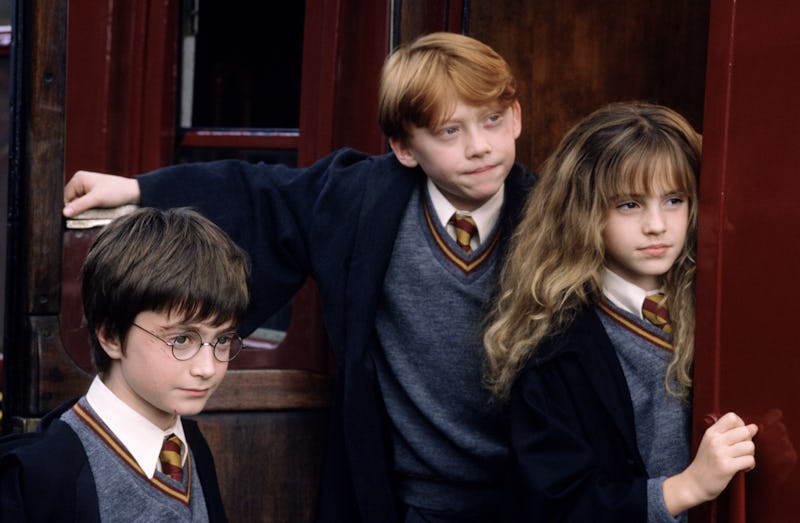 Welcome to "The Girls Who Lived," Bustle's new Harry Potter podcast. Are you looking for insightful discussions about Ginny Weasley's use of love potions? Are you looking for counterpoint debates about whether or not Hermione and Ron should've ended up together? Or perhaps you're in the mood for a robust conversation about whether or not Colin Creevey really needed to meet his end at the Battle of Hogwarts?
You're in the right place.
Step off the Hogwarts Express and into the Great Hall: you've find your podcast home with "The Girls Who Lived."
Each week, Books Editor Cristina Arreola and Associate Web Culture Editor Emma Lord will discuss the week's biggest Harry Potter news (there's always Harry Potter news), weigh in on the fandom's most controversial theories, and chat with Harry Potter experts about the lasting impact of J.K. Rowling's stories.
In our first installment of "The Girls Who Lived," we discuss a particularly contentious subject in the Potterverse: Hufflepuff House. Hufflepuffs have a bit of a bad reputation — not because they're terribly evil, but because they're terribly kind. In this episode, we dismantle those pesky misconceptions about Hufflepuffs and discuss how the Sorting Hat decides which witches and wizards deserve to don the yellow and black. Plus, we chat with Kristin McCarthy Parker and Eleanor Philips, the director and star of PUFFS: Seven Increasingly Eventful Years at a Certain School of Magic and Magic , an NYC-based comedy about the proud Puffs among us. Take a listen below:
Subscribe on iTunes to catch future episodes of "The Girls Who Lived"! You can also find us on Soundcloud and ACast. For tickets to PUFFS, visit their official website.
Until next week: mischief managed!