13 Cool AF Ways to Rock Winter Whites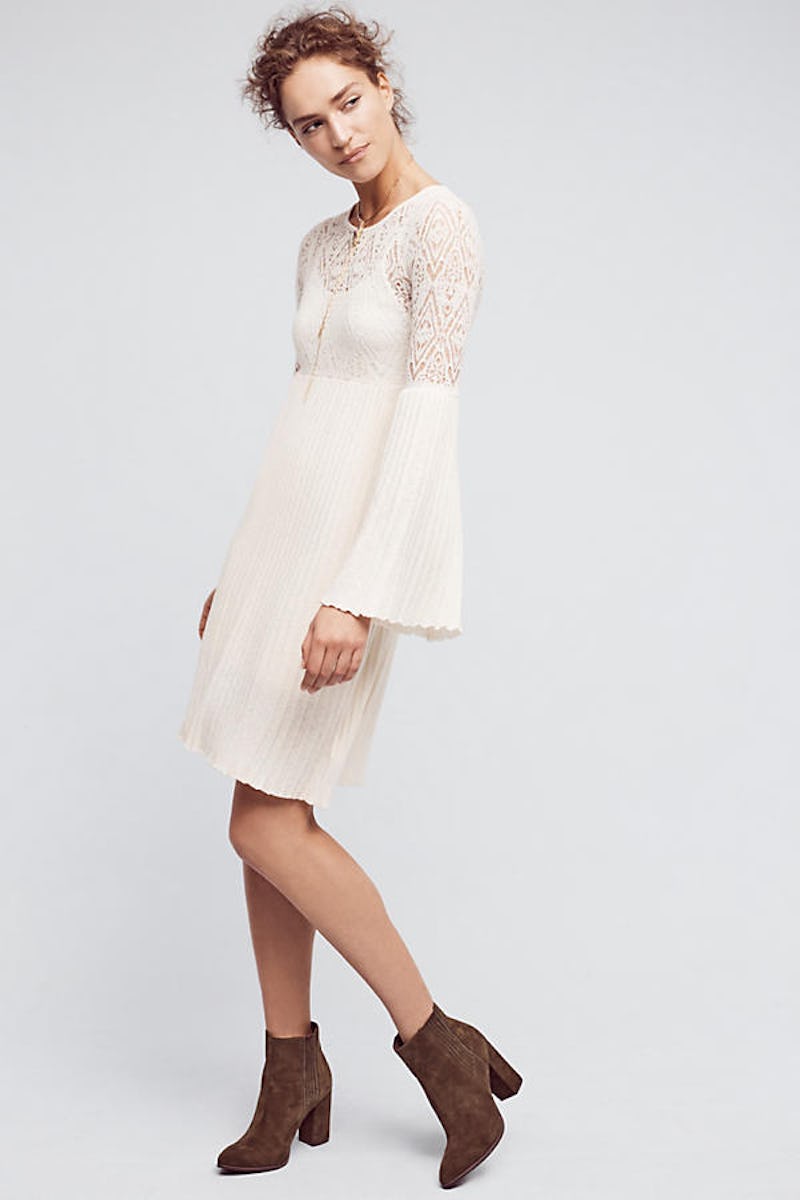 Forget every fashion rule you've ever heard, especially the one about not wearing white after Labor day. First of all, rules are meant to be broken. And secondly, you should wear the neutral shade always — especially when it's not summer. There are so many epic ways to wear white in the fall or winter, so I always lose it when someone says that tired old dictum. I'll wear any color I want, when I want, mmmkay?
As if you even needed more convincing to join my side of the pro #whiteafterlaborday wars, I rounded up 13 good reasons below. White dresses with cool booties, a fancy little bag covered in white flowers, distressed white jeans, a badass jacket, white caps, crop tops, chokers, and shoes — you name it, you can wear it in white.
As long as you incorporate other elements that match the outside temps like a scarf, layers, legwear, etc, you're golden. Oh, and maybe stay away from red wine while you're at it. Unless you have an Olivia Pope level of skill when it comes to avoiding staining anything white — then by all means, drink up. And shop these awesome winter white picks, too.
1. Bell-Sleeve Sweater Dress
$148, anthropologie.com
The sweater dress dreams are made out of.
2. White Cropped Hoody by Escapology
$58, topshop.com
Pull a Gigi in this white crop top with a pair of athleisure leggings and prepare to be bombarded by paps anywhere you go.
3. Max 'n Chester White Tank
$78, maxnchester.com
The ultimate "can wear this with anything" tank.
4. Sleeveless Ruffled Lace Top
$229, 7forallmankind.com
Basically the only top we want wear this season. With everything.
5. Coach Saddle Bag 17 With Tea Rose Applique
$550, coach.com
Everything's coming up [tea] roses.
6. Paige Amory Sweater
$239, paige.com
Mixed knits are in for fall slash winter.
7. Vanessa Mooney Loving You White Velvet Choker Necklace
$28, lulus.com
White is the new black [choker].
8. Bella Dahl Off-The-Shoulder Top
$88, bloomingdales.com
Give everyone the cold shoulder when you walk in the room in this.
9. Off White Cable Beret
$150, aliceandolivia.com
Très chic.
10. Distressed Low-Rise Jeans
$20, forever21.com
White jeans work in every season, as proven here.
11. Isola Milo Sandals
$51, isolashoes.com
The best time for a warm weather get away is in the winter and you'll be needing these.
12. Three Floor Do It White Dress
$184, threefloorfashion.com
When everyone else is sporting LBDs, be the girl that shows up to the party in a white hot mini dress.
13. KENZO x H&M Cotton Cap
Meow.
Images: Courtesy of brands