Can You Wear White After Labor Day?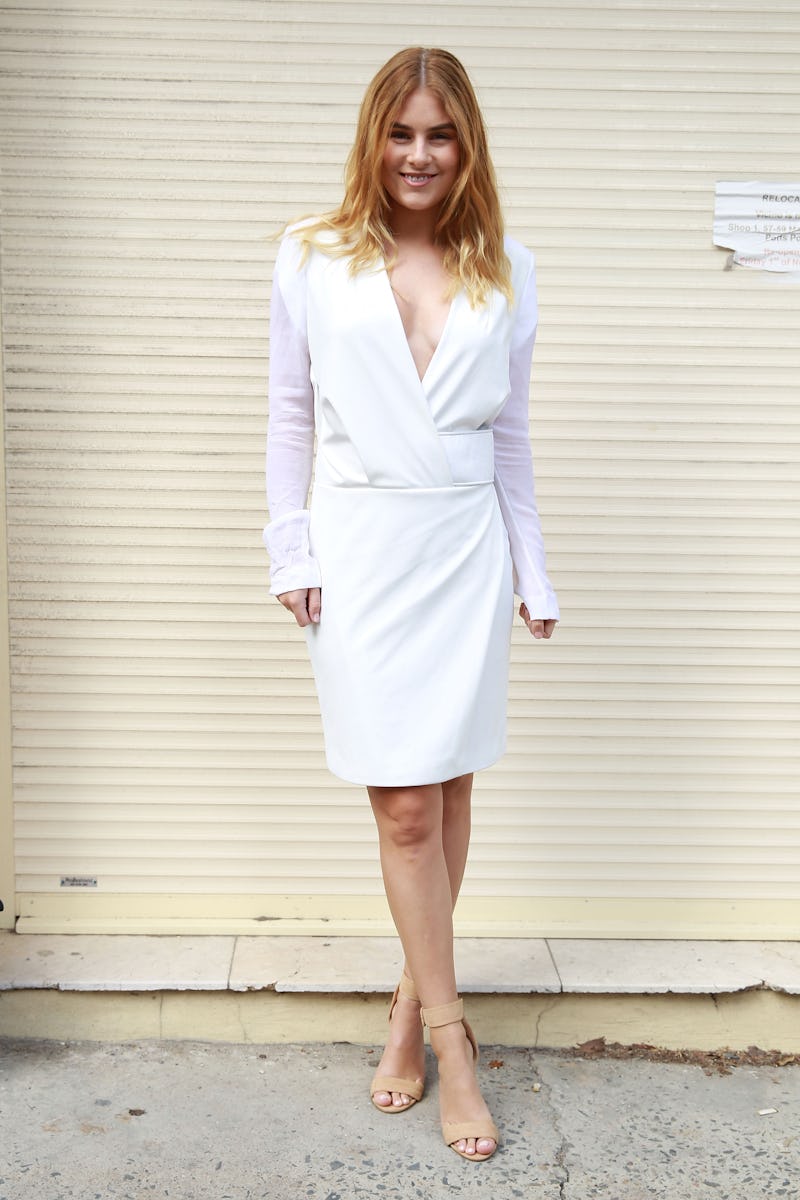 Caroline McCredie/Getty Images Entertainment/Getty Images
No one appears to have a solid answer to the "no white after labor day" fashion debate. In fact, Labor Day seems to have become a confusing fixture for the fashion community which involves standing in front of your closet and wondering if wearing a white dress will incite the wrath of street style stars and random passerby. A number of feasible theories have been presented over the years. Some blame New York's turn of the century high society for the peculiar practice; others present scientific claims pinpointing the trend to life before air conditioning; and a select few suggest that the color was a form of societal segregation, keeping the wealthy visually distinguished from those less fortunate. And with arguably over a century of backup, is it really acceptable to finally give this age-old sartorial dictum the proverbial boot?
When Josie Gellar's character in Never Been Kissed spills chocolate milk over a pair of pristine white jeans, she uncomfortably quips, "That'll teach me to wear white jeans after labor day." Resident popular harpy Gibby retorts, "I don't think you're supposed to wear white jeans after 1983." In the short span of one hundred years, it seems white has switched from a status symbol to a mark of social oblivion and ignorance — at least when worn the wrong way. So throw on your reading glasses and pull up your favorite armchair, because its time for a history of how white after labor day became a cardinal fashion sin.
White hasn't always been the readily available, bridal-friendly color du jour; in fact, Queen Victoria shocked her wedding guests by donning an unheard-of white wedding gown at her nuptials in 1840. In an age when you couldn't drop your clothing at the dry cleaner downstairs from your apartment or douse it with bleach before tossing it into your electric washing machine, white wasn't a particularly practical color. Around this time, Mental Floss writer Kathy Benjamin theorizes, one's clothing became a way to separate those with means from those who were struggling financially or had only recently come into a fortune.
By the turn of the century and the advent of the Gilded Age, white had become the lawn-party-in-the-Hamptons, yacht-appropriate, mint-julep-sipping clothing shade of choice for America's vacation-bound elite. During this time, Long Island became The Hamptons, where the most affluent New Yorkers would summer amongst other well-to-do companions in a slightly less sticky climate. The trend was most prominent in New York; in fact, despite its many baroque exaggerations, Baz Luhrmann's The Great Gatsby perfectly captured New York nobility's obsession with the light color.
Historians who prefer a less elitist view of the trend suggest that the shift to summer whites may simply have been an issue of comfort: If you've ever ventured outside during one of New York's 95 degree, 80 percent humidity heat waves clad in a black maxi dress or thick, dark wash jeans, you're well aware of the genius of wearing white. After years of reinforcement, the trend became an expectation as opposed to a mere custom, and to wear white after Labor Day was considered gauche. And because the protocol was circulated around the beau monde, those who didn't adhere were immediately recognizable as outsiders. The convention was further enforced by women's fashion magazines and their aspirational photo spreads.
But why stop wearing white on Labor Day? One theory suggests that Labor Day was the dividing line between summer amusements and one's reinvigorated fall work ethic. Another proposes that wearing white during rainy, snowy, and generally mucky seasons is blatantly asking for splotches and smears. However, neither of these hypotheses accounts for the fact that fashion — and etiquette — is over the rule entirely.
These days, breaking tradition is infinitely more trendy than looking like you brought your fashion rule book with you to work, and white has had more than its fair share of time on the fall/winter fashion runways. Even Emily Post admits defeat, telling readers that they can and should wear white after doomsday...er, Labor Day.
So when you pull out your next white ensemble after September 1, keep a few minor guidelines in mind. First, white lace can appear bridal if you're not careful, especially when worn after summer, so keep your experimentation with the fabric to a minimum unless it's paired with something edgy and unexpected. Additionally, try not to dress for another season. When the thermometer reads twenty degrees, you will look like a space cadet if you don a breezy white eyelet sundress. Luxurious cashmere, wool, and thick cotton are winter-ready materials, so wearing them in white will simply add a streamlined element to your ensemble. And the aforementioned fabrics look especially stunning in the form of suiting separates. When in doubt, cream is a color for all seasons and most skin tones. For fall 2014, try a chic, graphic black and white print to knock out two trends in one go; a combination of black and white is eternally au courant, no matter what the season. And finally, don't wear a white ensemble unless you can keep it clean.
Images: Never Been Kissed; Getty Images (4)