The 10 Most Comfortable Bras You Can Actually Sleep In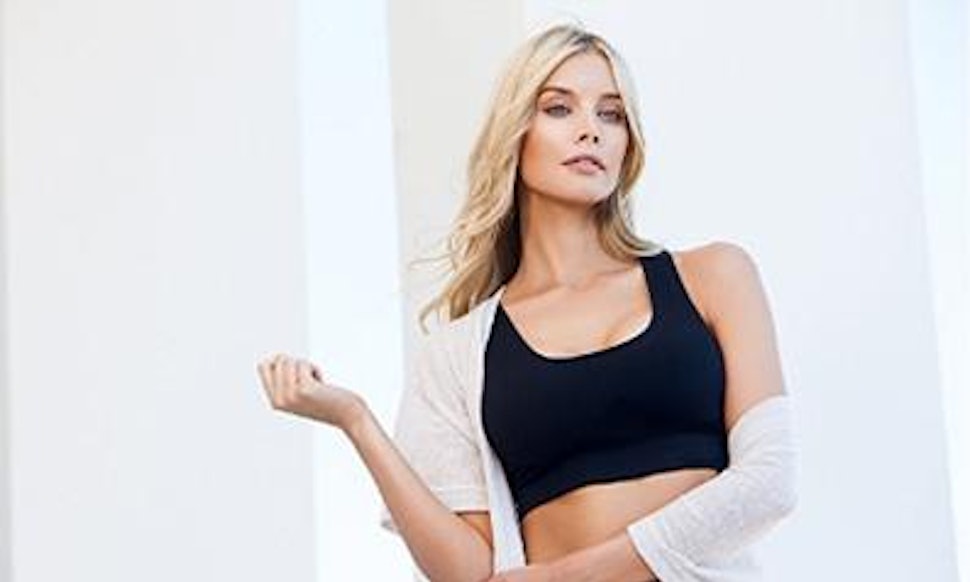 My chest has never been particularly small. In fact, I specifically remember entering fourth grade and needing a full-fledged underwire bra. And while they (a.k.a. my boobs) have their definite benefits, they've often gotten in the way ever since they showed up — especially when I'm trying to get comfy in bed. Fortunately, there are bras you can sleep in that are designed to alleviate any breast discomfort you may experience while you're lying in bed at night, like the discomfort that stems from gravity pulling your chest every which way. And don't worry if you've got a larger bust — they make plenty of bras for people with big boobs to sleep in that are like night and day as far as your comfort levels are concerned.
While regular every day and sports bras can function as sleep and leisure bras, not all of them fit the bill. Chafing materials, underwires, and stiff cups cause poking, annoying skin marks, and boob slippage that's more likely to keep you tossing and turning. However, if you're like me and you hate the feeling of your boobs parting like the Red Sea while you're lying on your back, you've got some options. Here are some of the most raved-about bras that offer both comfort and centering support, so you can sleep in any position without gravity pulling you down.
1. Seamless And Supportive For Nighttime Wear
The Breast Whisperer Nighttime Sleep Bra (S - L), $40, Amazon
Invented by a plastic surgeon and a fashion designer, The Breast Whisperer Nighttime Sleep Bra is super supportive, but seamless so it feels like you're wearing nothing at all. It's great for larger breasted women (especially ones who have had surgery), and people cannot stop raving: "If I'm being honest, I've been wearing it for two days, day and night... I swear it's like being naked with support."
2. Wide Straps, Soft Material, And Adjustable Clasps
Glamorize Plus-Size Comfort Bra (34B - 48G), $25 - $38, Amazon
With wide straps, soft cups, and an adjustable clasp, the Glamorize Plus-Size Comfort Bra has some of the highest reviews out there. It doesn't feel scratchy or itchy like other supportive materials, but it still gives you a natural minimized shape with none of the underwire pain. "This is it ladies," says one reviewer. "Perfect fit, perfect support and doesn't poke, pinch or have a mind of its own. I have already ordered 3 more."
3. Support With Bands Instead Of Wires
Vanity Fair Full Figure Wirefree Bra (36C - 44DDD), $21 - $48, Amazon
With zero wires and a banded frame, the Vanity Fair Full Figure Wirefree Bra offers the utmost of support for bigger busts without any pinching. The lace center keeps breasts centered, even if you're a side sleeper, and reviewers are saying things like, "Really the most comfortable bra I've ever worn," as well as, "It doesn't hurt, dig, rub or irritate me in any way."
4. One Of The Most Popular Comfy Bras Out There
Bali Foam Cup Wirefree Bra (S - XXXL), $7 - $50, Amazon
With almost 1700 reviews, the Bali Foam Cup Wirefree Bra is taking the boob-world by storm. Instead of padding and wires, it's got ridiculously comfortable foam and elastic bands that keep your chest centered and supported, but with absolutely zero discomfort. Since it's so comfortable and supportive, women wear it for everything from sports and sleeping to work and errands.
5. Soft Cotton With A Body-Hugging Design
Amoena Front-Closure Leisure Bra (S - XXL), $20 - $34, Amazon
Made primarily from soft cotton with a little bit of spandex thrown in there, the Amoena Front-Closure Leisure Bra is a beautiful combination of convenience and comfort. Wide straps and a racerback design stop all cutting, chafing, and pain, while a front-close feature is great for back-sleepers and those who have just had surgery.
6. This Zigzag Weave Is An Amazing Combo Of Stretch And Support
Leading Lady Plus-Size Leisure Bra (38B - 56D), $17 - $31, Amazon
The most innovative part of this Leading Lady plus-size leisure bra is the innovative gravity-defying material. It's made with a zigzag weave that keeps your breasts comfortable, but adequately supported. It's got front-close clasps and comes in multiple different colors and designs, and reviewers are saying things like, "I have never had a comfortable bra in my life until now."
7. A Bra And A Sleeping Top All In One
Alo Yoga Women's Motion Bra (XS - L), $34 - $58, Amazon
This adorable Alo Yoga women's motion bra is a bra and a top all in one. It's made from a ridiculously soft blend of materials that keeps you covered and supportive, and it's got breathable mesh detail, thick racerback straps, and a flowing drape that's ideal for sleeping, lounging, or working out in comfort.
8. Feel Free To Move Around In This Contour Bra
Calvin Klein Wire-Free Contour Bra (32A-38C), $21 - $40, Amazon
The Calvin Klein wire-free contour bra is ideal for those who want coverage and support that hugs your body no matter what position you're sleeping in. Because it's got no seams or wires, it doesn't dig in anywhere, and it's got just the right amount of stretch so that you feel free enough to move around. "I wear it nearly every day, and it feels comfortable all day long," says one happy reviewer.
9. A Hookless Back For Back Sleepers
Nadi Athletic Crop Top Sports Bra (XS - L), $39, Amazon
With double-layer support, a crisscross back, and tons of stretch, the Nadi Athletic crop top sports bra is another great one for sleeping support. Because it hugs your curves without digging in, you won't wake up with any skin imprints or marks, and because of the open hookless back, it's an awesome option for those of us who tend to sleep face up.
10. Stop Shoulder Pain And Slippage While You Sleep
Glamorise Soft Shoulders Leisure Bra (36B - 50G), $28, Amazon
If your biggest issue is shoulder pain, the Glamorise soft shoulders leisure bra has padded wide straps that keep you comfortable all night long. The cups are made from a combination of lace and spandex that stretches with your body, and people absolutely love that the straps won't fall down no matter what.
Images: Amazon (11)
Bustle may receive a portion of sales from products purchased from this article, which was created independently from Bustle's editorial and sales departments.