15 Beauty Oils To Keep You Hydrated This Winter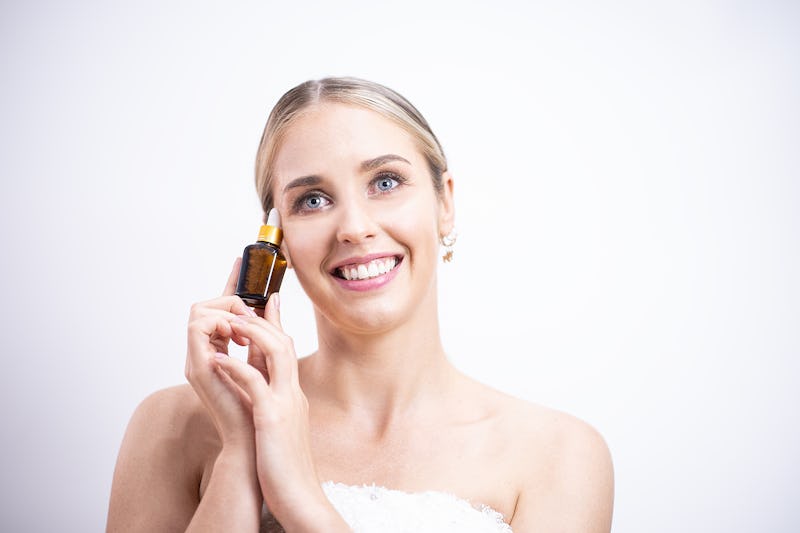 Chatchawan Pookahuta / EyeEm/EyeEm/Getty Images
When the temperature starts to drop, it means it's time to switch up your beauty routine. But incorporating only thicker creams and conditioners to help combat the dry, winter air may not always do the trick. So to help you stay truly hydrated all winter, try beauty oils that you can use from head to toe instead. And yeah, slathering yourself in oil may sound a little questionable. Especially if you already have oily skin or hair, it may seem like adding more oil is the worst possible idea. But regardless of your skin type, beauty oils help with so much more than just hydration, making them the perfect addition to your winter beauty routine.
As Beth Bialko, Global Curriculum Developer for Dermalogica, explained to me over email, "Plant oils...are particularly adept at treating numerous skin conditions from dryness and premature signs of skin aging to uneven skin tone, dehydration, and skin sensitivity." Christyn Nawrot, PHYTO National Educator, with whom I also emailed, added that any plant oil will help hydrate, nourish, regenerate, repair, and/or protect not only the skin but also the hair. So to keep your locks looking shiny and smooth, and your skin staying plump, radiant, and hydrated, here are 15 beauty oils to use from head to toe this winter:
Hair
1. Treatment & Styling Oil
Marula Pure Beauty Oil Intensive/Light Hair Treatment & Styling Oil, $46 each, Marula
Suited to your hair type, these oils contain oleic acid, which allows them to deeply penetrate the scalp and hair to lock in moisture. Not to mention they also repair damage, reduce frizz, and increase shine.
2. Deep-Hydration Oil
SheaMoisture Manuka Honey & Mafura Oil Intense Hydration Complex, $11, SheaMoisture
For extremely dry or dehydrated strands, this treatment oil will create a moisturizing barrier to rehydrate hair and even help promote healthy hair growth.
3. Restorative Oil
Wen Mandarin Italian Fig Restorative Treatment Oil, $72, Chaz Dean
Moisturize and replenish hair (and skin) with this nourishing oil that will keep your scalp and strands hydrated and healthy.
4. Rejuvenating Oil
Agave Oil Treatment, $40, Sephora
This rejuvenating oil imparts strength and resiliency while also helping to boost hair color and vibrancy.
5. Enhancing Oil
Nexxus Oil Infinite Nourishing Hair Oil, $19, Target
Increase manageability for rough or course hair with this oil blend that replenishes the lipid layer to restore natural strength and resiliency.
Face
1. Replenishing Oil
Dermalogica Phyto Replenish Oil, $75, Dermalogica
Not only does this facial oil help diminish dryness and dehydration, but it also restores and reinforces the skin's protective barrier to prevent moisture loss in the first place.
2. Beautifying Oil
Tata Harper Beautifying Face Oil, $48, Tata Harper
Brighten and firm skin while also locking in moisture with this face oil that leaves skin feeling soft and smooth.
3. Antioxidant Oil
Avalon Organics Intense Defense with Vitamin C Antioxidant Oil, $20, Avalon Organics
This antioxidant oil will keep skin nourished and hydrated while also protecting against environmental stressors.
4. Balancing Oil
Clarins Lotus Face Treatment Oil, $57, Clarins
Formulated especially for oily and combination skin-types, this oil helps keep skin moisturized yet balanced.
5. Anti-Aging Oil
Lumene Complete Rewind Intensive Recovery Beauty Oil, $21, Target
Reduce the appearance of fine lines and wrinkles all while keeping your skin richly nourished with essential fatty acids.
Body
1. Nourishing Oil
Alba Botanica Deep Moisturizing Kukui Nut Body Oil, $10, Target
Kukui nut, which is high in essential fatty acids, will help nourish, hydrate, and protect the skin from moisture loss.
2. Radiance Oil
The Body Shop Spa of the World Polynesian Monoi Radiance Oil, $25, The Body Shop
This oil can be used all over the body and even in the hair to seal in moisture and provide a smooth and radiant finish.
3. Healing Oil
Art Naturals Fractionated Coconut Oil, $13, Art Naturals
Heal dry and chapped skin with this non-greasy, fractionated coconut oil that can also be used to keep brittle hair hydrated and even remove makeup.
4. Supple Skin Oil
L'Occitane Almond Supple Skin Oil, $46, L'Occitane
Skin will feel totally nourished with this lightweight, spray oil that melts into the skin with no greasy residue.
5. Fragrance-Free Oil
Neutrogena Fragrance Free Body Oil, $7, Target
Seal in moisture with this fast-absorbing oil that will leave skin feeling silky and smooth.
So you can have the softest skin all winter long.
Images: Chatchawan Pookahuta / EyeEm/EyeEm/Getty Images; Courtesy of Brands