9 Sex Toys To Give Your BFF For The Holidays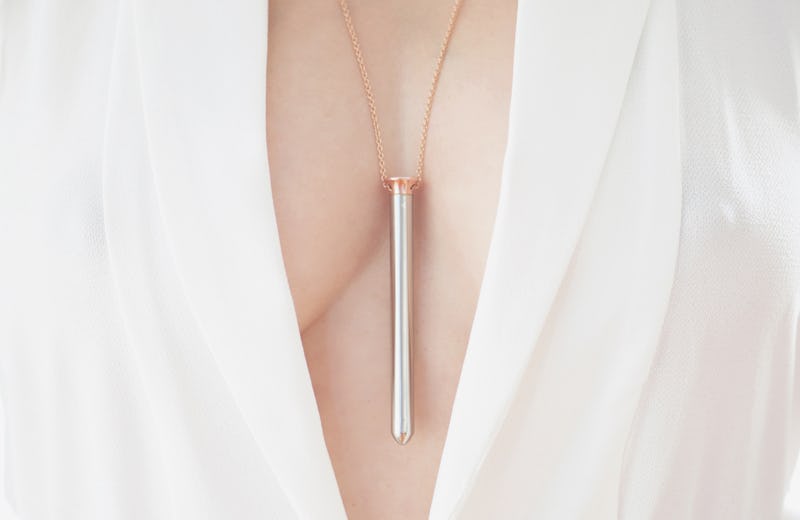 My best friend broke up with her partner of five years last Fall. While she was going through a particularly rough time this summer, I was dealing with some stuff in my own relationship and her support during that meant a lot to me. So I did what any self-respecting sex writer would do: I sent her the Rebound Box from my favorite sex toy company, Unbound. She's also the person who was with me when I bought my first sex toy, so buying a sex toy box for her was perfectly in line with our history — and she loved it.
And we're definitely not alone in our habit of buying sex toys for and with each other: According to a study done by the high-end sex toy company LELO, 65 percent of women age 35 and younger get their first sex toy as a gift from a friend. Whether it's their first toy or their 300th, this upcoming holiday season is the perfect time to show your sex positivity and buy your bestie a sex toy.
But all sex toys are not created equal — and everyone has different interests. With that in mind, here's a list of nine sex toys that you can buy for your best friend for the holidays. Enjoy!
1. For The Sex-Positive Fashionista
Vesper by Crave Necklace, $69, Amazon
I love the Vesper by Crave and have been singing its praises since it launched. This sleek vibrator has multiple speeds, is USB-charged, and can be worn on a chain as a necklace. It comes in three different types of metal, and you can even include a personalized message on it! It's seriously the best and any best friend would be thrilled to receive it.
2. For The Beginner
Solo Beginner's Box, $160, Unbound
If your BFF is new to the self-pleasure thing, send her the Solo Beginner's Box from Unbound. This cute little package comes with everything she'll need to get going: a Minna Limon vibrator, Hanky Panky crotchless thong, Good Clean Love personal lubricant, Afterglow tissues, a subscription to feminist pornographer Erika Lust's XCONFESSIONS series, and an Unbound swag bag to keep it all in.
3. For The Party Girl
Girls Night Out Box, $99, Unbound
Whether she's getting down in a club or chatting it up in a bar, your BFF definitely likes to party. Help her get lucky when she goes out with another box from Unbound — the Girls Night Out. This box comes with a Vesper, Bijoux oral lip gloss, body and hair oil, a tasty lollipop, an Unbound body chain, Sir Richards condoms, and Before During and After mints.
4. For The Traditionalist
Hitatchi Magic Wand, $64, Amazon
The Hitachi Magic Wand is a classic for a reason — it gets the job done. If your bestie is a traditionalist, get her the tried and true classic vibrator that will knock her socks off.
5. For The Kinkster
Leather Harness, $49, ViragoShop/Etsy
Body harnesses are a great gift for your friend who's a not-so-secret kinkster. Some — like this one from Etsy seller ViragoShop — can be worn in public as a fashion accessory that those in the know will understand but might fly over the heads of vanilla onlookers.
6. For The One Who's Into Butt Stuff
Icicles Daisy Plug, $38, Babeland
Not only will the Icicles Daisy Plug give your best friends who's into the booty a great sensation, it's also super cute! Perfect bestie gift.
7. For The One In An LTR
Eva Vibrator, $95, Amazon
If your best friend has a vagina and is in a long-term relationship, the Eva is a great hands-free couples toy that doesn't require any straps or remotes to work. Instead, it sits right inside the labia (of a lot of people — all labias are different and some might need a helping hand) and can be used during partnered sex or solo play.
8. For The Fitness Fanatic
Fetish Fantasty Ben Wa Balls, $15, Amazon
You know that friend that's all about keeping fit? Well, now she can keep her vagina fit too! Gift her a pair of ben wa balls, which not only help build arousal as she wears them but also helps strengthen the PC muscles too.
9. For The Techie
Samsung Gear VR - Virtual Reality Headset , $54, Amazon ; BaDoinkVR, $1-$25.95, BaDoink
If your BFF doesn't have a virtual reality headset yet, that's first on the list for your techie friend. But if they do, just get them a VR porn subscription, like this one from BaDoinkVR (NSFW).
Images: Crave (2); Unbound (2); Hitachi Magic Wand; ViragoShop/Esty; Babeland (2); Samsung/Amazon