What Laura Marano Has In Common With Anna Wintour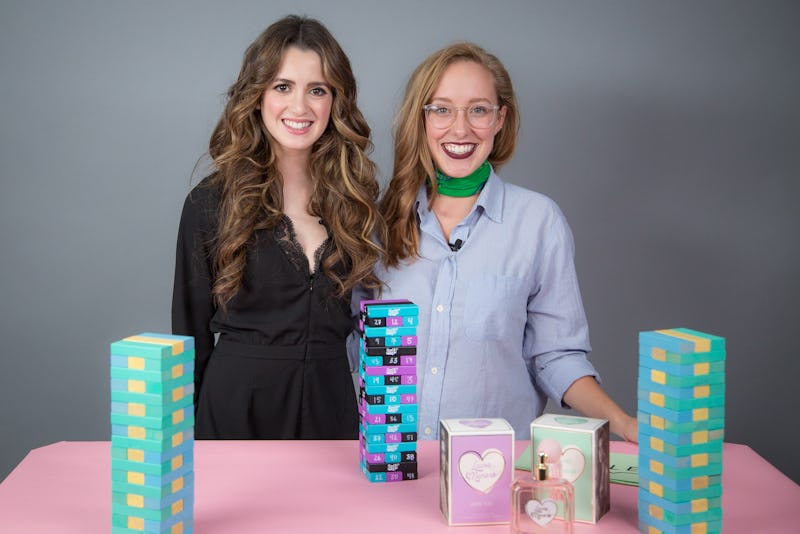 Fans may already know Laura Marano as a talented singer and actress, but as it turns out, her Jenga skills are also pretty on-point. Marano stopped by the Bustle offices to speak with Bustle's Deputy Fashion and Beauty Editor, Kara McGrath, about her new line of fragrances, and to play our Jenga-inspired rapid fire questions game, Tower of Truth. And as it turns out, you can learn a lot about a person with 20 or so quick questions.
Fun fact: the 20-year-old still uses a flip phone (just like Anna Wintour, if you're counting) and, like so many children of the '90s, she's also a Britney Spears fan. When asked to belt out a line from her favorite karaoke song, the "Boombox" singer didn't hesitate in choosing Spears' classic "...Baby One More Time."
And her connections to pop divas don't stop there. Earlier this year, she came face-to-face with none other than Beyonce. At this summer's MTV Video Music Awards, Marano arrived to the red carpet "at the exact same time" as Queen Bey and her daughter, Blue Ivy. There's nothing like a surprise from Sasha Fierce herself, and Marano called the chance run-in "the best moment of my life."
Marano also had some wise words for viewers. When asked about the best advice she ever received, she replied, "Take it easy, but take it." Sounds like a message we can all get behind.