'Moana' Is The Hero Every Little Girl Needs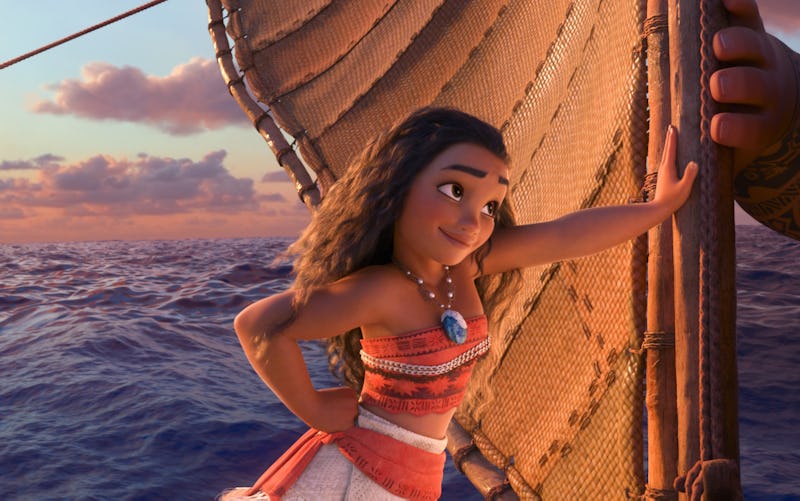 Bring some tissues with you when you head to theater on Nov. 23 to see Disney's newest animated film, Moana. While it doesn't open with tragedy the way Disney-Pixar's Up did, you will absolutely be crying tears of happiness by the time you get halfway through Moana's first song (or at least I was). And perhaps this emotional reaction wouldn't have been the case had the film been released this summer, but now, at a time when our country not only lost the opportunity to see its first woman president elected, but saw anti-women rhetoric prevail in a big way, this film is everything we need. And it's all because of the girl at the heart of the film. Little girls may not have gotten their first female president this year, but they have Moana , the hero that every little girl deserves.
I understand that watching a woman ascend to the highest office in the land and watching a cartoon girl go on a journey are not exactly the same thing. I get that this movie isn't going to fix our country. But just knowing that a major motion picture from one of the biggest studios in the game could deliver a message that young girls make their own ways in this world and that they really can do anything they set their minds to is incredible. After all, that's the message that's in jeopardy as the close of 2016 approaches.
Moana is a 16-year-old girl and daughter of the chief of her island, and as such, she's in training to take over the duty of running it all. She's not a princess. She's not being told to marry a man so that she can ascend to power someday. She's actively learning to solve complex problems for her people — from small town squabbles to diminishing food sources. It's her dedication to her people that sends her an a journey into the unknown, where she has no net, and isn't entirely sure how she will succeed. But she jumps right in, knowing all along the way, that it's her destiny to do something huge and to help her people and her family.
This message culminates in the song Moana sings in the film, currently out in a pop version sung by Alessia Cara: "How Far I'll Go."
In the film, 15-year-old Auli'i Cravalho — who's following her own brand new journey with her first starring role in a major motion picture — sings each word with immeasurable gusto. And the Lin-Manuel Miranda-penned lyrics, even just put down on paper, are enough to make any girl power advocate misty-eyed:
See the light where the sky meets the seaIt calls meNo one knows how far it goesIf the wind in my sail on the sea stays behind meOne day I'll knowIf I go there's just no telling how far I'll go
...
I can lead with prideI can make us strongI'll be satisfied if I play alongBut the voice inside sings a different song
Moana struggles against her father's message to keep things as they are, but she's drawn to do something bigger, and something that will ultimately raise her people up. She's a leader, in every sense of the word, and leader who's challenging the way her world operates at its core. Sounds a bit like a message that we've all been telling ourselves in the wake of a certain president-elect's victory, no?
But it's more than just the fact that this message exists for those of us who are adults, who already know how to fight for what we believe in. The most moving piece of the fact that Moana's story exists for little girls everywhere is that it promotes the message that you don't have to know how you're going to make a difference — all you need to have is the drive that tells you that you need to. It won't be easy, and you won't get it right at every turn, but if you work for what you believe in without giving up, you are smart enough, you are capable enough, and you will eventually find a way to succeed.
And if that message doesn't make you happy-cry, just wait until you see it set to Miranda's music and lyrics and alongside stupendously dreamy visuals. You should probably go buy those tissues now.
Image: Walt Disney Pictures