13 Movies That Will Give You Hope For The Future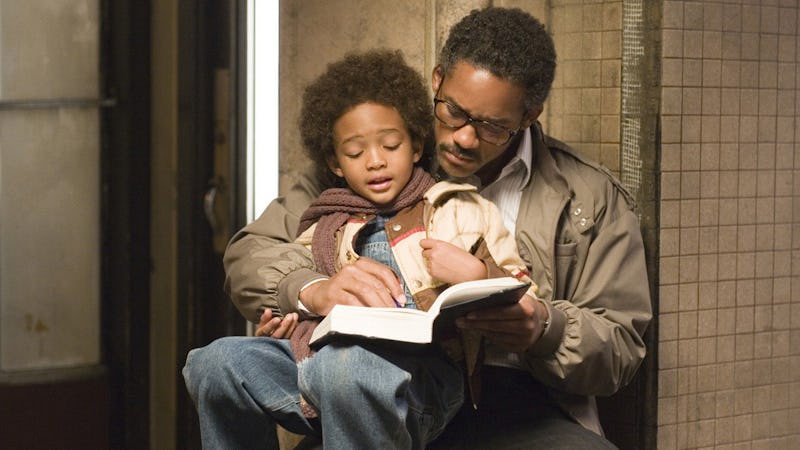 Picking yourself up when you're down is easier said than done. Whether you're having a bad day at work, dealing with a personal situation, or feeling helpless in the wake of recent news, we all have days where we feel like all odds are against us. However, if there's one thing I know for sure, it's that movies can be the greatest form of medicine. Storytelling has a way of engaging an audience, opening people's minds, and providing an entirely new perspective on life. There are so many movies that can give you hope in your day-to-day life — and beyond.
Whether a movie is based on a true story or is tackling completely new ground, there's one thing that all movies seem to have in common: an ability to make their audiences feel something. Connecting to a character in a film can help you see life through another person's eyes, or it can even reflect your life back to yourself. In doing so, the film can leave you feeling completely different — and hopefully more motivated — than you felt at the very beginning. Here are some inspirational movies that are sure to give you the hope you need right now.
Interstellar will change the way you think about the world around you, while bringing you closer to your family and making you more in tune with who you're meant to be.
When you're at the bottom, the only way to go is up. This true story will bring tears to your eyes and hope into your heart.
What do you want in life? Figure that out for yourself, and don't let anyone hold you back.
Change can start small. After watching this movie, it'll be impossible to ignore the world around you.
Even if the odds seem like they're against you, that's never enough of a reason to give up. If you set your mind to something, you can overcome the impossible.
This true story about understanding each another will change your perspective and help open your mind.
Don't let anyone ever tell you that you can't fight for what's right. Erin Brockovich is the true story of a woman who overcame everyone's expectations in order to do just that.
Imagine what the world would be like if you didn't exist? It wouldn't be quite as wonderful. This classic tale is relevant all year long for people from all walks of life.
The true story of NFL player Michael Oher is nothing less than inspirational. It proves that, no matter where you come from, people can come together to help you through.
Help can come from the unlikeliest of sources. Believe in yourself, and others will believe in you — just as Sean Maguire (Robin Williams) took Will Hunting (Matt Damon) under his wing.
Sometimes it's hard to believe that the universe could be working in your favor. But Slumdog Millionaire , Jamal (Dev Patel) proves that his past can't control his future.
Stand up for others, and others will stand up with you. This story centers around feminism, race, and the small efforts to bring people together for a brighter future.
The pen is mightier than the sword. This movie will teach you the true meaning of the phrase "carpe diem," while allowing you to tap into your deepest desires.
Choose an inspirational movie, pick yourself up, and start living the life you want to live. Nothing can stop you now.
Images: Columbia Pictures