Cuevas' 'Voice' Performance Had A Sweet Dedication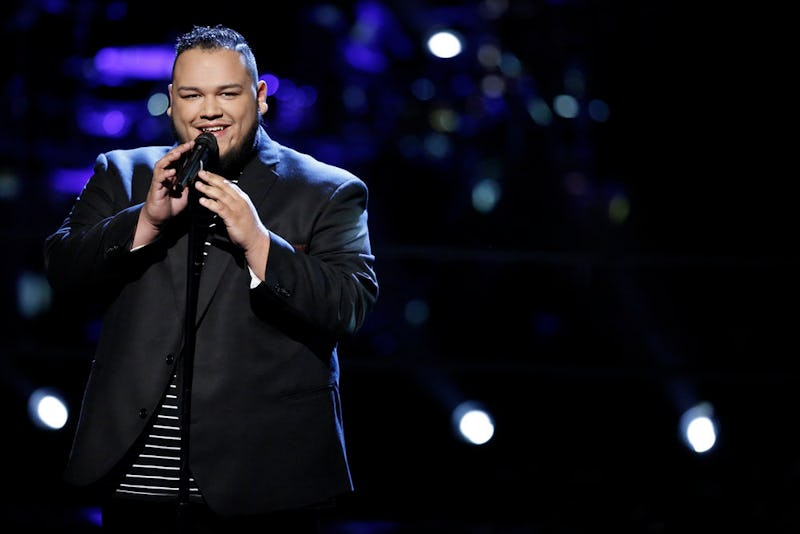 Can you say "aww"? The Voice 's Christian Cuevas dedicated his Top 12 Live Show performance of Coldplay's "The Scientist" to his girlfriend and absolutely nailed it. The Team Alicia singer put his heart and soul into his performance and it absolutely paid off. As Adam Levine put it, "to hear music is one thing, but to feel it is another." Cuevas feels everything he sings. He gives his audience a glimpse into his heart every time he sings, which isn't an easy thing to do. But through emotional lyrics and incredible passion, Cuevas is able to deliver a moving performance every time he sings. This quality alone sets him apart from his Top 12 competition and will guarantee him a spot in the Top 11.
Now that we've entered into the Live Shows, everything is on the table. The contestants not only have to impress the coaches—they need to impress America, too. Everyone is bringing their A-game—Cuevas included. By dedicating his performance to his girlfriend, he heightened the stakes on himself. Instead of cracking under this added pressure, Cuevas excelled. His performance was emotionally charged and vocally impressive. He allowed himself to get lost in the music and lyrics in the best way possible. In return, the audience and coaches got lost with him and really immersed themselves in the music. It brought the performance to a whole other level—a level that basically guarantees Cuevas a spot in the Top 11.
With Coach Alicia on his side, Cuevas has the opportunity to excel even further. Alicia herself is an emotional, passionate performer. She'll be able to coach Cuevas into taking his passion even further and really bringing his music to life. By encouraging him to bring the emotion on stage with him, Alicia will unleash a deeper layer in Cuevas talent—one that will bring him to the top of his game. With Alicia on his side, Cuevas has the opportunity to go extremely far in this game. And even if he doesn't make it to the end, there's no doubt we'll be hearing Cuevas perform for many years to come.
Image: Tyler Golden/NBC