The Blonde In The 'Bachelor' Trailer Is Energetic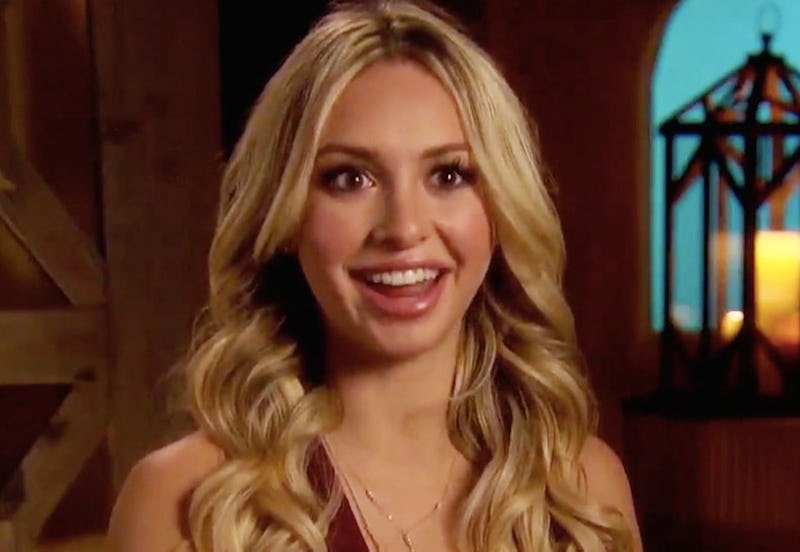 Bachelor fandom, sit yourself down to view something you've been waiting months to see — the teaser trailer for Nick Viall's Bachelor season. Complete with shots of contestants. In the mansion. In pretty dresses. All the usual suspects are present, and the camera doesn't pay any one of them more attention than the other, right? So you would think. A few ladies get soundbites in — leading me to wonder if ABC's prepping us to see more of these particular people before the season even airs — specially one contestant in particular, who gets to speak a whole two sentences in this thirty second trailer. Who is the blonde woman saying she wants Nick "right now" in the Bachelor trailer?
Please, read, and appreciate the tagline they've come up with: "These 30 single woman, can't wait to get some Nick." Get. Some. Nick. After this truly genius bit of copy is uttered, a heretofore unidentified blonde woman comes into the shot and says "I want Nick right now. Right now." This contestant allegedly goes by the name of Corrine Olympios, and from everything we can possibly gather about the way this intro was handled, she'll probably be an important member of this season. Possibly even a controversial one. Watch below.
But that's all speculation. More on the facts. According to her Model Mayhem page, Olympios is a 25-year-old aspiring model from Miami, Florida. As of right now, she isn't very active on social media. She has a Facebook, but her posts are sparse and mostly consist of behind the scenes snaps on photo shoots. Her Twitter account is public, but hasn't seen any action in years. Her Instagram is private, and, for right now, will probably stay that way. Lastly, she has an old Vine account, but hasn't posted since 2013. According to this video, she might be a Britney Spears fan? Or maybe she was just bored.
It's tough to get information about Olympios at this stage in the game, considering that the show hasn't premiered yet and producers are still trying to keep it all under wraps. (A feat that's become increasingly difficult in the internet age.) But we should all expect her social media accounts — namely Twitter and Instagram — to become public and more active once The Bachelor airs, and to most likely involve detox tea and teeth whiteners. Ah, the life of a Bachelor contestant.
Look out for Olympios when Nick's season airs on January 2, 2017.
Images: ABC